A Pawsitive Future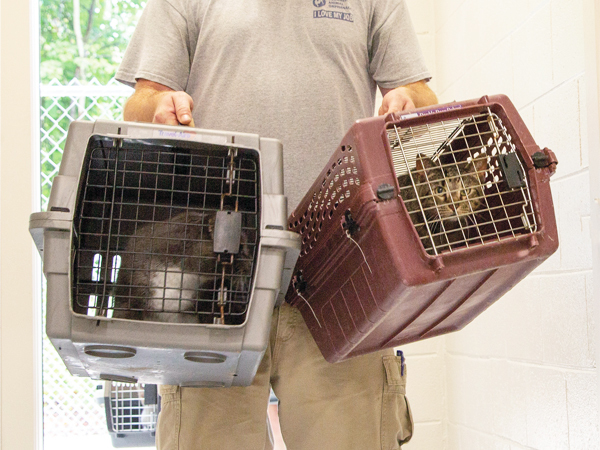 The Voorhees Orphanage and Animal Welfare Association have saved the lives of countless animals and are looking for the community's help to continue each other's mission.

Jennifer Bailey says she started talking about a new building for the Voorhees Animal Orphanage (VAO) 10 long years ago. As grateful as she and the folks at the VAO are for inheriting the building and land they currently have called home for 31 years, it has been rundown and in poor shape for quite some time.

"We fundraise to keep our lights on. Literally you can see daylight through the building—it's that old and inefficient," she says. "With the help of many wonderful supporters, we've been able to patch up and fix things, but it's still a hindrance to the animals. We knew the time was now to get started."

That now was three years ago when VAO launched its $1 million capital campaign to fund the construction of a new building that is desperately needed for the animals' safety and to align with its mission. That campaign has since been raised to $1.6 million, and they have raised about $1.2 million to date.
Article continues below
---
advertisement


---


"Our mission is to save lives, plain and simple," Bailey says. "Our mission is to shelter unwanted animals and provide them with food, medical care and attention, and a temporary shelter until we can find their forever home."

Phase 1 was completed last month, which includes 42 dog kennels that are a minimum 50 percent larger than the standard kennels in the old building. When the entire building is completed, in addition to the dog kennels, it will include a dog training room, an office and mechanical room. VAO is completing the building in two phases because of the constant number of strays coming from towns all over South Jersey.

"We are your local municipal animal shelter for 22 towns in South Jersey—16 of which are in Camden County—and are contractually obligated to take in strays and surrenders from those towns," Bailey says. "Animals still keep coming and we had to figure out how to optimize impact during construction since it's at the same location."

Additionally, it works with rescue groups across the country, more so in the southern part of the country where there are higher kennel areas and house them until they are adopted.

While the VAO receives a monthly stipend to cover the care of the animals from those towns, the only other income it receives on a regular basis is adoption fees, which Bailey says fluctuates.

"We rely on the generosity of supporters," Bailey says. "While we do have financing in place, it obviously would be in our best interest if it was completely paid for. We are still fundraising."

A few minutes away also in Voorhees is the Animal Welfare Association (AWA), an animal shelter that's been around for 71 years. Like VAO, AWA has always been committed to helping save animals' lives across Camden County, and executive director Maya Richmond says that commitment has gotten stronger over the last few years—especially when it comes to the save rate for dogs.

"When I started, transporting dogs from Philadelphia or the South wasn't happening as much, but now the save rate for dogs has been one of the most amazing things to watch," Richmond says. "Dogs that were 8 and 9 were too old to be adopted, but now we're able to provide veterinary care and taking care of other issues related to [older] age and they are going into homes. It's remarkable.

"Our mission is to eliminate animal suffering and promote the human-animal bond," Richmond continues. "We save pets' lives by touching people's hearts. To me, that's what's special about our approach. We look to bring people together and include them in our daily work. We deliver unique programs to save pets' lives, care for animals, keep them safe, reduce the pet overpopulation and work with programs in our community that directly lower euthanization, lower the impound rate and build a passionate community."

One of those programs is the AWA partnering with agencies that specialize in helping people with special needs, including those who have physical and mental disabilities.

"Those individuals help the animals in many ways—they make dog toys and grow vegetables and herbs for rabbits. … The love of animals shines through and it creates healing and warmth you would not believe. These individuals feel good about what they are doing and parents call us saying it's changed their lives and they have a purpose to get up in the morning," Richmond says.

The one setback is lack of space. Richmond says the AWA can only have these individuals and others at certain hours in the morning because there's not enough space. But also like VAO, the AWA has its own capital campaign to build a brand-new building that will not only create much needed room for workers and volunteers, and of course the animals, it will be a resource in the community. AWA's capital campaign is $2.5 million and it has raised around $1.6 million thus far. Richmond calls the new space "more than a building."

"It's a place where happiness begins," she says. "We're redefining what people think an animal shelter has. The building is focused on being a resource in the community—having community meetings where we involve the public, which we need space for. And it will be larger space for the animals—1,000 more animals will be saved a year."

Both organizations have events coming up that are open to the public. VAO's 23rd annual Woofstock Festival takes place Sept. 28 (rain date is Sept. 29) at the Voorhees Town Center and is the organization's biggest annual fundraiser. Bailey says the festival usually gets three to four thousand people, and you don't have to be an animal lover. Food trucks will be in attendance, along with dog demonstrations courtesy of the Camden County Sheriff's Deputy K9 Unit and up to 100 vendors ranging from arts and crafts to pet-related vendors.

"All of the proceeds go to the capital campaign," Bailey says.

Also Sept. 28, the AWA has an adoption event where all adoption fees are waived. The following month its popular Trunk or Treat event takes place Oct. 26.

Children dress up and get Halloween candy and bring together their love of putting pets in costumes and doing pet parades and trick or treat at cars decorated by our volunteers," Richmond says. "We'll have crafts, music and doggy treats as well. It's all about connecting with the community."
Animal Welfare Association
509 Centennial Blvd. | Voorhees
856-424-2288 | AWANJ.org

Voorhees Animal Orphanage
419 Cooper Road | Voorhees
856-627-9111 |

VAONJ.org


To read the digital edition of South Jersey Magazine, click here.

Published (and copyrighted) in South Jersey Magazine, Volume 16, Issue 6 (September 2019).

For more info on South Jersey Magazine, click here.
To subscribe to South Jersey Magazine, click here.
To advertise in South Jersey Magazine, click here.

Author:

Julie Shannon
Archives
---
Who's Who in Health Care
Former Shawnee star Doolittle Calls It A Career
Camden County College welcomes Baseball Hall of Fame
South Jersey Football Games of the Week
Out & About
QB Ronnie Borden is Back in the Game
Should fans be worried for the Phillies bullpen?
South Jersey Football Games of the Week
A look at South Jersey's Top H.S. Girls' Soccer Teams
Out & About
Eagles will be fine after close call in opener
High School Football Games of the Week
Is it Super Bowl or bust for the Eagles?
What's New in South Jersey?
From New Jersey to Nashville
More...