Super Women 2019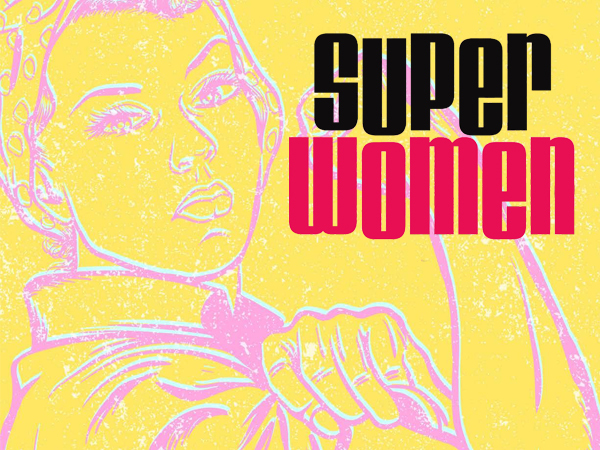 Audrey Hepburn is credited with the phrase, "As you grow older, you will discover that you have two hands; one for helping yourself, the other for helping others." This year's list includes 10 selfless women who personify this statement through their philanthropic efforts, changing the lives of so many in South Jersey and beyond.

Trisha Baum, Woman of the Year
Born and raised in the Kensington neighborhood of Philadelphia, Baum witnessed firsthand how its working-class community turned to drugs and alcohol to escape the realities of high unemployment and economic decline. Her own father struggled with substance abuse and alcoholism before he was murdered when she was just 5 years old. Baum wanted a different future for herself and after graduating from high school, she moved away from Kensington and spent years working in the construction and insurance administration industries, eventually moving to New Jersey in 2005. When one of her younger brothers faced his own drug addiction struggle, Baum realized the importance of being there for those who are struggling, and she was inspired to volunteer on the streets of her old neighborhood, providing everything from warm jackets and bottled water to hugs and a shoulder to lean on. When her South Jersey friends and neighbors learned of her efforts, they encouraged her to replicate them here, and in June 2017, Baum officially founded Hand 'n' Heart, a 503c nonprofit aimed at helping the homeless with food, clothing, resources and treatment services. Twice a month she leads homeless outreach days in Philadelphia and New Jersey. Other programs include building Love Bags—filled with snacks and words of encouragement—a Back to School backpack drive and a Socktober sock drive. Kohl's and Five Below are among sponsors that have held in-store fundraising events on Hand 'n' Heart's behalf. Last month, the organization donated sober living scholarships to three individuals. Baum was recognized in 2017 with a FOX 29 YOU GO THERE award and received the Santander and Philadelphia Eagles Community Quarterback award in 2018. Recently, Baum became a certified recovery specialist and is certified to administer Narcan, the overdose antidote. Along with her husband Carl and sons Brandon and Logan, she enjoys boating on the Delaware River and hiking local parks and trails. She is grateful to the many volunteers whose generosity and compassion are contributing to erasing the stigma of addiction and mental illness in adults and children.
A transplant from Virginia in 2007, Barnshaw knew no one in the area, but that didn't stop her from launching the South Jersey Young Professionals Association (SJYPA). Originally an LLC, SJYPA gave young professionals an avenue for contributing their time and talent back to the community, but as momentum picked up, it transitioned to a 501c3 organization. Funds have been raised for local nonprofits such as Camp No Worries and The Joseph Fund, and SJYPA has been recognized with awards from the YMCA and AFP South Jersey. At this year's annual SJYPA Halo Ball, Barnshaw received the Halo Award, an unexpected honor from the organization she created. Previously, Barnshaw held an advisory board member position for The Salvation Army, helping to support fundraising for the Kroc Center, and earlier this year was the event chair for its Garbage Bag Gala, which had triple the proceeds from all prior years combined. In 2012 she launched her own real estate concierge company, Agent06, and her next philanthropic endeavor is the National Association of Charitable Young Professionals, taking her platform for business community fundraising nationwide.
Cherry Hill residents can count themselves more informed thanks to Richman's efforts. As the administrator of a Facebook community page, she shares events, promotes local businesses, helps find lost pets, updates on traffic alerts or police activity and much more. With approximately 3,000 page members, it's become an engaging space that connects neighbors in this digital era, and Richman was recognized for her contributions earlier this year as one of 18 recipients of the 2019 Camden County Martin Luther King Jr. Freedom Medal. Her work doesn't end there, however. Richman runs a weekly "Bootcamp for a Cause" outdoor workout class, donating each week's participant fees to charity—$1,700 to 17 charities in less than two years. Richman is also co-owner of R3 Memory Keepers, along with her brother Rob, specializing in digitizing precious family memories.
Michelle F. Altieri, Esq.
Altieri's career has spanned nearly two decades, representing clients in divorce and family law matters. A partner at Charny, Karpousis, Altieri & Donoian, she's equally committed to volunteering and helping those less fortunate and over the years she has taken up numerous pro bono cases, which earned her the honor of the Edwin P. Rome Pro Bono Achievement Award in 2007. She participates in walks for the Alzheimer's Association and, along with her firm partners, supports the Ronald McDonald House Southern New Jersey and Book Smiles, among others. Her newest community service endeavor is in the form of a committee person for the Bensalem Democratic party. Altieri, a native of Gloucester County, is a wife and mother of two young children, and says she believes strongly in a work-life balance, which she lives in her everyday schedule.
Virna Alexander Rhodes, MBA SCLA
This Cherry Hill resident and assistant vice president at Liberty Mutual Insurance is a passionate advocate for improving the lives of those in need, especially women and children. During her time as an undergrad at the University of Maryland Baltimore County, Rhodes helped develop a "Homework Plus" program to provide tutoring and cultural exposure to children from low-income families. This program still exists today. She volunteers to provide nutrition services throughout South Jersey, feeding the homeless through donations and service hours at the Salvation Army Kroc Center, as well as with Delta Sigma Theta and Jack and Jill of America through their faith initiative Feed My Sheep. In collaboration with South Jersey's chapter of The Links, Rhodes worked to design "Wellness Inside and Out," which supports low-income women who are in treatment for breast cancer with monthly activities that bridge physical and emotional wellness. Future goals for this married mother of two include establishing an adopt-a-school initiative that would take a holistic approach to addressing literacy, health, arts education and nutrition.
For more than 20 years, Kitchen-Santiago has worked to address the causes and effects of poverty through her positions at various nonprofits in Philadelphia and South Jersey. She credits her parents with instilling the value of community service from a young age. Kitchen-Santiago has served as executive director of Cathedral Kitchen, the largest meal provider in Camden, for nearly one year. The organization provides food to 120,000 adults and families annually, as well as low-cost and free dental care, and trains low-income adults in the culinary field. Kitchen-Santiago is proud to report that 100 percent of the recent graduating class passed their food safety certification and obtained employment. Since becoming executive director, she has implemented an earlier start time for dinner service, allowing guests to have more time in a climate-controlled, safe space, and she has invited other organizations such as Volunteers of America and First Step Staffing to offer their services during meals.
Michele Gambone and Jeanne Rodrigues
What began with helping one homeless family of five (with another on the way) that was living in a minivan five years ago is now an organization that has touched over one million lives through partnerships, hurricane relief, homeless outreach and individual support. Founded by Gambone and Rodrigues, The Unforgotten Haven cannot be defined by one program or service. The organization—which is 100 percent volunteer based—operates a food pantry out of its Blackwood location, providing not just food, but toiletries, diapers, formula, pet food and undergarments; distributes thousands of bagged lunches to the homeless monthly; provides snack packs to chemotherapy patients at 18 infusion centers in New Jersey and Pennsylvania; and hands out Blessing Bags full of trial size toiletries, washcloths, socks and snacks to those living on the streets. Not to mention their annual assembly of 4,000 Easter baskets every spring and just as many backpacks for students, for which Five Below has donated over $500,000 worth of supplies through its support in all 24 stores. The support for these initiatives has been so overwhelmingly positive that The Unforgotten Haven has run out of space and is looking for an additional location. Gambone and Rodrigues say they owe it all to their volunteer team of "heroes" and donors.
As the reigning Mrs. New Jersey U.S. Continental, Wright is no stranger to competing, having been on the pageant circuit since she was 16. Although she has held many titles—including that of Mrs. Galaxy in 2009—giving back to the community is one of her most sincere passions. She's made more than 500 appearances with such organizations as Veterans Affairs, Starlight Children's Foundation, The Salvation Army and countless more, but she devotes much of her attention to the Alex's Lemonade Stand Foundation. Wright has made it a personal mission to change the lives of children with cancer through research funding, family support and raising awareness. Her love for children extends to her part-time work in food service at the public schools in Washington Township, where she lives with her husband and daughter. Wright hopes to make a positive impact on the students and to show what a good role model looks like in today's world.
Horses have been a lifelong passion of Baker-Hallowell's, eventually leading to a career teaching people to ride. In 1992 she started her own stable at Moorestown's historic Stow Farm. As Majoda Stables grew, she began receiving requests to train riders of different abilities and considering that she and her husband Bill shared a background in special education, the fit was natural. The Therapeutic Riding program, which includes stepdaughter Vera, who is a PATH International certified therapeutic riding instructor, can help riders develop balance, coordination and rhythm, as well as communication by using verbal commands or signals with the horses. Ultimately, Baker-Hallowell says the mission is to foster connection and well-being in an environment of love and trust.

Article continues below

---
advertisement


---
To read the digital edition of South Jersey Magazine, click
here
.
Published (and copyrighted) in South Jersey Magazine, Volume 16, Issue 7 (October 2019).
For more info on South Jersey Magazine, click
here
.
To subscribe to South Jersey Magazine, click
here
.
To advertise in South Jersey Magazine, click
here
.
Author:
Liz Hunter
Archives
---
Who's Who in Health Care
Former Shawnee star Doolittle Calls It A Career
Camden County College welcomes Baseball Hall of Fame
South Jersey Football Games of the Week
Out & About
QB Ronnie Borden is Back in the Game
Should fans be worried for the Phillies bullpen?
South Jersey Football Games of the Week
A look at South Jersey's Top H.S. Girls' Soccer Teams
Out & About
Eagles will be fine after close call in opener
High School Football Games of the Week
Is it Super Bowl or bust for the Eagles?
What's New in South Jersey?
From New Jersey to Nashville
More...