Suits for Soldiers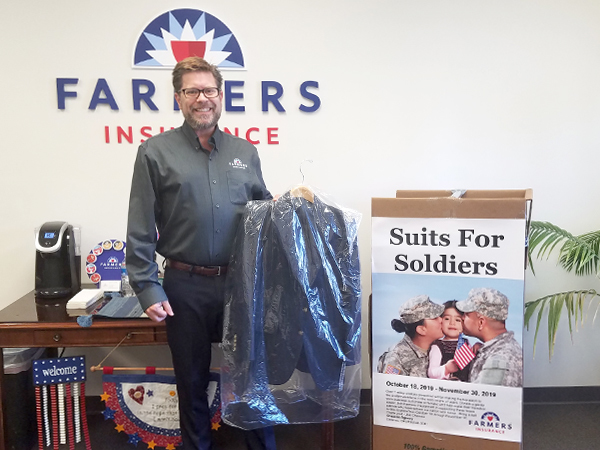 The Suits for Soldiers campaign started as a charity event for the Farmers Insurance Company. When the campaign ended, Joe Chascsa, a Delran Farmers agent, took matters into his own hands by continuing the efforts to help soldiers assimilate back into everyday life.

"It actually was a campaign that Farmers Insurance had started and they for whatever reason didn't keep up with it. And we got a good response here, so I decided to keep it alive through our specific office," Chascsa says. "The idea is to provide business attire for men and women in the military who are transitioning back into the workforce."

This will be Chascsa's fourth year doing this campaign and he hopes that every year more businesses and people participate to help those who have done so much for this country. Every year he gets U-Haul boxes, which he dubs "Wardrobe Boxes," and decorates them with a poster and places them outside of businesses that want to participate in the cause. Each week Chascsa goes around collecting the suits.
Article continues below
---
advertisement


---


"Well the first year, I was just asking around. I got two suits and I was happy to get that. ... We wound up getting 200 suits the second year. Then we expanded a little more and last year we got 400 suits and this year we already have 100 suits before even starting," he says.

Chascsa has high hopes that he'll beat last year's record and continue in helping thousands of soldiers get jobs. Wardrobe boxes will be located outside local businesses through November 30 for those interested in helping the cause.

To read the digital edition of South Jersey Magazine, click here.

Published (and copyrighted) in South Jersey Magazine, Volume 16, Issue 8 (November 2019).

For more info on South Jersey Magazine, click here.
To subscribe to South Jersey Magazine, click here.
To advertise in South Jersey Magazine, click here. Author:

South Jersey Magazine
Archives
---
South Jersey Happy Hour Guide
Whole Hearted
Fully Focused
Giant Steps Forward
Defying History
Names to Know
The King of Rambling
6 Tips on a Restart for Your Finances
Staying the Course
A Burning Desire
Getting Personal
On the Home Front
Positive Energy
On the Move
Colleges and COVID-19
More...