A Lot of Football Left for the Eagles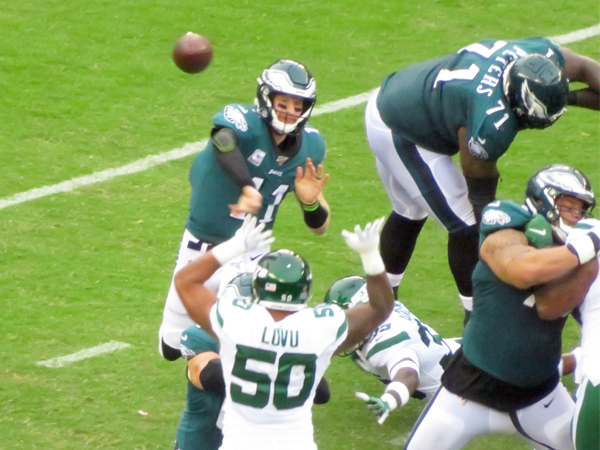 Even though the Eagles wasted a strong defensive performance in Sunday's 17-10 loss to the New England Patriots, this season is far from over.
Yes, the Eagles are 5-5 and trail the Dallas Cowboys (6-4) by one game and have lost the first head to head matchup, but there is plenty of football to be played.
That doesn't mean the Eagles don't have issues, especially on offense, but after Sunday's home against Seattle (8-2) the final five games, other than a home matchup with Dallas, isn't overly challenging. It includes two games with the New York Giants, and one each with Washington and Miami, teams that have won a total of just five games.
Right now, the Eagles biggest problem is their lack of explosiveness on offense. After taking a 10-0 lead against New England, they were blanked the rest of the game.
There are several reasons for the struggles. Quarterback Carson Wentz is receiving his share of the blame and it comes after one of his least effective performances of his career. Against the Pats, Wentz completed just 20 of 40 passes for 214 yards, one touchdown and no interceptions.
What hurt Wentz is that he overthrew so many open receives, especially on the Eagles final drive.
There have been many suggestions that Wentz has regressed.
While he has made his share of mistakes, what has regressed is the talent around him.
Remember in the preseason, where the big topic of conversation was how Wentz has so many offensive weapons to use.
Well, that surely isn't the case now. Yes, DeSean Jackson has only played one full game and his speed is sorely missed, but he wasn't with the team last year or in any of Wentz's first three seasons.
Alshon Jeffery was out against the Patriots and he could have made a difference, but to put it simply, Jeffery hasn't come close to performing as the player he was in the Eagles Super Bowl winning season of 2017.
Nelson Agholor has been a major disappointment since his strong season in 2017.
Zach Ertz remains an elite tight end, one who Wentz either overthrew or underthrew on the critical final drivel. Dallas Goedert, who caught the TD pass against the Pats, is another weapon at tight end.
While both Ertz and Goedert accounted for 12 receptions and a TD, the Patriots took away the receivers for the most part.
The Eagles receivers have trouble getting separation and makes things more difficult for Wentz. In addition, the offensive line struggled as Wentz was sacked five times and faced consistent pressure. Wentz also didn't help matters by holding the ball too long.
And in another struggle, the running game, without injured Jordan Howard. The Eagles rushed for just 81 yards (3.9 avg.) but coach Doug Pederson abandoned it too early. The Eagles became predictable and the Patriots were able to send pass rushers in droves on Wentz.
So there are plenty of issues with the Eagles. A win over Seattle would put them very much in the race for a postseason berth, but even a loss won't knock them out.
Dallas has to travel to New England and so the Cowboys have their work cut out in the final six games.
Just became they remain very much in the race for a playoff spots, doesn't mean that the Eagles don't have problems.
It also doesn't mean that their postseason chances end. They are very much alive, but have plenty of issues. If the offense doesn't improve, albeit from playing against a strong Patriots defense, then the Eagles' postseason chances will decrease.
Article continues below
---
advertisement


---

But at this point, one loss to the defending Super Bowl champs shouldn't be enough to write the Eagles off with six games left.

© SouthJersey.com 2019. All rights reserved. This article or parts thereof may not be reprinted or reproduced by any other party without the express written consent of SouthJersey.com. For more information, please call 856-797-9910.



For more Local Sports features, visit our

South Jersey Sports

page.
Author:
Marc Narducci; Photo by Marc Narducci
Archives
---
Planning for the Unpredictable
A Chain Reaction
South Jersey H.S. Football Games of the Week
Leading Business Attorneys 2021
South Jersey High School Girls' Soccer Preview
On the Right Track
No Easy Games For The Eagles
Eastern and Cinnaminson are top girls' and boys' seeds in South Jersey Soccer Coaches Tournament
Healthy People, Healthy Business
South Jersey highschool football games of the week
Best of Home and Garden
Back to School
Ready to Take Flight
Bishop Eustace's Danny O'Rourke a model of stability
Who's Who in Real Estate
More...