Despite Recent Offensive Ineptitude, the Eagles Still Have a Path to the Postseason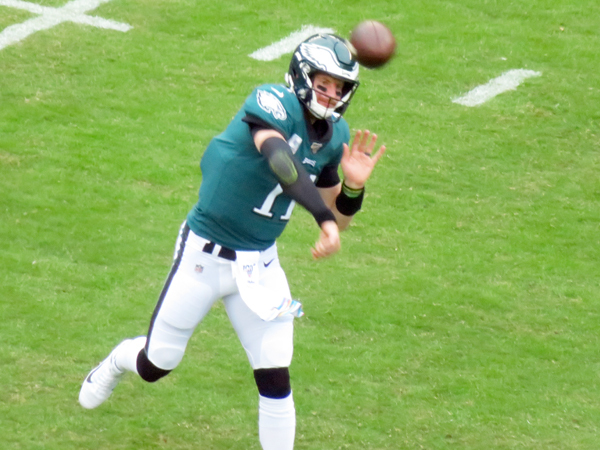 The Eagles offensive ineptitude has many fans jumping off the team's bandwagon and for good reason, but this is a team with all its recent offensive struggles, should still make the playoffs.
Whether the Eagles can do anything in the postseason remains to be seen.
They are 5-6, trail the Dallas Cowboys one a game with five to play.
Yet here are the final five games of each team.
December 1
at Miami (2-9)
December 9
NY Giants (2-9)
December 15
at Washington (2-9)
December 29
at NY Giants (2-9)
November 28
Buffalo (8-3)
December 5
at Chicago (5-6)
December 15
LA Rams (6-5)
December 22
at Eagles (5-6)
December 29
Washington (2-9)
The Eagles offense has looked as bad as it has in years during the past two weeks home losses to New England and Seattle.
Yet the remaining schedule could provide a direct path to the postseason. Playing three straight 2-9 teams should cure any recent ills and give the Eagles momentum heading into their showdown with the Cowboys.
That said, the Eagles have major problems. Most of the recent blame has been assigned to quarterback Carson Wentz. Even though he has been playing with a depleted offensive line, a below average and banged up receiving corps and has been without effective running back Jordan Howard during the past two games, Wentz does deserve his share of blame.
He doesn't look confident and more concerning is that he has missed several open receivers. His accuracy as a quarterback is regressing and it appears his confidence has taken a hit.
If Wentz can't get his confidence back the next three weeks against the aforementioned 2-9 teams, then the Eagles are not only in big trouble this season but in the future.
The last two weeks his passer rating is just 75.1 and the bigger stat is that he has bene sacked eight times. Wentz has taken his share of hits and that could be impacting him.
One of the biggest blows to the Eagles was the loss in the first quarter in the New England game of right tackle Lane Johnson to a concussion.
He didn't play against Seattle and the Eagles simply aren't the same team without him. He is a Pro Bowl player for a reason.
Then Pro Bowl guard Brandon Brooks left in the first quarter against Seattle with symptoms related to anxiety.
Without those two on the line, Wentz was a sitting target and the pass rush he has received the past two weeks no doubt has him a little gun-shy.
Now the Eagles will be facing three straight teams that shouldn't put this kind of pressure on Wentz.
That is not to say that the Eagles just have to show up on the field and they will win. Nothing should be considered a sure thing with the way the Eagles have played lately.
Yet to say the season is over would be premature. There is a lot in front of the Eagles that they can earn. Sure, the suddenly stalling offense has to improve, but it is still possible.
Article continues below
---
advertisement


---

Maybe this reporter is one of the few still with faith in the Eagles, but if they can't turn the momentum around by playing three teams with a 6-27 record in the next three weeks, then they are in deeper trouble not only for this year but in the future.

© SouthJersey.com 2019. All rights reserved. This article or parts thereof may not be reprinted or reproduced by any other party without the express written consent of SouthJersey.com. For more information, please call 856-797-9910.



For more Local Sports features, visit our

South Jersey Sports

page.
Author:
Marc Narducci; Photo by Marc Narducci
Archives
---
Bishop Eustace's Danny O'Rourke a model of stability
South Jersey Football Games of the Week
Eagles saved their season with win over Carolina
A Difficult Loss
Top Physicians 2021
Phillies wasted lights-out seasons from Bryce Harper and Zack Wheeler
Another strong season for Olympic American Girls' Soccer
South Jersey Football Games of the Week
'You Do Not Have to Suffer'
Egg Harbor Township Football Showing Great Improvement
Phillies face a difficult, but not impossible final week
Continuing the Difficult Climb
South Jersey Coronavirus (COVID-19) Developments - Booster Shots (September 27)
South Jersey H.S. Football Games of the week
Something to Build On?
More...