Nothing to Lose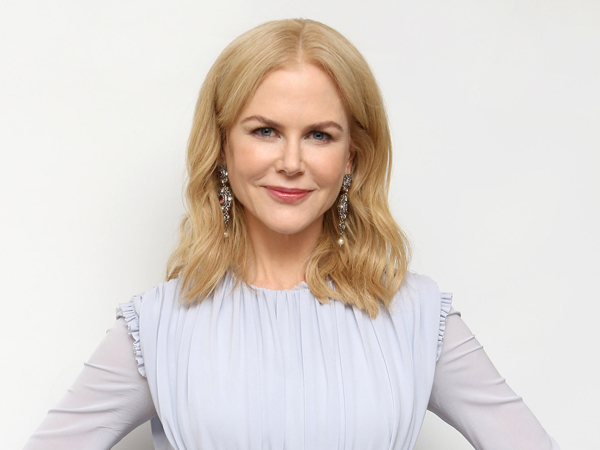 With a heavily established career and a settled home life, Nicole Kidman prefers to just go with the flow.

Whoever it was who said "age is nothing but a number" had it right where Nicole Kidman is concerned. The Australian actress, 52, has bucked the trend of female stars finding roles increasingly difficult to come by as their years advance. In fact, one could argue that she's never been busier, with a succession of critically acclaimed projects coming to fruition over the past couple of years.
Her almost constant presence on both the big and the small screen is testament to a supremely talented, irrepressibly spirited actress whose willingness to change, adapt and evolve is unparalleled; and whose energy to work—as well as look after her four children—is a marker to all those with one eye on the clock.
"For me it's just about keeping things exciting," she says. "Isn't that the point? Isn't that what we all want?
Article continues below
---
advertisement


---

"There is no secret formula—just keep going!" she laughs.
Fresh off this past summer's return of the acclaimed HBO series Big Little Lies, Kidman has several new projects in the works, including this month's release of Bombshell. The new film tackles the sexual harassment controversy surrounding Fox News and its former chairman and CEO Roger Ailes. Kidman portrays Gretchen Carlson, a former Miss America and Fox News host credited with ushering in the #MeToo movement.
She's also been busy working on films slated to debut in early 2020 and she's reuniting with Big Little Lies creator David E. Kelley and HBO for the psychological thriller The Undoing, based on the novel You Should Have Known by
Jean Hanff Korelitz.
Kidman spoke to us about being selective when choosing roles, raising a family while firmly entrenched in Hollywood and why she often gravitates toward the things she fears the most.
Are you a methodical kind of person, do you like to plan? Or are you more of an impulsive character?
I've never really been the type of person to sit down and think about making plans. I have always been someone who is more comfortable operating from a spontaneous kind of place. At times, that does work in my favor, but other times I can fall flat on my face due to that.
The funny thing is that when it does go a little wrong, I always castigate myself and think that I need to be more "on it" and that I need to take a bit more time to decipher these things. But I just cannot do that, it's just simply not in my nature. I am always up for doing stuff and I do constantly want to give things a go.
I was taught exactly that method at drama school about being positive and getting on with things and I was used to that approach, because I did that as a kid, also. When I was 17 years old, I just got some things together, jumped on a plane and went backpacking through Europe because it felt like a good idea to do that, at the time. I mean, I got married really quickly, because all of that stuff I just do really quick.
You made your name in Australia way before anyone over this side of the world knew you. What was that like?
Well, I started acting at 14 and at that age you certainly don't consider yourself to be anything like a kid. I was desperately trying to be a mature kind of person, girl, woman; whatever. But when I look back on that time, I was actually very much a kid who was playing in an adult world.
But I got my education pretty quickly that way. So, by the time that I was 17, I had seen and done most things. That's the nature of the beast, really and it is very rare that I will run away from something which frightens me, even though admittedly I am easily scared of things.
Are you drawn towards things which do frighten you?
I would say that I am probably am, yeah. Although, I do look for things which hold my interest, things that are layered and that are also complex. At other times, I just want to have a breath of fresh air, so sometimes I will do comedy films because I want to have a good laugh.
When Adam Sandler came to me and said that he thought I could be good as a comedy actor, I didn't agree with him too much and he encouraged me to do the film Just Go with It, about 10 years ago it is, now. We were also shooting the film in Maui for three weeks and that helped convince me, as well [laughs].
Does the location of films always affect your judgement of whether you are going to do a project or not? Can that help you decide?
Well, that time it certainly did! [laughs]. I was thrilled to go to Maui. But it's not as easy to make those decisions as you think. I have a family, children and my husband works a lot, so it's not so easy all of the time.
However, that time when I did that, I brought my parents over to stay with the kids and they got the opportunity to bond with my daughter Sunday when she was young. So, that was good for me and for them. I was also born in Hawaii, as well.
I don't remember any of my time there as I was so young, but I always used to tell this story when I was a kid—and you know what kids are like; they can be so dramatic. I would tell people that I was from Hawaii and born on Waikiki Beach in the water, which is cold. That's a complete lie. It's not cold at all, and my Mom would wonder what on Earth I was going on about.
Was it hard going to work when your children were young?
It
totally was, yeah. It made me want to work less, I can tell you that much. It felt like I was being wrenched away from them. The good thing is that when I was in films where children were around me, it gave me a lot of inspiration and also, helped me when I was getting that experience right in front of me, every day in my life.
Do you still get roles which are interesting enough for you outside of the 'indie' mentality?
Yeah, I think so … sort of. There are things which I just say straight away that I am not interested, whereas before I would be trying to do it and thinking that I could just make it work and that it would be fun to do so.
Each of those times was more because I didn't have a family and I also didn't really have roots down in a place. So, that was more a case of just grabbing my things and just going to wherever I had to go.
But nowadays, I am probably a bit more cautious and in terms of the studio system, there was a period where I hadn't read a great script out of any studio. Even when I was in the prime of my career, where I was being offered absolutely everything, I rarely read anything which was great.
You have worked on some films which have been quite emotional and stressful with character plots and which must have left you feeling drained. How do escape from that when you leave the set?
I think I have been quite good at putting the roles that I play away once I go home. However, there have been times where I have woken up intermittently though the night when I am filming, after dreaming up the most horrific stuff, probably brought on by some of the parts I have portrayed over the years.
These nightmares that I have had have left me either panicked or crying my eyes out at three and four o'clock in the morning. That's what made me feel uncomfortable and that I was really playing with fire, so to speak, because it was sitting there in my subconscious and I literally had no control over it.
But what I do have control of is the roles and parts that I choose to do in films, so I know what to expect before I go into them. What I always make sure that I do when I take these roles on board is speak to my family, because they also have parts to play in showing the love and understanding what it is that I do. Particularly my husband, because that must be a weird place to watch your wife go.
However, that is something which brought us together anyway as we are both artistic and creative and that tacit understanding that we have between us is something which really helps, as well. I do like to challenge myself and I don't always like to feel like I am in a comfortable place.
I don't think that's something which is new; I was always like that as a kid, as well. I am left-handed, so that means I have a particular approach to the world. I certainly believe that left-handed people have a different approach to things and that they are wired differently. The stories that I would write at school were always a bit, you know, left-field and teachers would be a little taken aback by that.


To read the digital edition of South Jersey Magazine, click
here
.


Published (and copyrighted) in South Jersey Magazine, Volume 16, Issue 9 (December 2019).


For more info on South Jersey Magazine, click
here
.

To subscribe to South Jersey Magazine, click
here
.

To advertise in South Jersey Magazine, click
here
.
Author:
Evan Jameson
Archives
---
Who's Who in Health Care
Out & About
QB Ronnie Borden is Back in the Game
Should fans be worried for the Phillies bullpen?
South Jersey Football Games of the Week
A look at South Jersey's Top H.S. Girls' Soccer Teams
Out & About
Eagles will be fine after close call in opener
High School Football Games of the Week
Is it Super Bowl or bust for the Eagles?
What's New in South Jersey?
From New Jersey to Nashville
Frustrating times for Millville's Mike Trout
High School Football Games of the Week
Hammonton's Kenny Smith off to a quick start
More...