Holy Spirit Completes Dream Football Season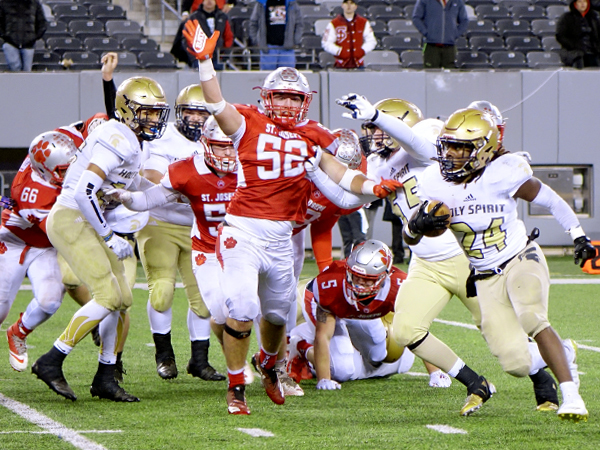 It was the most shocking score, not only in the postseason but the South Jersey season. What was expected to be a tightly contested championship game, turned into an affirmation for the resiliency of Holy Spirit.
The Spartans picked an opportune time to have their best game of the season when they beat St. Joseph, 38-0 in the NJSIAA Non-Public Group 2 championship.
This is a St. Joseph team that has been among the most successful programs in state history. The Wildcats were coming off a wild 76-22 win over Morris Catholic in the state semifinal. In that game, standout running back Jada Byers set a state record with 10 touchdowns.
In addition, St. Joseph had won four straight against Holy Spirit since the Spartans won, 17-14 in overtime in 2016. This season the Wildcats scored a 22-19 win over Spirit the week before the postseason began Last year St. Joseph beat Spirit in this same championship game, 41-22. The Wildcats also earned a 28-14 win in the regular season.
In 2017 while going 12-0, St. Joseph beat Holy Spirit in the regular season, 42-26.
In this year's championship game St. Joseph was the obvious favorite. The Wildcats entered with a 9-1 record, the only loss a 28-14 loss to a St. Augustine. That's a St. Augustine team that was the only school to defeat South Jersey Group 5 champion Williamstown.
Holy Spirit, meanwhile entered the game 7-4 but a closer look indicates that the Spartans played a difficult schedule
Besides the narrow regular season loss to St. Joseph, Hoy Spirit opened the season with a 56-27 loss to Maryland powerhouse Mt. St. Joseph. The Spartans other losses were to Central Jersey Group 4 champion Hammonton, 18-7 and to St. Augustine, 21-7.
Yet that difficult schedule had the Spartans prepared for the postseason. The other two playoff wins were over St. Mary, 54-16 and Hudson Catholic.
In the championship win over St. Joseph, the key was how the Spartans were able to contain Byers and the St. Joseph ground game. He gained 35 yards on eight carries.
Byers, who is headed to Sacred Heart, ended with 1,370 yards and 24 touchdowns rushing.
In the championship game, Holy Spirit opened the scoring with a safety, and received a 16-yard scoring pass from Trevor Cohen to Elijah Steward, and Patrick Smith 3 yard run and Smith's two-point conversion run to take a 16-0 halftime lead.
Smith and Elijah Gray would score TDs on the ground in the second half and CJ Egrie recovered a blocked punt for the other touchdown in the second half.
This was an affirmation of the Spartans offense, defense and special teams in helping coach A.J. Russo's Spartans won their first state title since 2015.
Article continues below
---
advertisement


---

It wasn't surprising that this talented team won, but the margin of victory was an absolute shock.

© SouthJersey.com 2019. All rights reserved. This article or parts thereof may not be reprinted or reproduced by any other party without the express written consent of SouthJersey.com. For more information, please call 856-797-9910.



For more Local Sports features, visit our

South Jersey Sports

page.
Author:
Marc Narducci; Photo by Marc Narducci
Archives
---
Continuing the Difficult Climb
Something to Build On?
Who's Who in Real Estate
Colonial Liberty is highly competitive in South Jersey Girls' Soccer
South Jersey Football Games of the Week
South Jersey Coronavirus (COVID-19) Developments (September 20)
Still way too early for Eagles conclusions
Sixers and Ben Simmons have plenty of training camp intrigue
Best of Home and Garden
Top Physicians 2021
Back to School
Former Ocean City standout Delaney Lappin making her mark at Drexel
South Jersey Coronavirus (COVID-19) Developments (September 13)
South Jersey Football Games of the Week
Eagles Enter a Season with Justified Optimism
More...