Caught in the Middle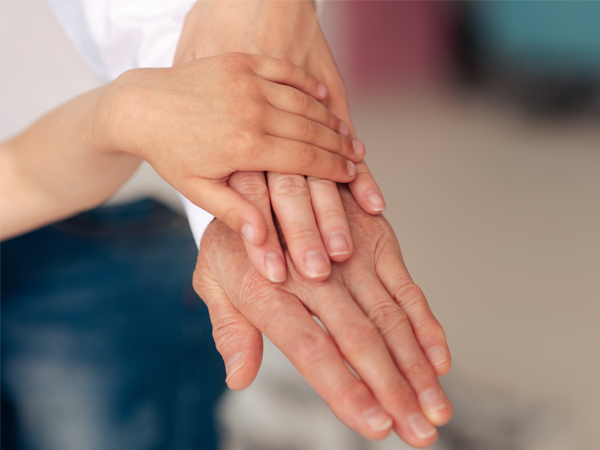 Between caring for their children and for aging parents, many are increasingly finding themselves as members of the sandwich generation.

As advancements in technology and medicine continue to evolve, so, too, does the average person's life span. And with these shifting demographics comes the reality that more people will become members of what is known as the "sandwich generation"—adults stuck between the old and the young with responsibilities to both.

Rachel Hahn, of Voorhees, knows the situation well. The certified personal trainer and stay-at-home mother is married with two young daughters, 3-year-old Ashley and 1-year-old Emily. Taking care of two toddlers can be daunting enough, but Hahn also cares for her 72-year-old mother Susan, who lives with her.

Hahn's mother was diagnosed with Frontotemporal Dementia, which is caused by degeneration of the temporal and frontal lobes within the brain.

"She was starting to have some physical issues, so we started to talk about [her moving in] right when she got diagnosed, and then after about six months of running back and forth to her it started to take a toll, especially on me," says Hahn.
Article continues below
---
advertisement


---


Haddon Heights' resident Roxanne Crowley is also a mom in the middle. The local elder care attorney with Rothkoff Law Group spent her summer working full-time, parenting her 5-year-old twin boys Emeric and Walter and also traveling to and from Maryland every week to care for her aging parents. Her mother, Joan, sadly passed away in early August after battling melanoma.

"To say it's overwhelming is an understatement," Crowley says. "I think with two working parents and two young children and limited family close by you always feel like you're just getting by and managing to meet everybody's needs, whether it's my employer, whether it's my husband, or it's my kids and you don't think you can handle anything else."

Knowing You Are Not Alone
A 2013 report from the Pew Research Center states that 47 percent of adults in their 40s and 50s find themselves in the sandwich generation. This means they are supporting a parent who is 65 or older while also raising young children or financially supporting a young adult.

But, whether handling the care yourself, seeking in-home care or considering a senior living facility, there are many resources available.

Starting the decision making process and researching the best agencies to help can be difficult, but every county has a senior service division that can help calm some of those anxieties.

Gloucester County is one of the leading agencies when it comes to aging services, offering its residents an extensive resource program including support groups, help choosing care options, emergency assistance, financial help and much more.

"We're the lead agency so if you're over the age of 60 and you need assistance in any area of life we're the place to call," says Leona Mather, executive director of senior services.

One of the main services that they provide is Meals on Wheels, a program that helps seniors get a hot meal once a day, often delivered right to their homes. "All together we serve 700 meals a day," Mather says.

At Home
For some, independent living is no longer an option but there remains a strong desire to stay in either their own home or with a family member. In-home nursing makes this possible.

Aleph Home Care is located in Cherry Hill with over 100 employed home health aides and companions dedicated to giving seniors the best quality of life whether it's for one hour or around the clock.

"We will go to wherever you are calling home at the moment, whether it is your own home, facility, hospital or rehab center," says Judy Spillane, operations and marketing manager. "We can add an extra level of care to help an individual be safe, feel secure, maintain independence, avoid loneliness and have peace of mind."

Moorestown Visiting Nurses Association (VNA) is another in-home nursing facility in the area that hones in on teaching others how to care for their loved ones.

"We address the many complex medical needs of our patients as they age, evaluate the safety of their environment and develop plans or make the necessary referrals so they can continue to live independently in the comfort and familiarity of their own homes," says Chickie Holocombe, president and CEO.

With over 300 employees and volunteers, Moorestown VNA is able to offer assistance through registered nurses, home health aides, physical occupational needs, speech therapists and social medical workers.

Elder Care Support
More and more seniors are being diagnosed with Alzheimer's or dementia as they age, creating a strong need for memory support communities.

Symphony at Cherry Hill opened January 2019 with the desire to give seniors who really need memory assistance a technologically advanced place to call home. Executive Director Jim Ryan hones in on helping his residents feel as comfortable as possible.

"A lot of people feel that because someone has Alzheimer's or has dementia they no longer can engage [or] converse and we feel like that's just not accurate," says Ryan.

"We want to provide families an environment where they're loved one can be cared for, can be engaged with other like minded residents and provide the adult children the opportunity to get back to being the son, the daughter, the daughter-in-law as opposed to being a 24-hour caregiver," Ryan says.

Another assisted living facility in Moorestown is Lutheran Crossings and for the past 71 years the community has been a mainstay in elder care support. "We have assisted living, we also have skilled nursing, short term and long term," John Chapman, executive director of Lutheran Crossings says. "We have short term rehabilitation, physical rehabilitation and long term care services as well."

Of course, not every aging senior needs a memory unit or assisted living; they are capable of independence with just a touch of extra attention. This is where The Evergreens retirement community in Moorestown comes in.

The Evergreens team assesses every patient to make sure that they are receiving the best quality care during stay. Each resident comes in as independent living and then as they transition through life, if more help is needed, assisted and skilled nursing will be readily available.

"We operate the community as a family; we refer to ourselves as The Evergreens family," says, Brian Levesque, executive director. "It's a not-for-profit organization; any profits that get made at the end of the year go back into the community."

Adult Day Care
When at-home care or an assisted living facility doesn't check any the boxes, adult day care may be the perfect way for those in the sandwich generation to balance things out.

Active Day in Marlton has three separate units to help every senior, no matter the level of care they need.

Seniors attending the center are given the opportunity for socialization, along with an ability to regain a sense of normalcy and routine. And the center is focused on helping the family as much as they are helping their members. For those whose loved ones have Alzheimer's or dementia, the center holds group meetings to talk about proper forms of care and to share their experiences.

The Role Reversal
With women having children later in life, economic conditions making it more difficult for younger people to be independent; there's no denying that parenting is taking up a large portion of one's life. And with more and more people destined to become part of the sandwich generation at some point in their lives, it can be a hard adjustment full of confusion, angst and uncertainty.

"That's just how I generally feel, especially now with such young children and so with this on top of it you learn you can handle it," says Crowley. "You have to. You don't have a choice, you kind of rise to the occasion."

To read the digital edition of South Jersey Magazine, click here.

Published (and copyrighted) in South Jersey Magazine, Volume 16, Issue 9 (December 2019).

For more info on South Jersey Magazine, click here.
To subscribe to South Jersey Magazine, click here.
To advertise in South Jersey Magazine, click here. Author:

Sydney Kerelo
Archives
---
Special Delivery
Top Physicians 2021
'You Do Not Have to Suffer'
South Jersey Coronavirus (COVID-19) Developments - Booster Shots (September 27)
South Jersey Coronavirus (COVID-19) Developments (September 16)
South Jersey Coronavirus (COVID-19) Developments (September 10)
South Jersey Coronavirus (COVID-19) Developments (September 9)
South Jersey Coronavirus (COVID-19) Developments (September 8)
South Jersey Coronavirus (COVID-19) Developments (August 30 )
South Jersey Coronavirus (COVID-19) Developments (August 24 )
South Jersey Coronavirus (COVID-19) Developments (August 23)
South Jersey Coronavirus (COVID-19) Developments (August 20)
South Jersey Coronavirus (COVID-19) Developments (August 19)
South Jersey establishments reassessing mask mandates
South Jersey Coronavirus (COVID-19) Developments (August 17)
More Articles