In it Together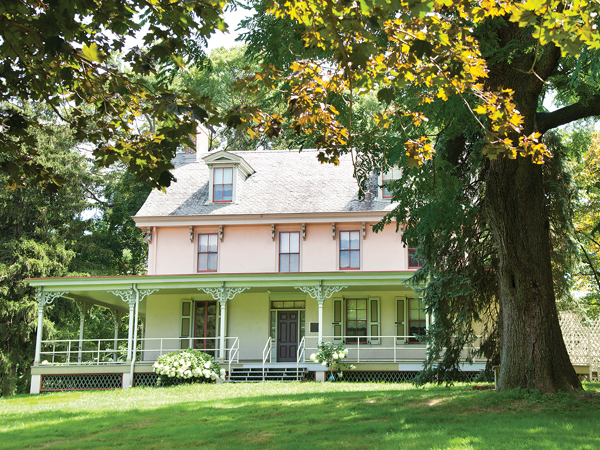 Businesses find and provide support for success in Mount Laurel.

When asked what makes Mount Laurel a great place to own a business, the vast majority of business owners respond with one word—location.

With the New Jersey Turnpike and Route 295 bisecting the entire township, and two state highways—routes 38 and 73—also providing access to local areas and beyond, it's no wonder, says Tony Mahon, managing director of AssuredPartners, a full-service insurance consultant and broker based in Mount Laurel.

While its prime location is a huge draw, it is not the only factor that keeps businesses here, though.

A supportive community and an objective for success is what truly makes Mount Laurel special, Mahon says.

"Two of the many reasons we chose Mount Laurel for our office location is its community and business identity," he says. "Forming and shaping the identity of a community might be one of the biggest supporting roles and obligations of any business. Businesses are drawn to Mount Laurel for their great access to the Northeast corridor, strategically located between New York City and Washington, D.C."

We spoke to several officials and Mount Laurel-based businesses about these characteristics and how they help to make Mount Laurel the appealing area that it is.

Supporting Business
When Mayor Kurt Folcher came into office, one of his major goals was to make sure Mount Laurel was business-friendly. By opening up his office to help streamline the process of getting a business started and acting as a guide through the permitting process, Folcher worked, and continues to work, to ensure an opportunity for success to any business interested in moving to the area.

"I just really wanted to make sure they had a warm and welcoming experience," he says.

By all accounts, businesses have taken notice of Folcher's efforts, says Kim Leiby, director of business development for The Lerepco IT Group.

"I cannot imagine having a business anywhere else," she says. "Mount Laurel is experiencing tremendous growth across the board—small business, commercial, real estate and retail. The growth has attracted top talent who not only work but reside here as well."

In addition to attracting new business— one of the newest is brewery Bout Them Hops, which had its grand opening Dec. 7— and additional locations for established businesses—Royal Farms, Peachwave Frozen Yogurt and Cipriani Remodeling Solutions all opened new locations in Mount Laurel in 2019—several established businesses have also opted to pick up roots and move to town. This includes Bright Lights USA, a light manufacturer formerly located in Barrington, and Gary's Gem Garden, a family-owned gem and jewelry store previously located in Cherry Hill.

Julie Kronfeld, SIOR, vice president of NAI Mertz, says all of this activity has truly tightened up the market in Mount Laurel, helping to raise the value of the market, and hopefully expanding the growth into 2020. "I think it's proof positive that this seems to be a thriving community," she says.

One factor to note is that not only does Mount Laurel help to bring a business to the area, but it continues to support the business through its infancy, says Freeholder Director Tom Pullion.

"Mount Laurel as a community does a good job of promoting its businesses," he says.

Part of this is executed by businesses helping businesses, like Axe Prime, which offers 15,000 square feet of customizable office space for both large and small tenants. "We don't just sell square footage," says co-founder Eric Shugarts.

"If someone needs the space furnished, we can supply that. We supply internet connection that is shared and managed by us. We also offer voiceover IP and telephones.

"We're trying to bring additional tenants to the area," he continues. "I think it's convenient from a travel perspective … not to mention the convenience of having different restaurants and the mall area to take advantage of."

Community Support
Of course, the businesses of Mount Laurel give back to the community as much as the community gives to them. In fact, as Jill Ross, executive vice president and chief retail officer for William Penn Bank says, they wouldn't have it any other way.

"We really enjoy participating in community outreach," she says. "We feel we have a responsibility as a community bank to serve, educate and guide our customers to make the best banking choices for them no matter what state they are in or how big or small their banking needs may be."

This community support is evident in a variety of ways. Whether it's through the services they provide or the donations they contribute, every effort is offered as a way of thanks to the community for supporting them the way they do, says Jim Sheridan, naval combat and missile defense systems vice president and Moorestown general manager of Lockheed Martin, whose main office is in Moorestown but whose technology campus is in Mount Laurel and is home to engineers working on advanced technology programs.

"Each year I am amazed at how much time our generous employees dedicate to the community," he says. "As a result, in 2018, employees donated approximately 56,000 hours to the local area—that is truly incredible. It is important to give back to the community, by doing so we are making it a better place for our neighbors and strengthening our talent pipeline."

Many of the 56,000 hours primarily support science, technology, engineering and mathematics (STEM) education and military and veteran causes, according to Sheridan. "Specifically in Mount Laurel, [Lockheed Martin] partners with the Lenape School District for Project Lead the Way (PLTW), as well as their FIRST Robotics program," he notes. "More recently, we partnered with Mount Laurel Police Department to support their efforts to name Mount Laurel's first explosive detector dog.

"Our partnership helped with the K9's purchase, training and other associated expenses," Sheridan continues. "The addition of the specialized dog will enhance the police response to threats within the community."

Businesses like The Lerepco IT Group and AssuredPartners also contribute to the community through activities like coat drives and blood drives, which give back in other ways.

Then there is the Rancocas Woods Business Association (RWBA), which really gives back to the community and its businesses.

Led by Parker McCay corporate attorney Mariel Giletto, the RWBA is a nonprofit created to bring business owners and neighbors together to better advocate for the changes they need to recruit new businesses and attract consumers to the Rancocas Woods area.

"The area of Rancocas Woods Village Shops is a small section of Mount Laurel lined with retail stores in historic cabins," explains Sherri Smith, director of marketing for Parker McCay. "It used to draw large crowds to its popular antique and craft fairs before shopping centers and online shopping became new hot trends with consumers. As new businesses are starting to return to the area, the RWBA is working to improve, promote and rebuild the economic stability of the area."

The revitalization is an exciting one, and it offers another place for a variety of businesses to set down roots in Mount Laurel. Smith notes Giletto's work with the RWBA is just one of the many projects that are championed by the Parker McCay team. Like many businesses in Mount Laurel, Parker McCay cannot overlook the importance of community.

"Our business provides services to public and private entities right here in Mount Laurel," Smith says. "What could be more important than supporting the community where we work and live? We see ourselves as a part of this community, but we want to be more than just members of the community, we want to be leaders in community services and set an example for other businesses to follow."

FACTS AND FIGURES
Article continues below
---
advertisement


---
Internationally known women's rights activist Alice Paul was born at Paulsdale, a home built in 1800 on Hooton Road, which is now A National Historic Landmark and home of the Alice Paul Institute.
Mount Laurel has the third-highest concentration of hotels in the state— only Atlantic City and Newark have more.
27,600 square feet
The size of the office building Samaritan Healthcare and Hospice recently completed a long-term lease on, and where the company will relocate its entire Marlton headquarters
29.4 minutes
Average commute time for Mount Laurel residents, according to the U.S. Census Bureau
1951
Year the New Jersey Turnpike opened and Mount Laurel rapidly began to grow


To read the digital edition of South Jersey Biz,
click here
.
Published (and copyrighted) in South Jersey Biz, Volume 9, Issue 12 (December 2019).

For more info on South Jersey Biz, click
here
.
To subscribe to South Jersey Biz, click
here
.
To advertise in South Jersey Biz, click
here
.
Author:
Amanda Hamm Hengel
Archives
---
Eastern and Cinnaminson are top girls' and boys' seeds in South Jersey Soccer Coaches Tournament
Healthy People, Healthy Business
South Jersey highschool football games of the week
Best of Home and Garden
Back to School
Ready to Take Flight
Bishop Eustace's Danny O'Rourke a model of stability
Who's Who in Real Estate
Special Delivery
South Jersey Football Games of the Week
Eagles saved their season with win over Carolina
A Difficult Loss
Top Physicians 2021
Phillies wasted lights-out seasons from Bryce Harper and Zack Wheeler
Another strong season for Olympic American Girls' Soccer
More...