Palate: Passport to Japan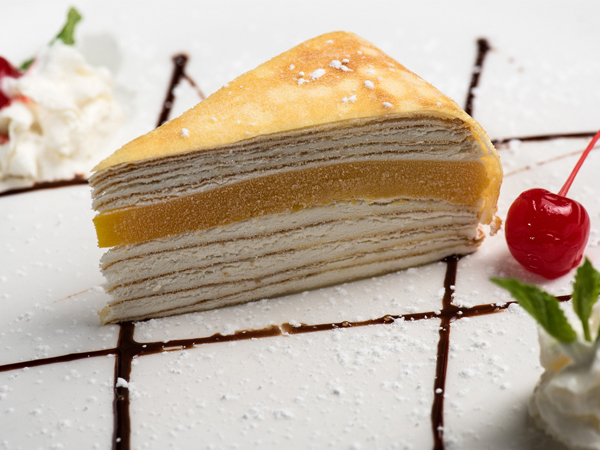 Since opening the doors to Yokohama over 15 years ago, owner Sindy Chan-Sze has remained committed to a sterling reputation.
Since opening the doors to Yokohama over 15 years ago, owner Sindy Chan-Sze has remained committed to a sterling reputation. The Maple Shade bar and restaurant has become relied upon for its traditional Japanese cuisine, built with only the best hand-sourced ingredients often coming straight from Japan's famous Tsukiji Fish Market into local ports.
The Sze family continues to build its legacy in the area as a trusted name. Just about three years ago Sindy's son Kenneth Sze branched out across the bridge, opening his modern fine dining space, The Tuna Bar, in Philadelphia's Old City neighborhood.
For this family, change seems to be a great thing, as both restaurants have only gotten better with time. While The Tuna Bar has an ultra-sleek, open concept, Yokohama stays true to its roots, a low-light and private experience, featuring a traditional sushi bar, several rooms for hibachi and its signature cocktail bar greeting you as you enter the doors.
The bar menu itself includes Japanese beers and specialty sakes—fans of the drink would not be disappointed by its sake flight—as well as Japanese-inspired cocktails like the Yoko mojito, a sweet drink that blends sake and strawberry with the traditional ingredients of rum and muddled mint.
Yokohama's sushi bar is an experience complete in itself. Grab one of a handful of seats and watch these culinary artists at work as they slice away at the best cuts of fish available in the area. That's also where Yokohama displays its specialty menu and rare cuts like Kobe beef and even bluefin tuna on the very special occasion.
The majority of this extensive menu comes across at dinner—though they also offer a hibachi and lunch special. Diners have their pick over hot starters and entrées, as well as sushi for any course of the evening. The nights still have some chill to them, so I decided to warm up with a plate of tatsua age, traditional Japanese chicken that is marinated then fried in a light coating of potato starch and served with fresh lemon and house-made katsu sauce. Imagine the best popcorn chicken you can find and that's close to what you'll get on this plate. The potato starch made the breading paper thin but still absolutely crisp, while the chicken was tender and juicy. When spritzed with lemon and dipped in the katsu, each bite was a twist of hot and cold, savory and tangy.
A sushi appetizer that shouldn't be missed is the tuna dumplings, featuring two purses of thinly sliced tuna packed with shredded lobster and yellowtail salad. Not only is this a unique visual, it's also an exciting mix of flavors and textures. The tuna was mild but still tender and flavorful, and the fresh ingredients inside were wonder- fully dressed and could stand alone.
When it comes to the full sushi experience, you can't go wrong with an entrée of chirashi. The dish features a generous selection of classic sashimi cuts, all served ice cold and unbelievably fresh. The salmon and tuna, in particular, are some of the most common cuts of fish you can find in sushi, but under the skillful hands of the chefs here these pieces melt in your mouth while remaining distinct and satisfying.
Aside from the hibachi entrées—which are also available at regular, sit-down tables—Yokohama also offers a large selection of hot entrées, including noodle bowls, hot pots and several stir fry options. The beef yakiniku stars sliced Black Angus beef, sautéed with onions, mushrooms and scallions in a homemade teriyaki sauce, finished with sesame seeds and a side of rice. The freshness of the veggies combined with the paper-thin cuts of ten- der beef and a carefully prepared teriyaki sauce really helped this dish stand out.
The menu wraps up with some familiar desserts, like tempura fried ice cream, but also takes a twist with both mango and matcha crepe cakes. The latter variety comes with layers of light crepes stacked with a fragrant and earthy matcha filling that was just sweet enough to wrap up the meal without being cloying.
For over 15 years, Yokohama has brought its quintessentially classic Japan- ese cuisine straight to the heart of Maple Shade. And it seems like the Sze family is only getting better with age thanks to a commitment to quality ingredients pre- pared with purpose. It will be exciting to see what the next 15 years bring.

Yokohama Sushi and Hibachi Restaurant
300 S. Lenola Road | Maple Shade
856-608-8812 |
SushiAndHibachi.com
To read the digital edition of South Jersey Magazine, click
here
.

Published (and copyrighted) in South Jersey Magazine, Volume 16, Issue 12 (March 2020).

For more info on South Jersey Magazine, click
here
.

To subscribe to South Jersey Magazine, click
here
.

To advertise in South Jersey Magazine, click
here
.
Author:
Erica Young; Photography By Jeff Anderson
Archives
---
Who's Who in Health Care
Crowd Pleaser
Can the Eagles Regain Their Winning Way?
A Bight Future Ahead for Glassboro Football
The Big Impact of Small Businesses
Eagles Need to Reset
Feeling Festive
Another dominating season for Delsea football
Mainland's Historic Football Season
A Rooting Interest
Eagles Continue to Fly High
Raising the Bar
Thanksgiving Football Continues
Hotstovers to honor All-SJ Baseball and new HOF inductees
South Jersey Football Games of the Week
More...