A Show of Strength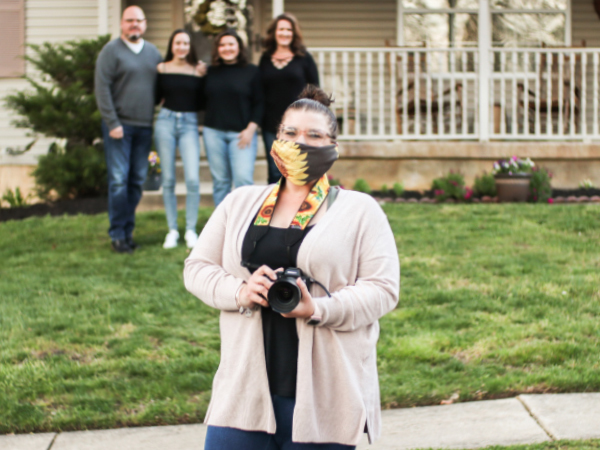 With the state ravaged by the COVID-19 pandemic, South Jersey is proving there's more ways than one to put up a fight.
Since the COVID-19 pandemic became an uninvited guest into our daily lives, we've been faced with many new realities and forced to deal with them rapidly. After several long weeks under Gov. Phil Murphy's stay-at-home order, we are all too familiar with social distancing, face masks and washing our hands to the point of skin irritation. Trips to the store, dinners with friends and days spent at the park with the kids have all been replaced with frequent strolls around the neighborhood, directionless scenic drives and an overall longing to get back to some semblance of normal.
Thankfully, there is great optimism that those days will be here soon enough. Recently, Gov. Murphy introduced a new roadmap to reopening New Jersey and while there's still a ways to go, it does provide some light at the end of the tunnel.
But make no mistake, this pandemic is still very much part of our everyday existence. In our April issue, we wrote about South Jersey's initial response to the coronavirus. To continue our coverage series, we wanted to take a look at some more specific ways this crisis has affected us. From the selfless dedication of our local health care heroes to the various ways businesses are adapting to these changes. We also examined what a lost season means for athletes, from youth sports through the collegiate level. And to prove there's been some good to come out of all of this, we share the touching stories of some local people that have gone above and beyond to help others along with those who have found some creative ways to make lasting moments for friends and family.
Article continues below
---
advertisement


---
Responding to the Pressure
The health care industry steps up when we need it most.
By Liz Hunter


In the early days of the pandemic, health care organizations were bracing for impact, dealing with unknowns and preparing for the worst. Brian Sweeney, interim president of Jefferson Health New Jersey—whose Cherry Hill hospital cared for the first positive case in South Jersey—says he witnessed firsthand the magnitude of caring for that patient. "As it spread, it was challenging in terms of coordinating care," he says. "We had to reconfigure to prepare for a surge, but the slow ramp-up in South Jersey gave us time to plan and we are constantly scouring for all evidence-based practices and adopting them locally."
Although things have been more manageable in our area, Sweeney says that doesn't necessarily mean there has been a slowdown. "Some days look like there's been a flattening, but then the next day you have more. … It seems it hasn't slowed yet, but it's also not growing at a fast rate."
Dr. Reginald Blaber, executive vice president and chief clinical officer of Virtua Health, says his organization is seeing signs of a light at the end of the tunnel. "The number of patients with COVID-19 illness admitted to our five hospitals has leveled off and there are indicators that it may be in its decline," he says. "The surge that experts once projected now seems significantly diminished. … I credit this to the luxury of time and the widespread stay-at-home and social distancing measures."
For now, this has meant that hospital beds, ventilators, PPE and other supplies have remained available among South Jersey's health care providers. In terms of testing kits, Blaber says their lack of availability is less of an issue now. Virtua reports it is testing more than 140 people daily at its testing locations in Burlington and Camden counties, and Sweeney says Jefferson is performing about 750 tests a week between its three sites as well.
"It is especially important that testing kits are available for health care employees and first responders. They are vital during the pandemic, and testing allows us to know if they are available to report to work or if they need to stay home and quarantine," says Blaber.
The experience of the last two months, while traumatic for many who are working on the front lines and those who have lost loved ones, also brings stories of success. People are recovering and research into new treatments is underway.
Virtua and Inspira are participating in a program led by the Mayo Clinic that is evaluating the use of convalescent plasma on the immune systems of critically ill patients. This plasma is collected from donors who have recovered from the coronavirus and possess antibodies. In April, Virtua performed the first two transfusions of this type in New Jersey on a man and woman in their early 60s, and reported their recovery and expected return home.
"Convalescent plasma therapy for COVID-19 patients is both intriguing and unproven," Blaber says. "We are delighted by the recoveries of our initial two plasma recipients and glad that Virtua can contribute to the national research on this treatment option. However, far more data is necessary before we can speak to the efficacy of this intervention."
"The scientific community is cautiously optimistic that convalescent serum might prove beneficial to people with severe or life-threatening COVID-19," says Dr. Sami Abate, director of clinical research at Inspira. "We have identified six patients in our hospitals who meet the criteria to participate, and we are working with the Red Cross to secure the needed convalescent plasma."
In addition to participating in the Mayo Clinic research study, Inspira's Clinical Research Office is making a separate and additional effort to inform recovered COVID-19 patients that they may meet specific eligibility criteria to donate and subsequently register with the Red Cross as plasma donors. According to Abate, many of the people they are contacting are excited by the opportunity to help others.
Like most things in medicine, says Blaber, there are risks associated with every course of action. "For those first two plasma recipients, the potential reward—saving their lives—far outweighed any risk. But that does not mean it is the best or most appropriate option for everyone. The same can be said for remdesivir, an experimental antiviral drug that was originally designed to combat Ebola. There have been some early reports of its effectiveness, but only time will tell if there are proven clinical benefits," he says.
Health care organizations are leveraging technology in innovative ways, and it has become a valuable tool for treatment during the pandemic, potentially setting up telehealth platforms in particular as the new norm.
For instance, Inspira launched a dedicated COVID-19 chatbot, dubbed "Rosie," accessible from the Inspira Health homepage, which walks people who think they have been exposed through a series of questions to determine their next steps. A 16-day self-monitoring tool was also added, allowing physicians to check in on a large sample of patients and their progress.
Dr. Joshua S. Coren, professor and chair, family medicine, Rowan University School of Osteopathic Medicine (SOM), says COVID-19 impacted the department's entire business model. All normal operations had to be revised, and they continue to adapt. As a department that provides primary care and therapeutic mental health services to the community, continuing its high level of care was essential. Switching to telehealth quickly made it possible.
"We were able to maintain access for our patients in a safe environment while reducing risk of transmission of COVID-19 to patients and employees," Coren says. "In a way, access to care actually increased as transportation issues or commute times were eliminated. The telehealth technology enables us to still see our patients face to face, which allows us to continue building relationships with them."
The experience was also invaluable to RowanSOM's students. "From an educational standpoint the students were able to be directly involved in the care of patients during a global pandemic, as well as receiving education specifically in the area of telehealth," Coren continues. "Additionally, by adapting the family medicine clerkship, we are able to limit the impact of COVID-19 on the students' coursework, and ultimately graduation date, ensuring their hard work and training experience as little disruption as possible."
Feedback has been positive from both staff and patients regarding the telehealth environment. Coren says this may very well become a "new norm" for family medicine depending on the type of visit or for patients facing transportation issues. "Telehealth cannot completely take the place of hands-on medicine, particularly for osteopathic physicians, but it is a great tool we can and should use to improve access to care for our patients moving forward at Rowan Medicine," he says.
Unfortunately, some patients cannot receive the care they've been waiting for—such as postponed surgeries—due to the shutdown, and Sweeney says this is a concern among Jefferson's clinical teams. "A lot of patients have been waiting for elective care—this is still care they need, and there is a risk to not getting it," he says. "We are eager to get back to what we do as a full-service provider, and patients are eager to get the care."
Blaber echoes this concern. "We know that people have held off seeing a doctor or having routine tests and procedures. In the weeks ahead, all of us should be mindful of the risks of continuing to not seek care for our chronic medical problems," he says. "As much as we have to be concerned about avoiding coronavirus exposure, we also have to be thoughtful about making sure that we are getting the appropriate care of our chronic illnesses like high blood pressure, diabetes, coronary artery disease, and the like. Otherwise, we might find ourselves in as much or more risk than that associated with contracting COVID-19."
A New Way of Doing Business
Learning to adapt when the typical workday becomes anything but.
By Peter Proko
The COVID-19 pandemic has challenged different businesses and industries in varying ways, but there's no doubt that it's had a direct effect on each one of them. As unemployment numbers rise and the federal government races to ease the financial burden on individuals and business owners alike, it's become painfully obvious that the way business is being conducted these days is not what we're used to.
Many of us have been working from the confines of home, sharing "office" space with children and juggling virtual staff meetings with virtual learning. And for the others whose job has been deemed essential, they continue to operate while trying to navigate new guidelines and restrictions. It's a less than ideal situation, but the overwhelming ability to adapt—thanks to a big lift from modern technology—has allowed local businesses to move forward while also giving them a blueprint for dealing with such an unexpected event.
Such is the case with Samaritan Healthcare and Hospice, which created a special task force to handle its response to the virus. Led by its chief medical officer, the task force also includes members of its senior leadership as well as representatives from across the organization. The team handles everything from creating new protocols to managing the supply of personal protective equipment.
"We are constantly receiving, digesting and reviewing information and making adjustments to our plan as needed," says Joanne Rosen, vice president, marketing and public affairs. "Keeping our staff informed is critically important—we want people to know we are staying on top of the updates."
Samaritan also turned its inpatient center in Mount Holly into a dedicated coronavirus unit with 10 beds for hospice patients who have tested positive and their Voorhees center has transformed one of its three wings for similar care. And prior to the pandemic, its palliative group launched primary physician care for homebound people.
"First and foremost, we are her for our community. We are caring for more than 500 patients every day and we are as committed as ever," Rosen says, adding that Samaritan is also continuing to accept new patients.
Similar dedication is also being seen with Moorestown Visiting Nurses Association (MVNA) where the staff is answering the call in more ways than one.
"We've seen nurses and therapists come off their shift and then go straight out again to volunteer their skills when and where more help is needed. We have also seen staff using their own time to pick up supplies or food for elderly patients who are scared and have nowhere else to turn," says Chickie Holcombe, president and CEO.
When talking about the work that her team does, Holcombe also cites the importance of keeping a regular routine with patients. With many already isolated and living alone, the current crisis has magnified the need for human interaction.
"We know how important a smile and a friendly face is. In spite of this virus, people still need human interaction to stay healthy, and we know that often our nurse, therapist, social worker or aide may be the only person our patient sees for days."
Both Samaritan and MVNA offer counseling services and have recently made adjustments to become HIPAA compliant for remote therapy.
"More people are feeling anxiety and stress, more depression, more domestic violence and overall increased mental health issues," Holcombe says. "We've found that for many clients, [adding remote counseling services] has made therapy easier and more accessible."
Of course, this level of personal care is a two-way street, and so employees have to balance their dedication to the job along with their own fears of working in close contact with those who could potentially be carrying coronavirus. As a result, the counseling services are not only being utilized by patients, but staff members as well.
"Our counselors have pulled together what they call a COVID-19 support force," says Rosen. "They are sharing lots of resources to support our staff … our musical therapist has recorded several videos and every morning our spiritual support folks send all of us beautiful readings, poems, etc. that are helping to provide a moment of respite from the situation. They are reminders to take good care of ourselves and remember that our work is absolutely essential and appreciated."
"Our staff members have utilized our counseling and grief support services in the past for themselves or their families and absolutely these services continue to be open to anyone who feels they would be beneficial," Holcombe says.
The advent of telemedicine has provided a certain comfort level for Dr. Scott Schaffer, vice president of Advocare ENT Specialty Center, and allowed him to remain connected to his patients while providing the care and expertise they have come to expect.
"I am amazed just how complete we can be with ear, nose and throat care without actually touching the patient," he says. "We can counsel patients about symptoms and diseases, discuss preventative care, prescribe medications or therapy and suggest testing if needed."
Schaffer says only about 10 percent of patients require an in-person examination following a remote consultation. "I think more patients should take advantage of this technology," he says. "I'm certain that televisits will remain popular for both patients and providers after the lockdown has passed."
Taking care of others and ourselves is not solely limited to our health, however. With so many layers to a situation like this pandemic, one may not immediately think how the world of family law could be affected, but the coronavirus has presented its own set of unique challenges to the legal profession.
Matthew Podolnick, co-managing partner with Sherman Silverstein, says he has remained quite busy tending to clients who are dealing with unprecedented circumstances. Some clients are concerned about custody agreements and the exchange of children and the risk of infection, while others may have lost their job and are unable to keep up with support obligations.
Podolnick says that from his perspective he is seeing lots of divorced couples recognizing the seriousness of the situation and thus agreeing to put their differences aside in the best interest of all parties involved.
"I had a client where both parties are in the same profession, and it is not an 'essential' profession, so both agreed to have a moratorium on child support. They worked together, I thought that was terrific."
One direct result of this crisis could be that future divorce or custody agreements may include a pandemic clause to provide guidance for any future unforeseen situations such as this. Podolnick thinks it would be a wise decision.
"I absolutely think there should be," he says. "It will define the parameters of custody—maybe the kids do stay in one house because it's in the best interest of the children rather than exposing them back and forth."
As the coronavirus pandemic continues to evolve, it's become evident that so too does the business community's response. And if these recent weeks have been any indication, South Jersey will be prepared for whatever curveball comes next.

No More Fun and Games
When the sports season was ripped away, these athletes lost more than just the chance to compete.

By Matt Cosentino

PNC Park—home of the Pittsburgh Pirates—is known as the crème de la crème of modern Major League Baseball stadiums. With gorgeous views of the Steel City's skyline framing Roberto Clemente Bridge as it crosses over the Allegheny River, it is the perfect place to take in a game on a sunny summer afternoon. Jack Herman, just two years removed from a standout career at Eastern Regional High School, is hoping to be playing at PNC regularly in the near future, with an eye on making the big leagues in 2022 or 2023.

Of course, that was before COVID-19 threatened to wipe out an entire season or more of his rise up the organizational ladder. Now, instead of continuing his development for a minor-league affiliate of the Pirates in Greensboro, North Carolina, or Bradenton, Florida, he is stuck at home in Voorhees, hitting off a tee into a lacrosse net in the backyard.

Baseball players are all about routine, but Herman is suddenly dealing with a new one—and he is completely in the dark about when he will be able to resume his normal schedule and rejoin his teammates.

"We have no idea, to be honest," he says. "We don't know anything and we're not told anything. It's pretty crazy. When we were sent home we were told it was for two weeks, and obviously that's not what happened. It's been a month and a half so far."

Normally in times of crisis, Americans can lean on sports as an escape—think back to the weeks and months after the Sept. 11 terrorist attacks, and the healing power baseball and football had for the country. But right now, athletics have also come crashing to a halt, from the professional leagues all the way down to T-ball and youth soccer.

What happens when the games stop and nobody is sure when they will start up again?

A surprise trip home
A wild second week of March is when sports started to shutter their operations, one after another. From conference tournaments in college basketball to the NBA and NHL, to annual rites of spring like March Madness and The Masters, and even this summer's Olympics in Tokyo, everything was canceled, suspended or pushed back, with no definite plans for restarting.

It was during this time that Major League Baseball players, and minor-league prospects like Herman, were sent home from spring training in Florida and Arizona. Herman drove straight from the Pirates' facility in Florida back home to South Jersey, a trip that took him 19 hours with traffic.

"At first it felt like a dream," he says. "We just got here two weeks ago and we're already going home? We had just said goodbye to everyone [back home] and we were expecting to be gone for nine months. It feels like we don't have a job anymore and it's definitely weird."

Herman was a 30th-round pick of the Pirates in the 2018 MLB Draft after starring at Eastern for four years, and he turned down a scholarship from the University of Maryland to begin his pro career. The outfielder had immediate success in Rookie ball, being named an all-star in the Gulf Coast League, and last summer at 19 he was the youngest player on the Greensboro Grasshoppers, the Pirates' Class A affiliate, where he hit 13 home runs.

He expected to move up another level this year, to the Bradenton Marauders in High-A ball, but now that promotion might not come until 2021. There has been talk of Major League Baseball resuming this summer in Arizona, with games rotating among spring training stadiums and players being quarantined in hotels. Another proposal has teams playing at their own ballparks without fans, with limited travel to face opponents in their geographical area.

The future for the minor leagues is less clear, and Herman is just waiting for the call to go back to work.

"They would probably give us a week or two notice to get prepared, and I'm assuming we would just go and finish spring training and then have a season," he says. "This is something no one has ever dealt with before, so no one knows what's going to happen or how it's going to work."

Unfulfilled promise
For someone who loves baseball as much as John Yurkow, any season that is cut short would qualify as disappointing. But as special as this one had the potential to be, it made it even more heartbreaking.

A Washington Township native who starred at Gloucester Catholic and Rowan as a player, Yurkow has been a college coach for two decades and is in his seventh season leading the program at the University of Pennsylvania. He brought a 127-119-1 overall record into the season and Penn was picked to finish first in the Ivy League.

The Quakers' talented team included the reigning Ivy League Pitcher of the Year, Highland graduate Christian Scafidi, and 2019 Rookie of the Year Josh Hood, a St. Augustine product.

"This was the deepest roster I've had since I've been at Penn," Yurkow says. "We had three seniors who were fringe draft prospects, including Christian. We had three sophomores who were supposed to head up to the Cape Cod League this summer and a couple of juniors who are really good players and have a chance to play pro ball. That made it a little tougher. I just feel bad for the seniors who are going to miss out on it—the same thing with the high school seniors too. I feel terrible for those kids."

Scafidi, a Blackwood resident, was hoping to help Penn win its first league championship since 1995.

"We knew we had a special group coming into the year and we were really excited about the things we were going to be able to do on the field," he says. "We had a group of seniors who were great leaders and a talented group of young kids too. … All the projections were in our favor."

Penn started its season with its annual trip south, playing games in Georgia and Florida. Yurkow had just walked off the field after throwing batting practice before a game at Florida Atlantic on March 11 when he was informed that the Ivy League was canceling the rest of the season for all spring sports.

The Ivy League was one of the leaders in the sports world of taking COVID-19 seriously, as it also was the first to cancel its conference tournaments for men's and women's basketball leading up to March Madness. Other leagues and sports soon followed.

"At that point we were the only league that had canceled, so my guys were really angry and upset," Yurkow says. "It was a 'Why us?' type of thing. Then that night, the NBA suspended play and it started to hit home that this was going to be a bigger thing than it already was. All of the dominoes started to fall after that."

For seniors like Scafidi, who had been building toward this season for their entire college careers, the decision was hard to swallow.

"It was a surreal feeling," he says. "It was like, how could they do this? All of the hard work we put in was wasted. Obviously, as things played out it was the right decision and it ended up saving a lot of people."

The NCAA Division I council eventually voted to grant an extra year of eligibility to senior spring athletes, meaning they can return next year to play a full season. But that was a mixed blessing for Penn and the rest of the Ivy League, which has a conference rule that prevents athletes from competing as graduate students. Despite support from Yurkow and Penn athletic director Grace Calhoun for a one-year exemption to the rule, the Ivy League decided to adhere to its eligibility requirements.

For the seniors on Yurkow's team to return and play next season, they would have to delay their graduation and add a double major or minor, while paying for another year of tuition since the Ivy League does not offer athletic scholarships. Several have already accepted well-paying jobs in line with their majors and will be moving on to start their careers. Three seniors—Scafidi, pitcher Mitch Holcomb and right fielder Peter Matt—have their sights on professional baseball and will be transferring to other Division I schools as graduate students, with Yurkow's blessing.

"If it was feasible to go back to Penn, I would've loved to finish what we started four years ago," says Scafidi, who will instead play his final collegiate season at Notre Dame. "People had that opportunity at almost every school in the country except for these eight [in the Ivy League].

"Notre Dame is a great academic opportunity and ACC baseball is some of the best baseball you can play, and it felt like an opportunity I couldn't pass up. If professional baseball doesn't happen this year, what an amazing opportunity to go experience for a year."

Players like Scafidi were also impacted by MLB's plan to reduce this year's draft from 40 rounds to five or 10 because of financial concerns over the coronavirus. In a normal year he would have had an excellent chance of being chosen and starting his pro career; now that's unlikely.

"To save money it looks like they're going to shrink the draft, and when that decision [officially] comes out, being realistic with myself I know I'm not a top five-rounder," he says. "So I had to come up with another plan for what I was going to do next year. … With everything being so uncertain, having the opportunity to keep playing at Notre Dame and give myself another chance [at the draft] next year was very important for me."

Senior year interrupted
The spring semester of senior year in high school is supposed to be a time of building lifetime memories: senior trip, prom, graduation. For athletes, it's the last chance to represent their school, compete for championships and spend time with their teammates.

Karly Messina, a senior on the Cherokee softball team, has been a stellar pitcher for the Chiefs since her freshman year and helped them win three straight division championships. She is coming to grips with the fact that she won't be able to go for a fourth.

"It's difficult because the whole team worked so hard in the winter leading up to the season, and then you get through tryouts and have a few practices and suddenly it's all over," she says. "It's tough but I'm trying to stay positive. There's not much else you can do."

After Gov. Phil Murphy announced on May 4 that schools would remain closed through the end of the 2019-20 academic year, the NJSIAA—the state's governing body for high school sports—officially canceled the spring sports season. In a statement, the organization said: "[
T]his decision was not made lightly and we are disappointed for the thousands of New Jersey student-athletes who will be unable to compete this spring. While we remained hopeful to the end, and left open every possibility, competition simply is not feasible given the circumstances.
…
The NJSIAA will continue developing plans for the potential restarting of scholastic sports during the fall season. Additional information related both to the summer recess and fall will be shared at a later date."




Riley Smith, a senior on the Haddonfield girls lacrosse team, had trying to remain optimistic about her final season with the Bulldawgs. She has gotten used to remote learning, but there is no replacement for athletics.



"Not having lacrosse is hard because I've always used that as a way to let loose and have fun at practices," she says.

Messina has been hitting and throwing in the backyard with her older sister Anna, an outfielder at Ramapo College. Next year she will join her as a collegiate player at Kean University.

"There are six of us seniors and three of us are playing in college," she says. "It definitely is [a bright spot] but I've had so much fun playing Cherokee softball so it's a bummer that I can't play. I was really excited for this season."

Smith will not be competing in lacrosse in college, so this was to be her last hurrah. As the only senior on the team, she was looking forward to being a leader and getting a chance to play with her sister Ciara, a freshman.

"I really wish I had known last year was my last time playing," she says. "Every year the seniors have been so great and I was really excited to take that role. I wasn't just looking forward to the games, but also being with the coaches and the team, riding the bus and listening to songs, and just making new friends."

Youth sports on hold
Liz Baelz's twins, Mia and Tyler, might only be 5 years old, but they've already become quite the little athletes. Last spring they played T-ball for the first time, followed by soccer in the fall. Tyler was set to play flag football this spring and both were returning to T-ball, with their mom as the head coach.

Three other kids from their East Greenwich neighborhood were also on their team, so it was shaping up to be an enjoyable season. But after just one practice, play was suspended and it appears likely that it will not resume.

"It was going to be fun and I was looking forward to it," Baelz says. "Opening Day was cute last year and I was excited for that. But we're living a different life now."

Although Baelz's children both love being active and participating in sports, she feels they are too young to realize they are missing out on something right now. "It's not like they're saying, 'Why aren't we playing T-ball?'" she says with a laugh. "I get sentimental about it because this was our last year for T-ball. … But in the end, all of the kids are missing a season so they're all going to be in the same position."

Bill McCorkle is in his fourth year coaching his daughter, Audrey, in the Mount Laurel United Soccer Association, and this was his second season as the head coach of the Flames, a U-11 team. They at least got one game in before the season was suspended, a 2-0 victory.

Since then, McCorkle has urged the girls to practice on their own at home so they don't fall behind.

"I basically put out a list of things they can do throughout the week. Each day I set up a Google Form and they can submit what they do each day and accrue points. I'm trying to entice them with a pizza party for when we get back to normal," he says.

McCorkle says both the South Jersey Girls Soccer League and South Jersey Boys Soccer League fall under the umbrella of US Club Soccer. That organization recently sent out an update targeting May 18 as a return to action, with games carrying on into July. It will be up to both local leagues as well as each town whether to participate or not.

Since tournaments are still scheduled for late May and early June, McCorkle recently sent an email to his players' parents to gauge their feelings on competing again this season or waiting for the fall.

"I've got mixed opinions myself," McCorkle says. "I've seen and heard from people who have been directly affected by COVID, so I don't want to be naïve about its potential. But at the same time, when they present some of the statistics, the likelihood of healthy people without underlying conditions dying from it is very unlikely, so I don't know. This is something that I think is going to be around at least for another year or two, and I suspect that society will want to get back to its regular rhythm and take on the consequences."

The evidence seems to support McCorkle's way of thinking, as Gov. Murphy announced at the end of April that golf courses, as well as state and county parks, were allowed to reopen in early May under strict conditions. It is a welcome start for South Jersey's golfers as well as local courses hoping to salvage their prime season for business.

As for the rest of the athletes in the area, from the pros down to the Little Leaguers, there are two words they can't wait to hear: "Play ball."


A Community Comes Together
Across the tri-county region, people are finding special ways to make an impact.

By Sydney Kerelo

One of the bright spots to arise from dealing with this pandemic has undoubtedly been the inspiring tales of local residents who are trying to make a difference. Whether raising money, sewing masks, donating food or finding creative ways to put a smile on a neighbor's face, South Jersey is full of stories that prove the human spirit remains alive and well. Here, we spotlight some of the folks who have bestowed hope and comfort during these trying times.
After battling and recovering from the coronavirus, Sanfilippo was determined to give back. "When we were sort of at our worst in quarantine here in our house, we had a lot of people that stepped up to help us," says Sanfilippo. "I felt very fortunate that my wife didn't have to worry about any of that stuff." So after his recovery, the Moorestown resident and his family came up with a special way to raise money: by letting his son shave his head. The idea morphed into a crowdfunding venture where other members of the community would let their children shave their heads and then donate money they would've spent on a haircut to help raise money for the Food Bank of South Jersey as well as other organizations.
As a Moorestown High School freshman, DiPasquale has been changing the game when it comes to acts of kindness. He spearheaded his own program, Senior Serenades, through the Local Acts of Kindness foundation where he and his musically-inclined peers would go to local assisted living facilities and sing for them. But due to recent circumstances, DiPasquale has taken the act virtual. The group record performances from their separate homes and create videos to send to the facilities so that the seniors can continue to enjoy their music. Right now, Senior Serenades performs once a month with plans to expand the program to other parts of the country.
Shawn and Jeffrey Jones, Tailored Tutoring
As the world shifts to online learning, there can be some discomfort and uncertainty with parents now becoming at-home educators. But Shawn and Jeffrey Jones, owners of Tailored Tutoring, are putting parents' minds at ease by offering extra (and free) help to any person struggling academically. "Three days a week, we share videos of our staff reading stories aloud for children. We post stories in English and Spanish. Another resource we have is 'office hours.' On Wednesdays, from 5 to 7 p.m. and on Fridays, from 1 to 3 p.m., anyone can send in homework questions or concerns they have for their students," says Shawn.
Four medical students from the Philadelphia College of Osteopathic Medicine co-founded Medical Students for Masks to collect donations to purchase personal protective equipment (PPE) for local hospitals and medical facilities. Becca Yankelevich, a first-year Rutgers University-Camden law student, became involved because her sister Gabi started the organization. Because her sister is currently out of state during the quarantine, Yankelevich began helping to coordinate efforts within the Camden area. With approximately 60 volunteers, the organization has been able to donate to over 25 institutions.
After seeing her parents and her neighbor's father suffering from loneliness because of the social distancing rules set in place, Troy decided to try to incorporate the community in a way that brought them a smile. Moorestown Send-A-Smile allows for anyone to send a card to isolated seniors during this time. "We put a little message inside each card that says, 'A Message Sent with Love to our Seniors from your Community' so they know these cards are from their community who cares," Troy says.
A sixth-grader at Bunker Hill Middle School in Washington Township, Beury has been an avid sewer, always trying to make new things. But when the coronavirus pandemic struck, she decided to put her talents to good use. By using fabrics she already owned, Beury has been taking the elastics out of her hair scrunchies and coming up with new and innovative ways to create masks. Her mom and dad have been helping her create and donate them to local health care facilities such as Lourdes, Samaritan Healthcare and Hospice, and many others.
Bianchi, started Smart Shop New Jersey and has been helping anyone within the Mullica Hill community who is having difficulty shopping for themselves. "Customers email or text us their shopping list and preferred grocery store, and from there we do the shopping for them," says Bianchi. His roommate at Manhattan College began doing a similar venture in his hometown and when Bianchi saw how much it helped that community, he was inspired to bring it to South Jersey.
Ascalon Studios and Pearlman Design
When Eric Ascalon noticed how significant the shortage of PPE was, especially in New Jersey, he felt an obligation to help and protect the health care workers on the front-line. Due to the lockdown orders, his father David's design studio had been closed. It was then that he discovered a man named Seth Pearlman was creating intubation boxes in his living room. Seth, Eric, his father along with the studio's chief fabricator, Bob Loch, connected by forming a team and began making safety boxes for local health care facilities and hospitals. They have completed around 200 devices and continue to grow each day.
As a way to help families cope during a difficult time, this Washington Township-based family photographer spearheaded the Front Porch Project, where she would visit families at home and take their portrait from a safe distance. She began the project as a free service until she met John Chirico, the founder of Food4Staff, an organization that purchases food from local restaurants to feed hospital workers and other essential employees. Now, McMahon is charging a slight fee and donating the proceeds from the photo shoots to the nonprofit. "The bookings are quick, five-minute sessions," says McMahon. "I come to the client's home with a face mask on and remain at least eight feet away from the family. All donations/bookings come with one digital image download and an online gallery."
As the owner and designer of National Picnic, a boutique clothing manufacturer in Haddonfield, Cook has been using her resources, experience and network and began making face masks with her team of about 25 volunteers. Since most of the clothes she makes in her store are made of cotton, she is able to use the fabric she owns as well as some fabric that was donated to her to create the masks and donate them to local health care professionals. "Masks have gone to Cooper, Virtua, Lourdes, Inspira, Temple and Penn," says Cook. "Also several nursing homes, Urban Promise Camden, some policemen and even some Coast Guard workers have received masks from our project during the time of scarcest supply."
This area chapter of the national nonprofit for teen volunteers has been working with the community to make cards and write letters. The group is trying to find creative and innovate ways to spread happiness and will also be starting a pen pal program for senior citizens where those within the community can talk with seniors, trying to curb the loneliness that can come from social isolation and to spread happiness.
Lange, a third-grade student at Horace Mann Elementary School, is making face masks through a local group in Cherry Hill, Masking Masks. Each person conducts a non-contact mask dropoff and pickup. Lange was taught how to sew by her father and wanted to use her talents to do something good for those around her. "We donate to medical personnel and first," says Lange. "My mom and I together have made and donated 117 masks so far."


Samuel Adepoju
This Rutgers University-Camden student turned his love for clothing into his own apparel line, Poju Apparel. Now he's channeling that passion into something to benefit those who need it most with a special t-shirt design he created to help raise money to combat food insecurity. Fifty percent of the shirt's proceeds will donated to the nonprofit Convoy of Hope. "Going to school in a city that is considered a food desert—there are some small local grocers but there are no local retailers until two towns away—[I know that it is] pretty hard for people to get healthy food and then with the pandemic it is not making that any easier," Adepoju says.
Time Well Spent
While we all sit at home, these locals found creative ways to make the most out of the situation.
By Julie Shannon
During the pandemic, people have been coming up with lots of ways to stay busy while quarantined. Teachers have had to come up with creative ways to keep their students engaged over the computer, especially the younger ones. Almost all of us know of someone who's had a birthday drive-by at their house and it seems as if many have been trying their hand at baking given that yeast is the hardest thing to find in the grocery store next to hand sanitizer and toilet paper.
Then there are those who had to be creative in changing major life events, such as weddings.
It was a month before Jessica Proctor's wedding on April 17 when work-from-home orders were put in place, and restaurants, larger venues and other storefronts were closing. Unfortunately, she knew she would be forced to make some changes to her wedding.
"At that point we had decided we would open our ceremony to just immediate family and our bridal party," the Berlin resident recalls. "We talked with our venue and they obviously weren't going to be open, but because we had planned an outside wedding, our venue graciously said we could use the ground if we wanted.
"And then things continued to progress the first week of April and health officials put more guidelines in place, and we realized we had to limit our ceremony to 10 people."
Proctor adapted to the situation quickly and it didn't take her long to decide on a new location for the wedding—her backyard. With a beautiful gazebo on her back deck, she envisioned herself and her now husband, Michael, along with their family members—including her grandfather who performed the ceremony. Her vendors helped make this a reality.
"My florist made two beautiful garlands that went up the columns of the gazebo and he used flowers from his personal garden to make my bouquet. My photographer helped make it feel like everything was normal. He was willing to show up the morning of to take pictures of me getting ready and kept his distance and wore a face mask," Proctor says. "I knew I would regret not having professional pictures taken.
"Everything was beautiful and it wouldn't have happened without the help and support from our family and friends. I'm hoping we can have our big celebration in the future."
While trivia nights might not be happening at the bar, Bryan Williams and his friends from college—who are spread out from Toms River to Maryland—have brought trivia nights to the comfort of their own homes every Saturday night.
"A different couple hosts every week creating a PowerPoint presentation with four or five rounds of questions covering all sorts of topics and the idea is to create a unique experience each time," the Stratford resident says. "It's a great way to check in with friends we wouldn't have had the opportunity to see as much because we were all so busy before the pandemic started. It almost feels like a night out."
Emily Machacon, of Cinnaminson, has used Zoom to not only stay in touch with friends and family, but to raise money for charities at the same time. She hosted two bingo games and raised $650, and her company tripled the donations with the total coming to $1,950. The first game's donations went to Feeding America and the second game's donations went to Global Giving, a COVID-19 relief fund.
"My work sent an email encouraging us to do virtual volunteering and a co-worker mentioned she had a friend who put together a bingo game and donated half to charity. I wanted to do something to give back and thought I could do the same thing," Machacon says.
Similar to Proctor's situation, Shannon Carroll's wedding plans were suddenly up in the air. With her bridal shower set for April 25 and no end in sight of the current restrictions, Carroll was obviously disappointed it wouldn't happen. But her mother and future mother-in-law took matters into their own hands and set up a virtual bridal shower to be held over Zoom.
"I didn't know anything about it until the day of," recalls Carroll. "They talked and wanted to do something special. [My mom] had a bunch of gifts that people had dropped off to her and she drove to our apartment with those gifts, decorations, a cake from Sweet Eats [Bakery] and bottles of Prosecco. She told me to put on a white dress and my fiancé decorated the apartment."
By the time she was dressed, her fiancé had set up a Zoom call with his mom, Jina, Shannon's bridesmaids and aunts.
"It made me feel very special and I'm glad I have a lot of people who love me and cared about the situation," Carroll says. "It's nice to know they are all here for me because it's a difficult thing to be dealing with. A lot of them went out of their way to make this happen for me."
Members of the First Presbyterian Church of Haddonfield thought they would be throwing Pastor Bill Getman a big retirement party after his last day serving the church on April 26, but since that couldn't be an option during this current time, they came up with another idea—a retirement drive-by so members could give him as close to a proper good-bye as they could. One hundred and fifteen cars drove through the church's parking lot—an estimated 250-300 people—to send off Getman and his wife, Sue.
Members also surprised Getman by putting a Happy Retirement sign on the front lawn, as well as placing printed photos of members' faces in their usual spots in the sanctuary pews so Getman could see their faces as he preached one last time.
"Bill expressed sadness about preaching the last month of his ministry to an empty room and I know how much people mean to him," says Becky Bryan, an elder at the church who came up with the idea. "I thought for that last Sunday, being able to look out at the faces of people he loves would make a big difference."
"I was overwhelmed with everything that happened that day," Getman says. "It was very affirming and very heartwarming. The best part for me was the drive-by. At least from a safe distance I could watch people. It was really wonderful and I'm grateful for the people who went the extra mile to organize it all."
Melody Dias, a junior at Eastern Regional High School, was also surprised while quarantining when she unexpectedly received flowers from her boyfriend, Jonah Miller, on April 17—the day that was supposed to be her junior prom. But an even bigger surprise happened the next day.
"He [Jonah] apologized on the card that he couldn't take me to prom," Dias recalls. "He asked if it was possible for us to take pictures together, which I couldn't believe at first, but thought it would be so much fun."
Dias did her hair and makeup, put on her prom dress and met Miller—in suit and tie—outside her parents' house for a social distancing mock photo shoot. Both wore masks and stood six feet apart from one another.
"My mom was just as excited," she says. "This is the first prom dress she ever bought me; I'd always used to wear her old dresses. [Jonah] willing to take pictures so she could see her daughter in her own prom dress meant the world to her.
"I felt like Cinderella. It was so amazing to walk outside in your shoes and have your hair all done and to see your person standing there waiting for you at the end of the staircase. It's almost every girl's dream."


Click here to subscribe to the free digital editions of South Jersey Magazine.

To read the digital edition of South Jersey Magazine, click here.

Published and copyrighted in South Jersey Magazine, Volume 17, Issue 2 (May 2020).

For more info on South Jersey Magazine, click here.
To subscribe to South Jersey Magazine, click here.
To advertise in South Jersey Magazine, click here.
Author:
South Jersey Magazine
Archives
---
Who's Who in Health Care
Former Shawnee star Doolittle Calls It A Career
Camden County College welcomes Baseball Hall of Fame
South Jersey Football Games of the Week
Out & About
QB Ronnie Borden is Back in the Game
Should fans be worried for the Phillies bullpen?
South Jersey Football Games of the Week
A look at South Jersey's Top H.S. Girls' Soccer Teams
Out & About
Eagles will be fine after close call in opener
High School Football Games of the Week
Is it Super Bowl or bust for the Eagles?
What's New in South Jersey?
From New Jersey to Nashville
More...