A Big Gamble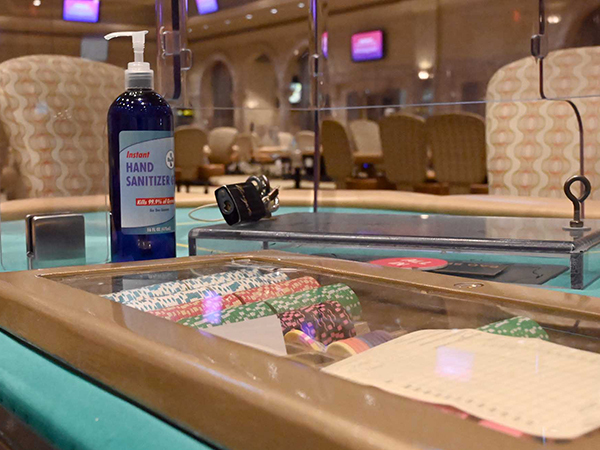 Atlantic City casinos place their bets on increased safety measures to welcome guests during the pandemic.
Ever since he attended the grand opening of Borgata Hotel Casino & Spa in the summer of 2003, Steve Costa has had an affinity for the property, which was built on the promise of bringing elegance and class to Atlantic City. He has celebrated birthdays and milestones there, enjoyed regular date nights with his wife Mary and even refers to it as "his happy place," which Borgata's marketing team would no doubt be thrilled to hear.

When the COVID-19 pandemic hit in March and all nine casinos in AC were ordered closed later that month by Gov. Phil Murphy, Costa and other local residents felt their absence. He and his wife were no longer able to make their monthly trips to the resort town, not just to Borgata but to other favorites like Hard Rock, Harrah's and Tropicana, and even when the casinos started to open up again in July, they wondered whether it was prudent to go back.
Article continues below
---
advertisement


---

"We probably go to Atlantic City about 20 times a year," says Costa, a Washington Township resident. "I was really missing the casinos when they were closed and I was getting the itch to go. But we were afraid of what the restrictions were going to be. Were they going to have enough tables open? Were we going to be able to do what we wanted to do? That's why we didn't go in the beginning, but we finally visited Borgata earlier this month and had an amazing experience. Now I'm looking forward to going back."

The gaming industry, like all areas of hospitality, has undoubtedly suffered serious repercussions from the pandemic. Even in a town like Atlantic City, which is used to ebbs and flows and has often dealt with turbulent economic times, this is new frontier.

But there is light at the end of this seemingly endless tunnel. Since being given the go-ahead to reopen in the summer, the casinos have adapted well to the current climate and committed themselves to strict safety guidelines to keep their employees and guests safe. Certain elements of the casino experience have been altered or temporarily eliminated, and things certainly won't look the same for quite some time. But for now, the casinos are happy to be offering their unique entertainment options again. And everyone from high rollers to penny slot players are giving them a chance.

"We [have] received predominantly positive feedback from our guests who returned," says Melonie Johnson, Borgata's president and COO, "with the overall sentiment being that they feel that the practices we have put in place make them feel safe and secure."

Borgata officially reopened July 26, a few weeks after some of its competitors, and implemented a seven-point safety plan in accordance with parent company MGM Resorts. These measures were designed in conjunction with medical and scientific experts and include mandatory mask coverings throughout the property, a ban on smoking and vaping on the casino floor, increased sanitation on tables, capacity limits and the use of polycarbonate barriers.

"I believe we have learned a lot about how to effectively provide a memorable experience to our customers in a new world," Johnson says. "As we continue to receive guidance from the state of New Jersey we will evolve our efforts accordingly."

The other casinos have instituted similar protocols, leading to successful openings. Hard Rock has a "Safe + Sound" team focused on disinfecting high-touch areas and has increased the quality of air circulation with 1,000 new air filters. Caesars Entertainment's Atlantic City properties—Caesars, Harrah's and Tropicana—have instituted limits of three players each at blackjack and pai gow tables, four players each at roulette and poker tables, and six or eight players at craps tables. At least one vacant position between guests is required between gaming machines.

"[We] are focused on the health and safety of our employees, guests and fellow residents and will continue to work with AtlantiCare, our regional health care provider, as well as local and state officials, to refine and update our protocols as local and state mandates evolve," says Steve Callender, regional president for Caesars Entertainment in Atlantic City.

Adds Joe Lupo, president of Hard Rock: "Creating the 'Safe + Sound' protocols, implementing detailed training programs and carefully cleaning the property will provide the most thorough and responsible approach in Atlantic City, providing good, clean fun for all."

It is impossible not to notice all of these guidelines upon entering a casino, but guests appreciate the steps that have been taken to allow them back through the doors. Ben Rickert of Washington Township has resumed his routine of visiting AC several times a month and has been pleased overall.

"I feel safe," he says. "Everybody is wearing their mask, there's plenty of hand sanitizer at every table and even as you're walking through the casino. Every time you get a new dealer, they're always wiping the table. There's nothing you can really do about the chips, but as long as you keep washing your hands you should be fine. Every time someone gets up and leaves either a table game or the poker room, the people come around and clean the table and clean the seat before the next person can sit down."

Keith Edwards of Woodbury is also a frequent visitor and went back several times in the summer. He agrees that the casinos have done a commendable job, but the normal energy level has been affected. That is why the ability to gamble online is appealing to him.

"You don't have the same kind of vibe over a craps table or a roulette table right now because there's not enough spaces there," he says. "There's not people putting bets in over your shoulder and there's not 15 people at a table. Will the energy still be good if people are winning and the numbers are coming up? Absolutely, but it's not the same feeling. Obviously, there is something about being present in the casino and watching the roulette ball spin and hitting that 35-to-1 in person compared to watching it on your phone. Casinos will always have that advantage. But for right now the risk outweighs the reward in my eyes."

Edwards and his girlfriend had a two-day trip to Borgata planned in early November but canceled after coronavirus numbers began escalating again. "I'm probably going to let the flu season pass and do whatever sports gambling I can on my phone and take a break from the table games," he says. "I'll be ecstatic to be able to go back when I feel we have control over this, whether it's through a vaccine or the numbers going down."

Costa, on the other hand, is comfortable playing his favorite game, craps, in person. He likens the barriers to being in a phone booth, with empty space at the bottom to place bets or roll the dice, and says serious craps players actually prefer not to have large crowds surrounding them anyway.

His recent visit to Borgata came on a Sunday and he was also able to enjoy NFL games at BetMGM Sportsbook & Bar. "It's pretty happening at the sportsbook," he says. "All of the games are on and you're engaged in everything around you. You don't have to wear your mask while you're sitting down. It feels like normal and that's what we need."

Sports betting became legal in New Jersey in 2018, and it has provided a much-needed source of revenue during the pandemic. "The reopening of Borgata coinciding with the return of major American sports (NHL, NBA, MLB) helped both our land-based and online sports wagering product," Johnson says. "Borgata's retail sportsbook, BetMGM Sportsbook & Bar, was the highest grossing casino sportsbook for August with over $1 million in revenue. Online gaming, including online casino poker and sports, has experienced tremendous growth during the pandemic."

Fine dining is another crucial piece of the Atlantic City experience that has been impacted. Famed restaurateur Stephen Starr announced in October he was permanently shutting down the Continental and Buddakan locations in the Playground Pier on the Boardwalk. Other well-known restaurants within the casinos have been dealing with the state's 25% occupancy limits, and now are restricted from serving customers in-house between the hours of 10 p.m. and 5 a.m. per new guidelines released by the governor.

Restaurants were hurting in the early months of the pandemic and if this new measure lasts long, more could struggle to survive. "The dining experiences we offer are differentiators that position the market as a travel destination and remain a big driver of why customers visit," Callender says.

Rickert is worried about how some of his favorite casinos are going to weather another escalation of COVID-19 cases. "It depends what our governor wants to do next," he says. "If he's going to stop letting people eat after 10 o'clock and things like that, there could be trouble coming."

Some of Atlantic City's strongest supporters hope the town can find the resilience it has shown in the past and come through this dark time.

"I'm definitely concerned," Edwards says. "This is a common conversation being a South Jersey resident for many years. Atlantic City always seems to be on the cusp of being in serious financial troubles. If all you're going to give people is table games and everything else falls apart around it, AC could be in trouble.

"Do I think the casinos survive? I would love to say yes, because in my heart they're like a national monument and they've been around for a long time. But there's been issues for years already and the numbers can't be any better with the limited capacity and dealing with the fears that people have about going out right now. I have serious doubts and I wouldn't be surprised if they needed some kind of loan from the state down the line."

But casino leaders refuse to give up and will trudge on in the face of adversity.

"Despite these difficult times, the positivity and fortitude that have been exemplified is truly an inspiration to myself and our executive team," Johnson says. "We are going to continue to follow the science and adhere to medical experts as we navigate an environment that is truly unchartered territory. We can still do Borgata, we just have to do Borgata more safely."


Click here to subscribe to the free digital editions of South Jersey Magazine.

To read the digital edition of South Jersey Magazine, click here.
Published and copyrighted in South Jersey Magazine, Volume 17, Issue 8 (November 2020).

For more info on South Jersey Magazine, click here.
To subscribe to South Jersey Magazine, click here.
To advertise in South Jersey Magazine, click here.
Author:
Matt Cosentino
Archives
---
Who's Who in Health Care
Former Shawnee star Doolittle Calls It A Career
Camden County College welcomes Baseball Hall of Fame
South Jersey Football Games of the Week
Out & About
QB Ronnie Borden is Back in the Game
Should fans be worried for the Phillies bullpen?
South Jersey Football Games of the Week
A look at South Jersey's Top H.S. Girls' Soccer Teams
Out & About
Eagles will be fine after close call in opener
High School Football Games of the Week
Is it Super Bowl or bust for the Eagles?
What's New in South Jersey?
From New Jersey to Nashville
More...