Any Way You Slice It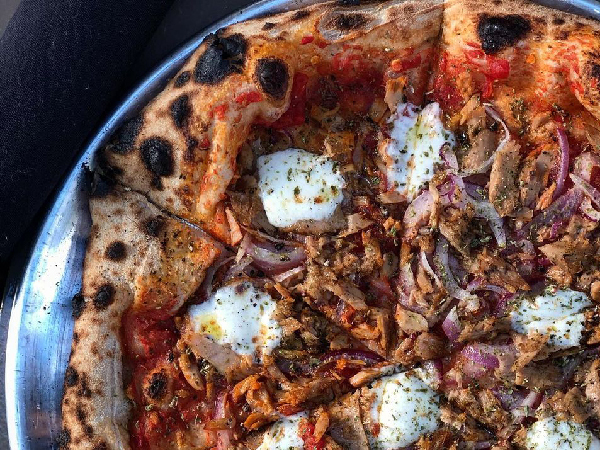 South Jersey's best pizza comes in many forms.
It's been almost four years since we last traversed the area in search of the finest pizza we could find. But what better time than during a pandemic to feast regularly on one of life's great comfort foods. And while South Jersey often flies under the radar when it comes to high-end pizza, the truth is there are many wonderful options to please your palate whether you like thin crust, doughy Neapolitan or everything in between. From the classics to more adventurous offerings, these 25 pizzas are our current favorites.
THE STINGER at Bricco Coal Fired Pizza in Westmont
Bricco's special oven runs at 1,000 degrees and produces some of the best tasting pizzas—slightly charred, slightly chewy—that you'll find. We have many favorites but are partial to this pie with rich tomato sauce, Buffalo mozzarella, hot soppresata and finishing touches of honey, basil and mint.
TONNO E CIPPOLA at Pizza Crime in Haddonfield
After learning the ropes of pizza making from famed Philadelphia restauranteur Marc Vetri, Arnab Maitra is now crafting his own Neapolitan-style pizzas to much fanfare. Witness this wonderful offering with chunks of Sicilian tuna, slivers of red onion, San Marzano tomato sauce and plenty of fresh mozzarella.
GREENS AND GARLIC at Back Door Pizza in Cherry Hill
The folks from The Farm & Fisherman Tavern started this "speakeasy" pizza joint in the back of the restaurant during the pandemic and we love them for it. The pies sell out fast, which is no surprise when they are as tantalizing as this showstopper where mozzarella and a roasted garlic crema are the base for blistered swiss chard and Espelette pepper.
CARUSO at Luigi Fresca in Marlton
If you're looking for a little something different for the family on Friday night, consider this pleasing pizza topped with mozzarella, well-seasoned rosemary potatoes, red onions and hits of basil and parmesan.
FIASCHETTO at Tutti Toscani in Cherry Hill
Mounds of fresh mozzarella and thinly-sliced prosciutto serve as the foundation for this wood-fired white pizza which is then generously topped with a medley of mushrooms, artichokes, black olives and diced tomatoes.
BUFFALO CHICKEN at Dominic's Pizza in Voorhees
Lots of places make a buffalo chicken pie, but Dominic's standout version attracts pizza lovers from across South Jersey who give it rave reviews and we'd have to agree. Shredded mozzarella sets the stage for chunks of grilled chicken, homemade hot sauce and creamy blue cheese dressing for a simple, yet oh-so satisfying result.
PIZZAZZ at Vito's in Cherry Hill
Vito's is an institution for many South Jersey residents—including numerous past and present pro athletes who call the area home—and it belongs on any reputable best pizza list. We absolutely love their version of this South Philly staple where American cheese melds with mozzarella and is topped with sliced tomatoes and hot pepper rings.
SHORT RIB AND LONG HOTS at Pizzeria Manninos in Pitman
Since opening its doors a handful of years ago, this corner spot along Pitman's main drag has been a magnet for gourmet pizza afficionados. The 72-hour aged dough is the perfect vessel for San Marzano tomato sauce and high-quality mozzarella that is enhanced by silky smooth short rib and the fiery kick of added long hots.
FIG AND SMOKED PROSCUITTO at La Scala's Fire in Glassboro and Marlton
The mouthwatering pairing of sweet figs and salty prosciutto is a match made in heaven and so we can't get enough of this wood-fired number where the two ingredients are harmoniously combined with a vibrant pesto and crumbles of gorgonzola.
MEAT SUPREME at Angelo's Pizza in Berlin, Voorhees and Mount Laurel
The name says it all for this carnivore concoction where every bit of available real estate on top of the sauce and cheese is occupied by sliced pepperoni, sausage, meatballs and chopped bacon.
THE PARMA at Holy Tomato in Blackwood
Each bite into the audibly crunchy thin crust is a burst of flavor as the piquant sauce made from hand crushed tomatoes complements the pools of fresh mozzarella, chopped garlic and ribbons of fresh basil. Sprinkles of parmesan and Romano cheeses, and drizzles of EVOO help bring it all together.
TRUFFLED RIBEYE at Slice in Washington Township
Slice first made its name on the outskirts of Philadelphia's Italian Market and ever since they've crossed the bridge, their credit card thin pies have been some of South Jersey's most coveted. Here, quality ribeye steak and sweet caramelized onions get the royal treatment with white truffle oil for added flavor and aromatics.
THE GRANDMA at Maurizio's Bistro in Moorestown
Grandma pizzas have exploded in popularity in recent years and Maurizio's certainly has played a role in their ascension. While traditionally a square pie, here you can also get it round, but either way you'll bask in the hearty dollops of chunky tomato sauce with Romano and mozzarella and an abundance of garlic.
SIGNATURE at Tacconelli's Pizzeria in Maple Shade
For decades, this has been one of our go-to pizzas and we'd eat it every day if we could. There's something so sublime about the way the slices of mozzarella, spinach and piles of bright chopped tomatoes coexist on a perfectly cooked crust that's been dusted with granulated garlic, salt and pepper.
VEGGIE at Stella Pizza in Collingswood
Even if pizza is your cheat meal of the week, you can feel a little less guilty about indulging when you order this veggie-lovers delight. You'll find a little bit of everything here, from broccoli, spinach and onions to tomatoes and mushrooms.
THE RIZZO at Legends Pizza in Burlington
Much like its namesake, this pie is no-nonsense. Part pizza, part cheesesteak, it's the best of both worlds as red sauce makes way for chopped steak, onions, green peppers, mushrooms and both mozzarella and cheddar cheeses.
WHITE PIE at Grindstone in Williamstown
Grindstone's buzz had been quietly building for some time, but now that the word is out, its polished pizzas are getting the attention they deserve. The margherita and vodka pies are divine, but the white pie with homemade mozzarella, seasoned ricotta and fresh pesto is as scintillating as it gets.
BREAKFAST PIZZA at Upper Crust in Tabernacle
Some people (OK, us) enjoy a little leftover pizza for breakfast. But here you can turn the tables and enjoy eggs, American and mozzarella cheeses and your choice of one topping (bacon or ham may seem obvious, but don't sleep on mushrooms or green peppers) for dinner.
PADRINO at Brooklyn Pizza and Grill in Haddon Heights
This pizza tastes even better than it sounds, and it sounds pretty darn good if we must say so. Breaded chicken and ham are worthy partners that are elevated with the addition of fresh mozzarella and a vodka sauce that is, well, intoxicating.
THE CLEMENZA at Marino's of Mullica Hill in Mullica Hill
What's not to love about this red pizza that has mozzarella, sweet sausage and broccoli rabe? Oh, did we mention it also has meatballs and banana peppers for a little extra oomph.
SOUTHWEST at Crust N Fire in multiple locations
With grilled chicken, black beans, jalapeños and chopped tomatoes, we like to think of this as sort of a deconstructed taste of Tex-Mex cuisine in pizza form. The flavors are a proven winning combination and the crispy crust provides a nice textural balance.
CERTO at Organico in Marlton
The fist time we sank our teeth into this exquisite white pie, we couldn't wait to tell everyone we knew. We could say a lot about it, but salty pancetta, creamy goat cheese, caramelized onion and fresh arugula kind of speaks for themselves.
TOMATO PIE at Bruno's in Haddon Township
Ask someone about their favorite tomato pie and chances are their answers will be provincial. But ask these same people who makes the best tomato pie and chances are they'll say Bruno's where the olive oil laden crust is cloaked in a cherry red tomato sauce. It's proof that pizza doesn't need to be fussy to be fantastic.
GARLIC BREAD PIZZA at Riviera Pizza in Medford and Medford Lakes
When you have been around as long as the "Riv," you have obviously been doing something right. But its loyal following aside, even a newbie would be impressed with this Sicilian pie that is grilled and topped with sauce, parmesan cheese and oregano.
EGGPLANT PARM at Francesca's Pizza in Mount Laurel
Article continues below
---
advertisement


---
We love eggplant parmesan and we love pizza, so combining the two is a no-brainer if you ask us. The slight bitterness of the grilled eggplant works wonders when covered in tomato sauce and shielded by parmesan and mozzarella.
Click here
to subscribe to the free digital editions of South Jersey Magazine.
To read the digital edition of South Jersey Magazine,
click here.
Published and copyrighted in South Jersey Magazine, Volume 17, Issue 11 (February 2021).
For more info on South Jersey Magazine,
click here
.


To subscribe to South Jersey Magazine,
click here.

To advertise in South Jersey Magazine,
click here.
Author:
Peter Proko
Archives
---
Who's Who in Health Care
Tight Race in Boys Soccer Colonial-Liberty Division
Should Eagles fans worry over recent wins?
South Jersey Football Games of the Week
Former Shawnee star Doolittle Calls It A Career
Camden County College welcomes Baseball Hall of Fame
South Jersey Football Games of the Week
Out & About
QB Ronnie Borden is Back in the Game
Should fans be worried for the Phillies bullpen?
South Jersey Football Games of the Week
A look at South Jersey's Top H.S. Girls' Soccer Teams
Out & About
Eagles will be fine after close call in opener
High School Football Games of the Week
More...