A winter of team and coaching accomplishments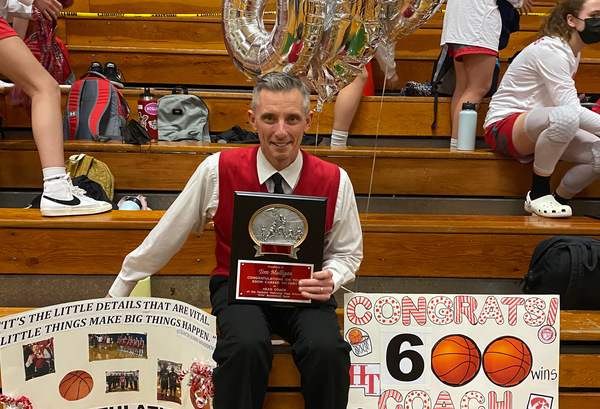 This has been a winter of tremendous milestones for South Jersey coaches and teams. Last week we wrote about Shawnee boys' basketball coach Joe Kessler earning his 700th career win. Kessler has already cemented his position as one of the top coaches in South Jersey history in any sport.
So have others in the coaching fraternity that recently reached milestones.
Gloucester Catholic's Lisa Gedaka recently became South Jersey's top all-time winningest female coach in girls basketball victories.
Gedaka began the week 662-194. According to NJ.com, she passed former Camden Catholic coach Chris Palladino, who won 660 games.
Gedaka is not that far off from becoming the all-time winningest coach regardless of gender. At the top of the list is former Wildwood coach Dave Troiano, who earned 682 wins.
Gedaka owns the distinction of being one of the top girl's basketball coaches and players in South Jersey history. She was a dominant player at Gloucester Catholic before enjoying a great career at Villanova.
Earlier this season Collingswood earned its 900th wrestling win in program history. Coach Declin Moody has followed the same path as Gedaka. He was a standout Collingswood wrestler and has enjoyed great success as a coach.
Consider that Collingswood has competed all these years in the Colonial Conference, where Paulsboro has been one of the top programs not only statewide but in the country.
Collingswood was the team that ended Paulsboro's incredible 307 Colonial Conference match win streak in 2008.
Also recently, Haddon Township girls' basketball coach Tom Mulligan captured his 600th career win.
Mulligan was an accomplished player at Paul VI, who went on to play at Trenton State College (now the College of New Jersey). Like Gedaka and Kessler, Mulligan is among the great tacticians in South Jersey basketball.
Of course, all three rose to prominence by displaying a great skill for devising the x's and o's of the game, but all three have another similar trait.
They have been able to connect with the young players and as times have changed, they have continued to thrive.
What makes those three achievements so impressive is just how much work goes into having to achieve such sustained excellence.
Basketball long ago became a 12-month sport for coaches. (Maybe 11 months, if you give the coaches August off, but even that is debatable).
These days there are fall leagues, summer leagues. There is time dealing with recruiters. Many successful coaches also work with the feeder programs that supply the future players for the program.
That's not counting all the hours spent scouting opponents and not only devising game plans but practice schedules.
Kessler talked about having the fire continue and that is the key.
There is just too much work in coaching for somebody to do it and not have a passion.
The great ones like Kessler, Gedaka, and Mulligan have a fire that hasn't shown any signs of burning out.
It is such a commitment to be a coach in any sport and when somebody achieves win totals at 600 or above, it is truly impressive.
It seems that people aren't sticking with coaching as long as in the past. There are still some who become lifers as the aforementioned trio attests, but it is a difficult profession, which brings many rewards but is also high on the stress meter.
That is why whenever seeing somebody achieves some impressive win total, it is something to celebrate because it doesn't seem to be happening as much these days.
Article continues below
---
advertisement


---
Author:
Marc Narducci
Archives
---
Who's Who in Health Care
Out & About
QB Ronnie Borden is Back in the Game
Should fans be worried for the Phillies bullpen?
South Jersey Football Games of the Week
A look at South Jersey's Top H.S. Girls' Soccer Teams
Out & About
Eagles will be fine after close call in opener
High School Football Games of the Week
Is it Super Bowl or bust for the Eagles?
What's New in South Jersey?
From New Jersey to Nashville
Frustrating times for Millville's Mike Trout
High School Football Games of the Week
Hammonton's Kenny Smith off to a quick start
More...