The James Harden Trade gives the 76ers a legitimate championship shot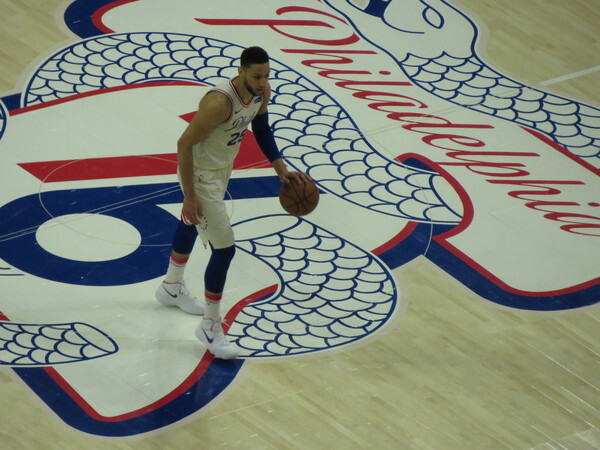 There will be a lot of takes on the Ben Simmons-James Harden trade and from the 76ers perspective, only one thing matters – that the Harden of old shows up.
And for a player who turns 33 in August, that is not a given.
Harden has now forced his way out of the last two teams he played for in Houston and the Brooklyn Nets.
None of that will matter if he helps lead the Sixers to the NBA championship, or at least to the NBA finals.
Whether the trade of Harden and Paul Milsap from the Brooklyn Nets for Ben Simmons, Seth Curry, Andre Drummond and two future first-round draft picks was the right move by Sixers president of basketball operations Daryl Morey, will be debated certainly this season and many after.
Yet one thing is a given. Had Morey not made a move, the Sixers would have had little chance to compete for a title this year.
Simmons was never going to play for the Sixers, so adding Harden, a 10-time all-star, is significant.
Yes, the Sixers will miss Curry's outside shooting and Drummond was the best backup center the Sixers had during Joel Embiid's time, something Embiid said himself.
As for the draft picks, the Sixers are in a win-now mode. They traded this year's first rounder (which Brooklyn can defer until 2023) and a protected first round pick in 2027.
However, in Harden, they received one of the NBA's top 15 players.
The Sixers now have two stars, in Embiid, the front-runner to win the MVP, and Harden.
One has to feel that Harden will be extra motivated. He understands the bad publicity he has gotten after his messy exits from Houston and Brooklyn.
While Harden is not the explosive player that he was during his MVP season in 2018, he still offers great offensive firepower.
Entering the week, Embiid was tied with Milwaukee's Giannis Antetokounmpo for most free throw attempts per game, 11.1.
Harden, was fourth at 8.0.
Both players are also excellent foul shooters, with Embiid at 81.4 and Harden at 86.9.
With those two getting to the foul line a combined 19 times a game and considering that they are excellent foul shooters, that is going to put enormous pressure on opposing defenses.
And even though Harden showed some slippage this year, he was still second in the league in assists, 10.2 per game.
So he can draw fouls and also set up his teammates. Not only that, but he can still score (22.5 ppg.) in what has been a so-called down season.
One thing that could be worrisome is that Harden struggled last season with a hamstring injury and he had a hamstring injury recently this year.
He never looks to be the best conditioned athlete, yet this year he is fourth in the NBA in minutes played, averaging 37 per game.
The Sixers will surely miss Simmons' defense, but again, they were never going to have him play in Philadelphia. All the talk about attempting to convince Simmons to return to the Sixers if he wasn't dealt by the Feb. 10 trade deadline was nonsense.
He wasn't going to play in Philadelphia as a Sixer and Morey had to cut his losses.
Plus Morey gets credit for not giving up the Sixers' best two young assets in Tyrese Maxey and Matisse Thybulle.
On paper, it appears as if the Nets got the better of the deal, since Simmons is just 25 and has three years left on his contract after this year.
However, who knows which Simmons will show up in Brooklyn. Those shooting woes and the lack of confidence he had in his offensive game that were magnified in last year's playoffs, aren't guaranteed to go away.
So both teams have question marks in this trade, but right now, James Harden is more of a sure thing.
We know he will score and dish. (Defending is another matter).
Harden will thrive on taking the big shot, something Simmons wanted no part of.
Embiid is having his best season this year after putting up monster numbers a year ago. A five-time All-Star, he might be the most unstoppable force in the NBA.
Embid turns 28 in March and with his injury history, one has to wonder how much better he can get than this year. (Even a 20 percent reduction would make him one of the top five players in the league, that is how dominant he has been).
Morey knew he couldn't waste a season with Embiid performing like the best player in the world.
So the trade had to be made.
It's all up to Harden to make sure it was a prudent move.
Article continues below
---
advertisement


---
Author:
Marc Narducci
Archives
---
Who's Who in Health Care
Former Shawnee star Doolittle Calls It A Career
Camden County College welcomes Baseball Hall of Fame
South Jersey Football Games of the Week
Out & About
QB Ronnie Borden is Back in the Game
Should fans be worried for the Phillies bullpen?
South Jersey Football Games of the Week
A look at South Jersey's Top H.S. Girls' Soccer Teams
Out & About
Eagles will be fine after close call in opener
High School Football Games of the Week
Is it Super Bowl or bust for the Eagles?
What's New in South Jersey?
From New Jersey to Nashville
More...