The difficulty of winning a wrestling state championship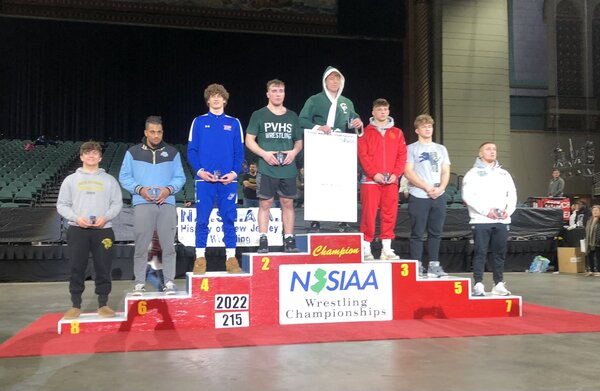 Winning an individual wrestling championship is one of the most difficult feats in high school sports. Doing so in the state of New Jersey adds to the degree of difficulty since the Garden State is considered one of the best wrestling states in the country.
There are only 14 state champions, which takes the utmost talent, dedication and fight to win.
Over the years South Jersey has produced some of the top wrestlers in the state, but it's never easy as we saw once again this season.
In New Jersey, there are 12 individual state champions.
This year, just one of those came from an athlete competing in a school from the seven-county South Jersey area.
That would be Camden Catholic senior Martin Cosgrove, who captured the 215-pound state championship with a 6-5 win over PJ Casale of Passaic Valley in a rare matchup of previous state champs.
Both Cosgrove and Casale were state champions in 2020, but didn't participate in last year's competition., Cosgrove was injured last year and Casale competed in a national tournament that conflicted with the dates of New Jersey's abbreviated 2021 state championships, a season shortened due to COVID.
Article continues below
---
advertisement


---

A torn meniscus caused Cosgrove to delay this wrestling season until January, but he picked up where he left off by going 24-0 this year.
Still, he was able to come back finely. Earlier in the states, he also won his 100th career bout.
So this year Cosgrove carried the banner for South Jersey and now he will take his talents to the University of Pennsylvania.
In addition to one champion, schools from the seven-county South Jersey area had three wrestlers finish runner-up.
Jared Brunner of Eastern was runner-up at 113 pounds, losing 7-2 to Anthony Knox of St. John Vianney. Brunner finished a highly successful season 29-3.
Clearview's Ty Whalen was second at 144 pounds. The top seed, Whalen lost 10-9 to Joe Fongaro of Boonton in the final. He finished the season 33-3.
Whalen was a state champion last year at 132 pounds and just getting to the finals two years in a row, is an incredible achievement.
Delsea's Jared Schoppe lost a 5-2 decision to Harvey Ludington of Brick Memorial in the 175-pound final.
Schoppe was the fifth seed but earned his spot by defeating top-seeded Shay Addison of Rumson-Fair Haven, 8-3.
It was an incredible season for Schoppe, who finished 40-2.
While it's understandable, that all the attention goes to the winners, those who just get to the finals had to beat the strongest of fields.
And it shows how difficult it is to be among the last two standing, let alone the last one.

Photo courtesy Camden Catholic Twitter

Author:

Marc Narducci
Archives
---
Who's Who in Health Care
Former Shawnee star Doolittle Calls It A Career
Camden County College welcomes Baseball Hall of Fame
South Jersey Football Games of the Week
Out & About
QB Ronnie Borden is Back in the Game
Should fans be worried for the Phillies bullpen?
South Jersey Football Games of the Week
A look at South Jersey's Top H.S. Girls' Soccer Teams
Out & About
Eagles will be fine after close call in opener
High School Football Games of the Week
Is it Super Bowl or bust for the Eagles?
What's New in South Jersey?
From New Jersey to Nashville
More...