Top Physicians for Children 2022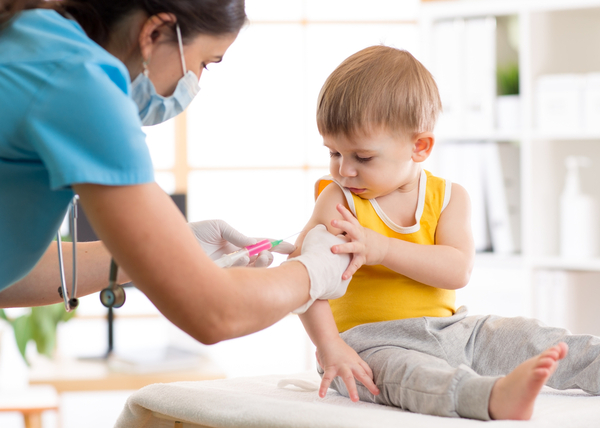 Ask any parent and they'll tell you what they want most for their little one is to live a long, happy and healthy life. That's why it's no surprise mothers and fathers so heavily prioritize their children's health during their formative years and lean on pediatric providers to play an important role in aiding their growth and development.
Our annual list of the Top Physicians for Children, as chosen by their peers and our readers, is a collection of leading medical minds who are known for going the extra mile to care for patients in both times of sickness and in health.
GENERAL PEDIATRICS

Dr. Emmanuel F. Ashong | Serving South Jersey | (888) VIRTUA-3 | Virtua.org

Dr. Jeffrey D. Blackman | Marlton
856-596-3434 | AdvocareMarltonPeds.com

Dr. Laurie Bruner | Stratford

Article continues below


---

advertisement



---

Related Articles

---


856-566-7040 | RowanMedicine.com

Dr. Penny M. Chong | Serving South Jersey | (888) VIRTUA-3 | Virtua.org

Dr. Edgar Collazo | Sewell

Dr. Eileen Condren | Washington Township | 856-309-DOCS | RowanMedicine.com

Dr. Wendy S. Cook | Washington Township | 856-309-DOCS | RowanMedicine.com

Dr. Daniel Costa | Blackwood, Mullica Hill

Dr. John T. DelGiorno | Blackwood

Dr. Joseph J. DelGiorno | Blackwood

Dr. Eric Dorn | Sewell

Dr. Jeffrey S. Fendrick | Gibbsboro | (856) 435-1300 | CHOP.edu

Dr. John D. Giardino Jr. | Moorestown | (856) 235-0264 | AdvocareMoorestownPeds.com

Dr. Bruce Gooberman | Cherry Hill

Dr. Esther Harris | Cherry Hill

Dr. Mohammed J. Hussain | Camden

Dr. Kristin Hyman | Sewell

Dr. Persephone Jones | Deptford | (800) 416-4441 | Nemours.org

Dr. Tanya L Kadrmas-Iannuzzi | Stratford | (856) 309-DOCS | RowanMedicine.com

Dr. Karen Kaighn | Woolwich

Dr. Leonard F. Kaplan | Cherry Hill

Dr. Richard King | Mount Laurel

Dr. Ira La Voe | Woolwich

Dr. Anthony Marchese | Cherry Hill

Dr. John C. Mirmanesh | Serving South Jersey | (856) 753-7374 | Advocaredocmir.com

Dr. S. Jay Mirmanesh | Serving South Jersey | (856) 753-7374 | Advocaredocmir.com

Dr. Howard N. Orel | Marlton
856-596-3434 | AdvocareMarltonPeds.com

Dr. Stephanie B. Rickey | Gibbsboro | (856) 435-1300 | CHOP.edu

Dr. Florence E. Rosen | Cherry Hill

Dr. Mark G. Schlitt | Haddon Heights

Dr. Stephanie N. Schlitt | Haddon Heights

Dr. Mary Stailey-Sims | Woolwich

Dr. Jill Stavalone | Marlton | (856) 596-3434 | AdvocareMarltonPeds.com

Dr. Bruce Taubman | Cherry Hill

Dr. John B. Tedeschi | Cherry Hill

Dr. Reynaldo Velasco | Cherry Hill

Dr. Marius Wechsler | Mount Laurel

Dr. Howard S. Waxman | Marlton
856-596-3434 | AdvocareMarltonPeds.com

- - - - - - - - - - - - - - - - - - - - - - - - - - - - -
- - - - - - - - - - - - - - - - - - - - - - - - - - - - -

PEDIATRIC ALLERGY AND IMMUNOLOGY

Dr. Eric W. Bantz | Medford

Dr. Joel Fiedler | Voorhees | (856) 435-1300 | CHOP.edu

Dr. Eugene A. Gatti | Marlton

Dr. Eric Glasofer | Voorhees

Dr. Alana B. Jones | Deptford
(856)-309-8508 | Nemours.org

Dr. Stephen McGeady | Voorhees | (856) 309-8508 | Nemours.org

Dr. Rushani Saltzman | Voorhees | (856) 435-1300 | CHOP.edu

Dr. Shashank S. Sheth | Serving South Jersey | (856) 602-4000 | AdvancedENT.com

- - - - - - - - - - - - - - - - - - - - - - - - - - - - -

- - - - - - - - - - - - - - - - - - - - - - - - - - - - -

- - - - - - - - - - - - - - - - - - - - - - - - - - - - -

PEDIATRIC CARDIOLOGY

Dr. Terry Anderson | Voorhees | (856) 783-0287 | CHOP.edu

Dr. Aaron T. Dorfman | Voorhees | (856) 783-0287 | CHOP.edu

Dr. Samuel S. Gidding | Voorhees

Dr. Katharine T. Levinson | Voorhees | (856) 783-0287 | CHOP.edu

Stephen B. Ritz | Deptford
(856) 309-8508| Nemours.org

- - - - - - - - - - - - - - - - - - - - - - - - - - - - -
- - - - - - - - - - - - - - - - - - - - - - - - - - - - -

PEDIATRIC DERMATOLOGY

Dr. Justin J. Green | Marlton

Dr. Warren R. Heymann | Marlton

Dr. Steven M. Manders | Marlton

Dr. Jonathan Winter | Sewell

- - - - - - - - - - - - - - - - - - - - - - - - - - - - -

- - - - - - - - - - - - - - - - - - - - - - - - - - - - -

- - - - - - - - - - - - - - - - - - - - - - - - - - - - -
- - - - - - - - - - - - - - - - - - - - - - - - - - - - -

PEDIATRIC ENDOCRINOLOGY

Dr. Shara Rose Bialo | Deptford
(856) 309-8598 | Nemours.org

Dr. Andrew C. Calabria | Voorhees | (856) 435-1300 | CHOP.edu

Dr. Wilma C. Rossi | Voorhees

- - - - - - - - - - - - - - - - - - - - - - - - - - - - -

- - - - - - - - - - - - - - - - - - - - - - - - - - - - -

PEDIATRIC ENT

Dr. Nicole Aaronson | Deptford
(856) 309-8508

Dr. Ryan D. Walker | Serving South Jersey | (856) 602-4000 | AdvancedENT.com

- - - - - - - - - - - - - - - - - - - - - - - - - - - - -
- - - - - - - - - - - - - - - - - - - - - - - - - - - - -

PEDIATRIC GASTROENTEROLOGY

Dr. J. Fernando Delrosario | Cherry Hill | (856) 416-4441 | Nemours.org

Dr. Andrew B. Grossman | Voorhees | (856) 435-1300 | Nemours.org

Dr. Raman Sreedharan | Serving South Jersey | (800) 879-2467 | CHOP.edu

Dr. Vikas Uppal | Deptford
(856) 309-8508 | Nemours.org


- - - - - - - - - - - - - - - - - - - - - - - - - - - - -

- - - - - - - - - - - - - - - - - - - - - - - - - - - - -

- - - - - - - - - - - - - - - - - - - - - - - - - - - - -
- - - - - - - - - - - - - - - - - - - - - - - - - - - - -

PEDIATRIC HEMATOLOGY-ONCOLOGY

Dr. Nicholas Evageliou | Voorhees | (856) 435-7502 | CHOP.edu

- - - - - - - - - - - - - - - - - - - - - - - - - - - - -

- - - - - - - - - - - - - - - - - - - - - - - - - - - - -

PEDIATRIC NEUROLOGY

Dr. Stephen J. Falchek | Cherry Hill
800-416-4441 | Nemours.org

Dr. Mark Mintz | Voorhees

- - - - - - - - - - - - - - - - - - - - - - - - - - - - -
- - - - - - - - - - - - - - - - - - - - - - - - - - - - -
PEDIATRIC NEUROSURGERY
Dr. Jeffrey W. Campbell | Deptford
(856) 309-8508| Nemours.org
- - - - - - - - - - - - - - - - - - - - - - - - - - - - -
- - - - - - - - - - - - - - - - - - - - - - - - - - - - -
PEDIATRIC OPHTHALMOLOGY

Dr. Bruce Schnall | Voorhees

Dr. Amy R. Wexler | Moorestown

- - - - - - - - - - - - - - - - - - - - - - - - - - - - -
- - - - - - - - - - - - - - - - - - - - - - - - - - - - -
PEDIATRIC ORTHOPEDIC SURGERY

Dr. William A. Emanuele | Deptford | (800) 416-4441 | Nemours.org

Dr. Wubdhav N. Sanker | Voorhees | (856) 435-1300 | CHOP.edu

Dr. Jennifer Winell | Voorhees | (856) 435-1300 | CHOP.edu
- - - - - - - - - - - - - - - - - - - - - - - - - - - - -
- - - - - - - - - - - - - - - - - - - - - - - - - - - - -
PEDIATRIC ORTHOPEDICS
Christina L. Waddell | Cherry Hill
(800) 416-4441 | Nemours.org
- - - - - - - - - - - - - - - - - - - - - - - - - - - - -
- - - - - - - - - - - - - - - - - - - - - - - - - - - - -
PEDIATRIC OTOLARYNGOLOGY

Dr. Brian P. Dunham | Voorhees | (856) 435-1300 | CHOP.edu

Dr. Ian N. Jacobs | Voorhees | (856) 435-1300 | CHOP.edu

Dr. Kenneth Rosenstein | Sewell

Dr. Scott R. Schaffer | Marlton
(856) 435-9100 | AdvocareENTSpecialtyCenter.com

- - - - - - - - - - - - - - - - - - - - - - - - - - - - -
- - - - - - - - - - - - - - - - - - - - - - - - - - - - -
PEDIATRIC PLASTIC SURGERY
Dr. Scott Bartlett | Voorhees | (856) 435-1300 | CHOP.edu

- - - - - - - - - - - - - - - - - - - - - - - - - - - - -
- - - - - - - - - - - - - - - - - - - - - - - - - - - - -
PEDIATRIC PULMONOLOGY
Dr. Lee J. Brooks | Serving South Jersey | (888) VIRTUA-3 | Virtua.org

Dr. Oscar Henry Mayer | Serving South Jersey | (888) VIRTUA-3 | Virtua.org

Dr. Caitlin Papastamelos | Serving South Jersey

- - - - - - - - - - - - - - - - - - - - - - - - - - - - -

PEDIATRIC RADIOLOY

Dr. Jim Bloor | Serving South Jersey | (888) 909-7572 | SJRA.com

Dr. Ross Titton | Serving South Jersey | (888) 909-7572 | SJRA.com

- - - - - - - - - - - - - - - - - - - - - - - - - - - - -
PEDIATRIC REHABILITATION MEDICINE
Dr. Rochelle Haas | Deptford
800-416-4441 | Nemours.org
- - - - - - - - - - - - - - - - - - - - - - - - - - - - -
- - - - - - - - - - - - - - - - - - - - - - - - - - - - -
PEDIATRIC SPECIALIST: CHILD AND ADOLESCENT PSYCHIATRY
Dr. Connie Domingo | Serving South Jersey

Dr. Rochelle Haas | Deptford | (856) 309-8508 | Nemours.org

- - - - - - - - - - - - - - - - - - - - - - - - - - - - -
- - - - - - - - - - - - - - - - - - - - - - - - - - - - -
PEDIATRIC SPECIALIST: ABUSED CHILDREN
Dr. Martin A. Finkel | Stratford
(856) 309-DOCS | RowanMedicine.com
- - - - - - - - - - - - - - - - - - - - - - - - - - - - -
- - - - - - - - - - - - - - - - - - - - - - - - - - - - -
PEDIATRIC SPECIALIST: NEONATAL-PERINATAL MEDICINE
Dr. Erik Brandsma | Voorhees | (856) 435-1300 | CHOP.edu

Dr. Margaret Fernandes | Serving South Jersey | (888) VIRTUA-3 | Virtua.org

- - - - - - - - - - - - - - - - - - - - - - - - - - - - -
- - - - - - - - - - - - - - - - - - - - - - - - - - - - -
PEDIATRIC SPORTS MEDICINE

Dr. Robert Franks | Marlton

Dr. Barry A. Hicks | Voorhees | (800) 416- 4441 | Nemours.org

Dr. Michael B. Marchildon | Voorhees | (800) 416-4441 | Nemours.org

Dr. Mitesh Patel | Marlton/Sewell

- - - - - - - - - - - - - - - - - - - - - - - - - - - - -
- - - - - - - - - - - - - - - - - - - - - - - - - - - - -
PEDIATRIC SURGERY
Dr. Edward Doolin | Voorhees | (856) 964-8219 | CHOP.edu
- - - - - - - - - - - - - - - - - - - - - - - - - - - - -
- - - - - - - - - - - - - - - - - - - - - - - - - - - - -
PEDIATRIC UROLOGY
Dr. Gerald M. Fendrick | Serving South Jersey | (888) VIRTUA-3 | Virtua.org

Dr. T. Ernesto Figueroa | Deptford
(856) 309-8508 | Nemours.org

Dr. Thomas F. Kolon | Voorhees | (856) 435-1300 | CHOP.edu
Author:
Staff
Archives
---
A Looming Healthcare Crisis
Getting Your Life Back
Aging Graciously
A Show of Support
Fighting the Good Fight
Building a Community All Year Long
Under the Winter Weather
Innovations in Health Care
A Growing Presence
A Rewarding Journey
Relief is on the Way
Changing the Narrative
What's New in Neurology
Top Physicians 2022
No Pain, All Gain
More Articles