Magnificent Seven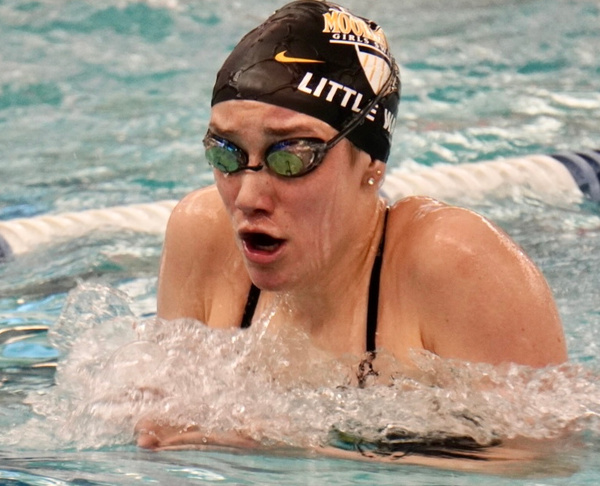 With the winter sports season winding down, we recognize the local athletes who have made a major impact in South Jersey and beyond.
Jared Brunner, Eastern wrestling
A two-time state placewinner, Brunner has won more than 100 matches in his memorable career and was named the Most Outstanding Wrestler at the District 30 Tournament earlier this season after claiming his second title. The senior 113-pounder is hoping to add a state championship to his collection before continuing his career at Brown University.
SJM: Has it sunk in yet that your career at Eastern is winding down?
JB: Not until districts did it hit me that, 'Wow, it's my last two weeks of wrestling in high school.' It's pretty crazy that my last few practices are winding down and I'm going to be leaving these kids I've been with for years. It's surreal.
SJM: Did it feel like normal to have district tournaments again after they were not held in 2021?
JB: Yeah, it was definitely a great feeling to win it and it was a great atmosphere to be in. It's also a huge stepping stone for kids.
SJM: What did it mean to be named Most Outstanding Wrestler at District 30?
JB: It's a great little morale boost. It's something I wasn't expecting but I was super proud to get. I'm just looking forward to the next podiums and awards to get.
SJM: After placing twice at states, what is it going to take for you to win a state championship?
JB: It's the same thing every year: just staying super disciplined and refreshed, you can't focus too much on what happened before, you have to focus on the moment and do what you do best. As long as I do that I feel very confident that I can accomplish my goal of being a state champion.
SJM: Do you think your previous experience at states will help?
JB: Definitely. Being back in Atlantic City—I was there as a sophomore—and having that experience and the knowledge of what it takes, what the atmosphere is like, I feel like that's a huge advantage. It will be a huge plus for me as I go there to compete again.
SJM: Boardwalk Hall is a great environment for states. Is it nerve-wracking to wrestle in front of all those people?
JB: It definitely can be nerve-wracking, but I would say as long as you focus on what you can control—your eating and drinking, your sleep, how you compete, how you warm up—it really helps with the overall experience. Just control what you can, that's all you can really do.
SJM: You earned your 100th career win earlier this season. Was that a big goal for you?
JB: Definitely. It was a great experience and a great accomplishment. I was surrounded by my family and friends and that whole night was great. It was definitely on my checklist and it was great to check it off.
SJM: When did you start wrestling and what do you love about the sport?
JB: I started around 6 years old. I love that dual aspect where it's on you individually, but it's also on your teammates. We're all doing the same amount of work; it doesn't matter if you're varsity or JV, you're all going through the same practice and you should all have the same goals in mind. I love that everybody is working for the same goals, competing and getting better, and then repeating [that process].
SJM: Who are some mentors who have had a big influence on your career?
JB: Athlete wise, my freshman year TJ Franden was a senior and a captain who was a huge role model for me. Coaching wise, Coach Crowley came in my sophomore year and transformed me as a wrestler. He believed in me so much and pushed me to make that big jump from not placing at regions to placing in the state.
SJM: What led to your decision to commit to Brown?
JB: [Academics] was definitely at the top of my list. I knew I wanted a school that was great academically and athletically. The coaches there were great when I first talked to them and we had a great connection. Then when I met the wrestlers, I connected with them right away. That was the only thing I was nervous about but they were awesome. I'm super excited to be there for the next four years.
SJM: Do you know what you want to major in?
JB: I want to study computer science, coding and design. With the open curriculum there, you're able to explore your own path, so I want to do something with those three.
SJM: What do you like to do for fun in your free time?
JB: Mostly hang out with my friends, watch movies, cook and I love water sports and the beach. I love the Jersey Shore—Ventnor City and Margate.
SJM: Do you often have to cut weight during the season?
JB: I wouldn't say I'm cutting weight; it's more about staying on a balanced diet and making sure I'm always healthy and fit.
SJM: Do you splurge at all when the season ends?
JB: Yeah, there's a week-or-two splurge where I want a doughnut or something like that. But after that, it's nice to return to normalcy and get into good shape again.
SJM: What do you like about growing up in South Jersey?
JB: The kids. Wrestling wise, I've found kids who have the same goals as me and connecting with them has been great. The area has a bunch of great kids who have big dreams and that's something I've been able to relate to.
Sydney Mullin, Haddonfield girls swimming
One of the top freestylers in South Jersey and the state, Mullin specializes in the 200 and 500 free for Haddonfield. She won both races to lead the Bulldawgs to their eighth straight sectional title and was looking to finish her career on a high note at the Meet of Champions before moving on to Tulane University.
SJM: The life of a competitive swimmer can get hectic. Do you like always having so much on your plate or does it get old sometimes?
SM: I like being busy. If I wasn't doing all of this stuff, I would probably be home watching TV. On Monday, Wednesday and Friday I have practice in the morning and in the afternoon. It's great.
SJM: What's it like to be part of the great tradition on the Jersey Wahoos club team?
SM: I've been at Wahoos basically since I was 8 years old, so I grew up with it and everyone in it. Everyone is super close and there's no one on the team you don't recognize. I don't know how the other teams are, but everyone gets equal time with the coaches and there are no favorites. It makes everyone better swimmers and better people.
SJM: Haddonfield has the same great reputation and tradition. Has it meant a lot to you to be part of the high school team as well?
SM: Yes. I didn't know much about the high school team before. My sister was a diver so I knew a little bit about it, but I didn't know how good they were until I got there and we ended up winning states my freshman year. Everyone on the team is super nice and we all come from different club teams, so it's fun seeing new people.
SJM: You helped Haddonfield win the sectional championship this season for the eighth year in a row. Was it important to extend that streak?
SM: I actually didn't know that until after the meet when a reporter asked me about us winning for the eighth time. I was totally surprised. Our coach didn't say anything about it before the meet, which is funny.
SJM: Are you excited to have the Meet of Champions back this season after a one-year break because of the pandemic?
SM: Yeah, I really like that meet because I'm with my club swimmers and my school teammates. It's cool doing a big meet as a Haddonfield swimmer rather than a Wahoos swimmer because it's not that often that I get to be part of another team.
SJM: Would you say the 200 and 500 free are your specialty races?
SM: Yeah. When I'm not doing high school swimming I usually do the longer races, like the 1,000 and the mile. But for high school those are my specialties.
SJM: What does it take to compete in those long events?
SM: I kind of zone out during them, but I also look at the clock. Most people don't do that, and a lot of coaches don't want people to do that. But every time I do a 50, I look at the clock to see what my pace is to make sure I'm going the right time. I also sing songs in my head so it's really not that hard. If you're not thinking, 'This is 20 laps, I'm going to die,' then you're fine and it's not that bad.
SJM: What songs are you singing in your head?
SM: Honestly, whatever song I hear before [the meet] that gets stuck in my head. I'll hear the same two verses from that song on a loop for five minutes.
SJM: Are there any Olympic swimmers you look up to?
SM: I don't really watch the Olympics that much, but Katie Ledecky is pretty cool. It's insane how she goes faster than some of the best guys in the world.
SJM: What led to your decision to commit to Tulane?
SM: When I was talking to a bunch of schools, Tulane was just perfect. All of the other recruits were around the same speed and we all did different events, which was good. I also loved the location. It's warm there, it's not completely in the city but it is in the city. Every time I called the coaches they were super nice. The swimmers already on the team were super welcoming and always nice, even before I committed. I went there twice: one was an unofficial visit my junior year and some of the swimmers showed me around, and in October I went on an official visit and that was really fun. We went to a Halloween parade in New Orleans and it was so cool.
SJM: Do you know what you want to study in college?
SM: I think I want to study business but minor in real estate or something like that. I really want to be a realtor or a developer when I'm older. The business program seems like the best fit for me.
SJM: Other than family and friends, what are you going to miss the most about South Jersey?
SM: My town is really pretty. I love being able to walk out of my house and be in the middle of town in less than five minutes. When I'm at college, I'm not going to be able to walk to a store, I'm going to have to stay on campus. I'm also going to miss my car—I can't bring that to college next year. I love how everything is close here and I'm going to miss that.
SJM: What do you like to do for fun when you get some free time?
SM: I like to bake a lot with my friends—we bake brownies or cookies. Or I like to go shopping; sometimes me and my friends will go to the mall on the way home from practice, which is really fun.
Maddie Waggoner, Moorestown girls swimming
Waggoner, a junior, has been an impact swimmer for Moorestown since her freshman year, when she had two top-five finishes in the state at the Meet of Champions. She should be in contention for state titles each of her final two seasons with the Quakers before continuing her career at the University of Wisconsin.
SJM: How does it feel to have a full high school swimming season again after last year was shortened due to the pandemic?
MW: It's great. Last year being cut short by two months [was tough]. I'm very, very excited for Meet of Champions. I can't wait to get out there and race all of these top athletes.
SJM: What are your goals?
MW: Hopefully I can score high for my team. I definitely think [I can contend for a state title] in the 500 free and the 200 IM, more so in the 500 free. That's the ultimate goal for that meet.
SJM: Your sister Allie was also a standout swimmer for Moorestown. What kind of influence has she had on you?
MW: I've looked up to her since day one. Obviously, her being a freshman in college right now, she's leading me down such an amazing path. Having her with me for two years at Moorestown was amazing and she helps me through everything. Anything I need, she's always right there.
SJM: She was also a distance swimmer, right?
MW: Yes, it does run in the family.
SJM: What do you like about the distance races?
MW: Club gets up to 1,650, which is a mile. The 500 [in high school] is only a third of that. It's grueling, it's a lot of yards and it takes a lot of training. It's different from all of the other sprint events at dual meets, but once you get into it and feel that it's your event, it's something that sticks. It's amazing, honestly.
SJM: You've had a lot of success in the mile, right?
MW: Yes. Over the summer I took second and this past winter I also took second, both in the same pool in Greensboro, [North Carolina]. The first one was the summer nationals and the second one was the winter junior nationals.
SJM: What is it like to face tough competition from all over the country?
MW: It's not like it's a whole different thing because it's still top swimmers, but it's fun to see new people and also old people at the same time. I know people from Northern New Jersey who are there, but also people from Virginia, North Carolina and all over. It's fun getting out of the state to race them.
SJM: What led to your decision to commit to Wisconsin?
MW: I went on an official visit since they are allowing them this year, and once I got to Madison I got to meet the team and the coaches in real life. They made it feel like I was already there and it was home. The coaches were so welcoming and so was the team. It gets a little cold there but I think I should be getting some new winter gear.
SJM: Did your sister try to recruit you to Seton Hall?
MW: I think we both need to go our own ways. Not completely separate, but she loves Seton Hall and she's doing great there. It's really close and I love that, but Wisconsin felt like family to me.
SJM: Do you know what you want to study?
MW: I'm not entirely sure yet. I still have a while to go.
SJM: What do you like about growing up in Moorestown?
MW: It's an amazing community. I've known my classmates since sixth grade and some of them since first grade. It's good to know people around here and it's a tight community. It's not a huge town but it's not tiny either. I love it.
SJM: Do you have a favorite teacher who was a mentor to you?
MW: Through all of my years, I would probably pick my pre-K teacher; her name was Miss Sweeney. She was always so sweet, always so kind and always had a smile on her face. I try my best to spread kindness and happiness, and if somebody is feeling gloomy I try to pick them up and make them smile. So she's probably one of the teachers who had the biggest influence on me.
SJM: What do you like to do for fun in your free time?
MW: I love baking and doing ceramics. I also love being outside—I love playing with my little brother and going on adventures outside. We love to get out when it's warm and nice, especially during COVID when we were always going on bike rides around the neighborhood. It was nice to have that family time.
SJM: What is your baking specialty?
MW: I make brownie cupcakes. They're pretty good, if I do say so myself.
SJM: What song do you listen to when you're trying to get fired up for a big race?
MW: This song has been around for years now, but it's a good anthem at Wisconsin: "Jump Around" by House of Pain. It gets you every time. It always gets me hyped and I'll surely be listening to that at the Meet of Champions.
Kaitlyn King, Lenape girls basketball
A junior forward and three-year varsity player, King is the leading scorer for a team that reached the semifinals of the South Jersey Invitational Basketball Tournament. But she is also a complete player who stands out defensively and contributes in multiple ways.
SJM: It's been a special year for you and the team heading into the playoffs. Are you happy with what you have been able to accomplish so far?
KK: Yes, I'm really happy with how our team is playing this season. Last season was tough with COVID and we were really young. We're getting more experience with every single game and it's starting to show. Our chemistry has grown throughout the season and I'm excited to see what we can do in the playoffs.
SJM: Lenape just had a great run in the South Jersey Invitational Basketball Tournament, reaching the semifinals. Do you like playing in that tournament since it includes most of the top teams from the area?
KK: Definitely. I think playing [the best] competition only makes you better and playing against these teams both in conference and in the tournaments allows us to grow as a team and individually as players.
SJM: Are you more comfortable playing guard or forward?
KK: I've grown up playing forward because I've always been one of the bigger girls in my town and I have played forward since I was a freshman at Lenape. But for my AAU team I play the one or the two. I consider myself a versatile player and I'll play wherever my coaches need me to play. It's nice switching it up between seasons because I get the experience of each position and I think it allows me to grow as a player.
SJM: Even though you're the team's leading scorer, you're also known for your defensive contributions. Is that important to you?
KK: Definitely. There are two sides to the game and you obviously have to contribute offensively whether you're passing or scoring, but I think defense is just as important because you have to stop the other team as well. I've always been super aggressive and I love diving on the floor, getting steals and helping my team on that side of the floor. Whatever I can do to help my team win is important to me.
SJM: I know your team recognizes the key player after each game on social media for making hustle plays and big contributions. Is that something you all take pride in?
KK: Each game our little chain for the player of the game and it's great because each game it's a different girl. You see how each girl impacts each and every game and it goes to show that we don't just have one person on the team. Each person has a role and makes an impact every single game. It's a good reward for playing hard.
SJM: You have more than 600 career points and should be able to make a run at 1,000 next year as a senior. What would it mean to you if you could hit that milestone?
KK: Obviously, that would be really big. Last year hurt us because we had the shorter season [due to the pandemic]. But that wouldn't just be a milestone for me, it would be a milestone for my teammates as well because I wouldn't be the player I am today without them.
SJM: Lenape has several big rivals, namely Cherokee and Shawnee. Which team do you get most fired up to play?
KK: I definitely get fired up for both of those teams, but I have to say Cherokee has always been our biggest rival. Shawnee has also been up there this season. The team gets really pumped and really excited and you can just tell the energy shifts in the locker room before those games.
SJM: Do you think your team can make a run in the playoffs this year?
KK: I definitely do. All of our losses this season have been really close games and … we've shown teams that we're right there with them and just as good. Our chemistry is growing stronger and stronger every day at practice and every game. I really see potential in our team.
SJM: Are you hoping to play in college?
KK: I'm keeping my options open. It has always been a dream of mine to play in college but I know I want to double major and academics always come first for me. I have to see whatever is the best fit for me and what my options are.
SJM: What do you want to double major in?
KK: I'm looking to go into finance. I'm not sure about my other major but maybe political science. I'm not exactly sure but I just want to keep my options open because I have to hang up my [basketball] shoes eventually, unfortunately.
SJM: I understand you're part of a Think Pink game that raises money for breast cancer research. How did that come about?
KK: Growing up, Think Pink was always special to me and my family. We've run it ever since I was little. My sister ran it before but now that she's in college, I took it over. We do it every year for breast cancer awareness, a cause that's really special to our family because we've known friends and family who have been impacted by the disease. I think it's a great way to give back to the local community and also get the little girls involved as well as the high school girls. We run it at Hartford, the elementary school in Mount Laurel, and all of the Mount Laurel girls teams will play there on Saturday and Sunday, and on Sunday we have the high school girls run a clinic to show their interest in the younger programs, and the younger girls can look up to them. It's a great way for each team to see each other.
SJM: What do you like to do for fun when you're not playing basketball?
KK: I'm definitely a very active person, so if I'm not on the court I'm normally doing something else to keep me active. I play tennis for the high school team as well, so if I'm not on the basketball court you'll probably see me on the tennis court or in the gym. I also enjoy spending time with my family and friends.
SJM: Things are hopefully starting to get better with COVID. Is there anything you're looking forward to doing this summer that you haven't been able to do during the pandemic?
KK: Definitely traveling. My family and I go on vacation every summer and the last few years we've kind of been restricted in doing so. It's a great way for us to take a break from basketball and sports and just spend time together. I'm looking forward to doing that this summer. I think my sister is going to be studying abroad so we'll probably be moving her in. She's looking to go to Spain or somewhere else in Europe so we're all very excited for her.
Dominic Petracci, Washington Township wrestling
A senior 215-pounder, Petracci has enjoyed a stellar final season with the Minutemen, with more than 30 wins and the first district championship of his career. He also helped Washington Township to the team title at districts and a sectional semifinal appearance. He is looking to qualify for states for the second year in a row.
SJM: What did it mean to you to win your first district title this season?
DP: It meant a lot to me. I've been striving for it basically my whole high school career. I've been looking forward to my senior year and I knew it would be my standout year. I was hoping for it last season but things didn't work out because of COVID. I was able to make the SuperRegion and place in that, and it meant a lot this year to win districts, especially to have it at home and be in front of our fans, on our mat in our gym.
SJM: It was so special to have districts again after missing out last year. Do you think everyone appreciated the opportunity, even those who didn't win or place?
DP: Yeah, everybody was really pumped about it. I know our team felt really good going into it. We sent 10 kids to regions so we had a pretty solid lineup this year. We were all excited to have it at our place and we came together as a team and wrestled really good. We were all talking about it during the week and we were excited that everyone was going to get an opportunity and nobody was going to get snuffed out. We got a chance to go out and prove that we're a good team in South Jersey.
SJM: Nobody knew what to expect from Washington Township coming into the year, especially since Brady Conlin transferred to a school in Florida. But your team put together a solid season that included a playoff win and the team title at districts. Are you happy with how things went?
DP: I think it went a lot better than I expected. In the beginning of the year I thought we could be an average team and get some upsets here and there. But it started to click after a few weeks of practice after working hard in the room and getting guys to buy into the system. It really took off and we pushed each other every day to get better. It was even better than I could have imagined and it was great. I loved that this was my senior year and this is what happened.
SJM: I know you competed at states last year at Phillipsburg. What would it mean to you to get a chance to compete this year now that the tournament is returning to Atlantic City?
DP: I think it would be great. I went down and watched states in Atlantic City before and it seems like a great atmosphere. It seems really fun and I can't wait to do it. I hope I make it.
SJM: Do you think it would be nerve-wracking or are you usually good at blocking that stuff out?
DP: I can usually block it out. I get nerves here and there but once I step out on the mat to go wrestle, it all goes away. Once I shake the kid's hand or the ref blows the whistle, it all goes away and I'm in the zone.
SJM: How did you get started in wrestling in the first place?
DP: I started when I was 5 because my dad pushed me to do it. He wrestled when he was younger and he kept me in it even after I got pretty big. I'm 6-6 and he's only 6-foot. He definitely had a really big influence on me.
SJM: Wrestling is a challenging sport and it takes a lot out of you, but you also get a lot out of it. What do you like about it?
DP: I like the type of man it makes you and the things it makes you realize. You can push yourself to certain limits that no one else in the sport or even other sports is willing to do. I also like that it's one on one. You have to go out on the mat and prove yourself and it's not just talk. However you do, you do.
SJM: Do you know what you're doing next year?
DP: I committed to Coker University down in South Carolina. I like the coach a lot and I had a lot of good conversations with him. When I went down to the school I liked the layout [of the campus]. It just gave me a real feeling of home. The coach reminded me of my high school coach and I think I'm going to fit in well with the system.
SJM: You're going to be pretty far from home.
DP: Yeah, that was the only downside I could see to going there. I am going to be far but I'm willing to put up with it.
SJM: What do you think you're going to miss the most about home?
DP: Probably my family and then my friends. I do a lot of family things and I really like my family. I'm also going to miss this year's team. I bonded with a lot of younger kids on the team and even the other seniors and the juniors. It's going to be hard leaving them. I wish I could stay and keep up with them and be in the room with them every day to build those bonds even more. Hopefully I can come back here and there, hang out with them, talk to them and help them through the process. I'm going to miss my coaches too; I created a good bond with them. I feel like they're my friends but at certain times they're also my coaches and they get on me. I have really good relationships here and that's what I'm going to miss the most.
SJM: Do you know what kind of career you want to pursue?
DP: Not really. I'm going to do business my first year and see where it goes from there. Maybe I'll branch off into something else.
SJM: What do you like to do for fun when you're not playing sports?
DP: I like to hang out with friends and I like to play video games. I like to eat—I like food a lot. I also love to go out and I love the Shore, Ocean City or Wildwood.
SJM: Since you like to eat a lot, what's your favorite type of cuisine?
DP: That's hard. I like sushi a lot but I love my mom's gravy, so anything pasta with gravy is what I love at home. If I go out to eat, probably sushi or a nice steak. My dad's side is Italian so that's where we get all of our recipes for Italian food. My mom's side is Polish so I get to eat kielbasa or pierogies and I like that stuff too.
Drew Greene, Cherry Hill East boys basketball
Greene, a three-year starter, helped lead Cherry Hill East to the South Jersey Group IV final as a sophomore playing alongside his older brother Ryan. Now a senior leader for one of the premier teams in the state, he hopes to finish the job by guiding the Cougars to their first sectional title since 2015.
SJM: You played in one of the last games before the pandemic shut everything down in 2020, the sectional final in Atlantic City. What do you remember from that day?
DG: That doesn't bring back good memories. It was a fun run though.
SJM: Did that experience lead to the great success you're having this year?
DG: Yeah, I think it definitely gave me a taste of what it feels like to be in the championship and to feel like you have the whole town behind you. I feel like my brother gave me a great experience and a lot of lessons. That's probably what has led to our success this year.
SJM: Did you and your brother play basketball together as much as possible when you were younger?
DG: All the time. We would play one-on-one outside and we had a Nerf hoop in my parents' room and would go at each other literally every single day. I would sometimes play up to be on his team, and when we were on different teams I would go to all of his games and he would go to all of my games. We competed all the time and ended up getting in fights but it was a lot of fun.
SJM: The chemistry is so great on this year's team and it seems like you guys don't care who scores or gets the stats as long as you're successful as a team. Is that important?
DG: Yeah, totally. We don't really care who scores, we just want to win. What's so dangerous about our team is that any one of our five guys can score 20-plus on a given night. It's so hard to guard us. I think we love each other so much and if someone else scores, it's not just one person scoring but all of us.
SJM: Did you all grow up playing together?
DG: Mostly everyone on the team except for E.J. [Matthews-Spratley], who moved to Cherry Hill in eighth grade, and Deon Sanders, who transferred our sophomore year. Everyone else—Jake Green, Jalen Holmes and the kids coming off the bench—I've been playing with them since I was in fourth grade.
SJM: Did you grow up going to games at the high school, even before your brother was there when Cherry Hill East had some great seasons?
DG: Yes, because Chris Santo actually lives in my neighborhood and he's a legend at East. He used to babysit my brother and I and he lives three houses down. We used to go to his games all the time. Jake Silpe also babysat my brother and I, so we would go to all of his games too. We went to their championship game at Rutgers. We grew up watching these guys, these other guards who have been so unbelievable for our program. It was fun to watch them and I learned so much.
SJM: Group IV is always loaded but your team certainly has the potential to make some noise this year. What is it going to take for you to go on a run of your own?
DG: It's going to take a lot. It took a lot our sophomore year and it always comes down to a few possessions. I think the most important thing is when things aren't going well, if the team stays together that's what keeps teams in games. It's easy when things are going great and you're hitting all your shots, but when things aren't going your way you have to react as a team and stay together. If you play individually, you end up losing.
SJM: You had one of the shots of the year when you hit a deep 3-pointer, got fouled and converted the foul shot late in the game to help beat Lenape. Did you think that had a chance to go in when you let it go?
DG: They were trying to foul and I heard the coach behind me saying, 'Foul, foul, foul.' I knew as soon as I drove by that [the defender] was going to foul me, so when he did I threw it up, because I've seen so many NBA players do that. They never get the call but they throw it up anyway. I've been doing that since I was younger but I've never gotten it called either. I knew I got the foul call this time and I didn't even think about it going in, but when it did I just started freaking out. They counted the bucket and I was so grateful. It was the best shot of my life.
SJM: Do you watch a lot of NBA or college games?
DG: All the time. Every day when I come home, I watch with my dad and my brother and my mom. Basketball has been in our house forever.
SJM: Do you have favorite players to watch?
DG: My whole family is from New York so we're Knicks fans. They're not that good this year but we're still big fans. I watch everyone in the NBA: I love watching Steph Curry and some of the young guys. I love Immanuel Quickley, who's on the Knicks. There's always college games on every night and Purdue is unbelievable this year. I'm always watching basketball because I think as a player that's how you get so much better.
SJM: Are you excited to play at the next level at Muhlenberg College?
DG: Oh yeah. I've been watching their games too and they seem like they have a great group of guys. I feel like I can totally fit in there so I'm excited.
SJM: When you're not watching or playing basketball, what do you do for fun?
DG: I hang out with friends. I cook with my mom, which I like a lot. My brother and I are really into music and I'm always listening to the music when I'm lifting or in the shower. During the summer I like to go to the beach. I try to find the time to relax because I think that's important. I also like to go paintballing.
SJM: What kind of music are you into?
DG: My favorite artist is Drake. I like rap and I think Drake is not just rap, he has an actual good voice. I like a little pop and a little country too. I like a mix of everything.
SJM: You said you like to cook with your mom. What are your specialties?
DG: We've cooked baked ziti before and sometime we do this really good Buffalo chicken dip. She taught me all the basics and sometimes I'll find stuff online, like healthy options with protein, and we'll cook it together. I just found protein Rice Krispie Treats so we made that and it was actually really good.
Katie Fricker, Cherokee girls basketball
A four-year varsity player for one of the elite programs in the state, Fricker is Cherokee's leading scorer and was named MVP after leading the Chiefs to the championship of the South Jersey Invitational Basketball Tournament (SJIBT). Also a soccer star, she will focus on hoops at The College of New Jersey.
SJM: Has it sunk in yet that your time in a Cherokee uniform is winding down?
KF: Honestly, not really. I knew this was going to come but this season definitely felt like the quickest out of all of them, even with last year being shortened.
SJM: This has been another special season for Cherokee and one of the highlights was your game-winning basket in the final seconds to beat Shawnee in the SJIBT final. What did that moment mean to you?
KF: It definitely meant a lot. That was one of our goals coming into the season, to win the SJIBT. So far we've been able to accomplish most of our goals and everybody is working hard. We stepped up in that tournament and I was proud of everybody that we were able to get it done.
SJM: Had you ever made a game-winning shot like that your career?
KF: No, I actually hadn't, so that was really cool. I maybe made a foul shot [to win a game] but not a shot like that. The opportunity was just there.
SJM: The ultimate goal is to win a state title and you were so close two years ago before the final got canceled because of COVID. Does this team have the potential to get back to that spot?
KF: I definitely think we have the potential to go far, hopefully winning the sectionals and going even further. We've prepared all season for this. One of our main goals was to get the No. 1 seed [for the sectional playoffs] so all of our games would be at home and we were able to get that. We would much rather play at home in the playoffs so that helps a lot. We've gotten better throughout the season … and if keep working hard in practice I think we can get there.
SJM: I know you're also a standout soccer player. Which sport is your favorite?
KF: I grew up playing soccer; my mom played soccer in college so my parents put me into that and I stuck with it into high school. But I didn't play club or anything, it was mostly just for fun and to stay in shape. Basketball is my main sport.
SJM: Are you excited to see what you can do at TCNJ?
KF: I'm very excited. Obviously, I love my coach and teammates now, but I'm excited to be with my new coaches and teammates too. When I went on my official visit and met all the girls, they were so welcoming and basically treated me like I already was one of their teammates. The coach kept in contact with me all last spring just to see how I was doing and how my AAU season was going. It felt like they really wanted me to be part of their team, so it felt special.
SJM: Do you know what you want to study?
KF: I'm going to major in nursing. I always knew I wanted to be in the medical field. I've always been more of a math and science person and looking at careers, I think I want to be a nurse practitioner.
SJM: Who is the biggest rival for Cherokee?
KF: In previous years it was probably Lenape, but now it's definitely Shawnee. Coming off our loss to them [late in the regular season], it makes us even more excited to play them and we know they're excited to play us. They have a great program and they're our biggest rival right now.
SJM: What do you like to do when you're not playing sports?
KF: I really like to work out. After basketball is over, I'll be going to the gym every day. I like to go outside; I have a pool in my backyard and during the summer I like to have my friends over and hang out with them. I also really like reading and I work too. Last summer I was a lifeguard at an outdoor swim club and I have to find a new job [this summer].
SJM: What do you like about growing up in Marlton?
KF: Even though it is a big town, I know a lot of people. Even just going into stores, people are congratulating me on basketball and stuff. Cherokee is a great school and I've always been excited to go here. I've met a lot of great people, like teachers and people running businesses in town. Everyone is so nice.
Click here to subscribe to the free digital editions of South Jersey Magazine
To read the digital edition of South Jersey Magazine, click here.
Article continues below
---
advertisement


---
Published and copyrighted in South Jersey Magazine, Volume 18, Issue 11 (February 2022)
For more info on South Jersey Magazine, click here.
To subscribe to South Jersey Magazine, click here.
To advertise in South Jersey Magazine, click here.
Author:
Matt Cosentino
Archives
---
Who's Who in Health Care
Former Shawnee star Doolittle Calls It A Career
Camden County College welcomes Baseball Hall of Fame
South Jersey Football Games of the Week
Out & About
QB Ronnie Borden is Back in the Game
Should fans be worried for the Phillies bullpen?
South Jersey Football Games of the Week
A look at South Jersey's Top H.S. Girls' Soccer Teams
Out & About
Eagles will be fine after close call in opener
High School Football Games of the Week
Is it Super Bowl or bust for the Eagles?
What's New in South Jersey?
From New Jersey to Nashville
More...