Never Giving Up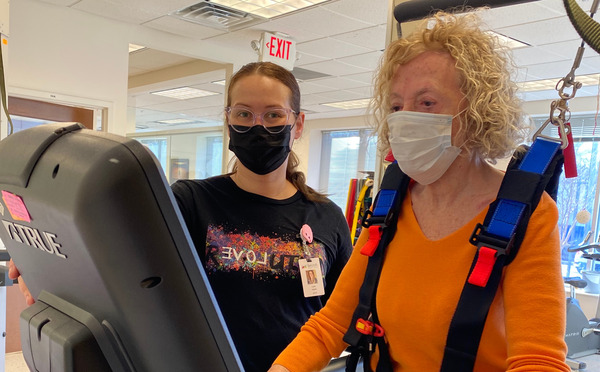 On June 15, 2020, Theresa DiGillorenzo's life was forever changed. At 84 years young, Theresa woke up and noticed her vision had changed. She immediately went to see the eye doctor. Later that evening, her husband noticed she looked off and that her cheek on one side was drooping.
A visit to the hospital revealed that Theresa had suffered a massive stroke.
The stroke had affected the right side of her body. Over the course of the next day, she went from being very active to being unable to walk, talk, or use her right hand.
Theresa went on to receive home-based care, which included physical, occupational and speech therapy. She was discharged after several months; the agency said there was nothing more they could do for her.
Theresa was extremely frustrated, but refused to give up. She and her husband of 62 years, Joseph, sought in-person physical therapy from another provider. Her progress was slow, however. After several months, she was still unable to walk.
Fast forward to November 2021, when Theresa's husband saw an ad for Bancroft NeuroRehab in SJ Magazine and called to set up an appointment.
Theresa has been thrilled with her progress.
"Going to Bancroft NeuroRehab has been the answer to my prayers," she says.
"Jamie (Young, Theresa's physical therapist) and the entire team are wonderful. The aggressive therapy has pushed me to get better. I finally have the results I've been looking for!"
The clinical team at Bancroft NeuroRehab has been impressed, as well.
"Theresa is doing so well. She can do the stairs now, and doesn't need her husband's assistance to walk," Young says, crediting Theresa's positive attitude and strong work ethic both at home and in therapy sessions. "So often, when patients are older they are under-treated. Many places feel they cannot get better or make gains. However, the research shows us that with neurological disorders, aggressive high-intensity gait training and exercises can work and improve the patient's clinical outcomes."
Theresa continues to improve every day.
She has continued weekly physical and occupational therapy, and will soon be receiving speech therapy, as well. She loves to cook and another goal has been to get back in the kitchen to cook for her and her husband. Theresa is now able to do that – and more.
"I am so thankful for the entire team at Bancroft NeuroRehab," she says. "They gave me my life back. I would recommend them to everyone. My advice to other stroke patients is to never give up. You will get better if you get the right help and stay positive."
Article continues below
---
advertisement


---
Author:
Bancroft
Archives
---
A Looming Healthcare Crisis
Getting Your Life Back
Aging Graciously
A Show of Support
Fighting the Good Fight
Building a Community All Year Long
Under the Winter Weather
Innovations in Health Care
A Growing Presence
A Rewarding Journey
Relief is on the Way
Changing the Narrative
What's New in Neurology
Top Physicians 2022
No Pain, All Gain
More Articles