South Jersey Football teams gearing up for the postseason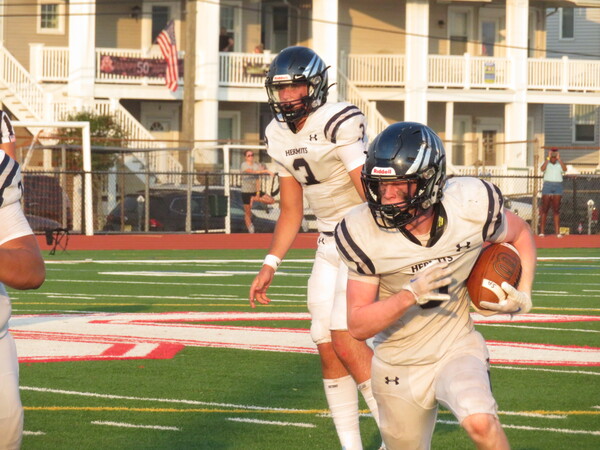 This is the last week of the regular season for New Jersey high school football season before beginning the first year of NJSIAA state football playoffs for public schools.
Non-Public schools have participated in state playoffs since 1993, but this is the first year public schools will be playing for a state title.
Before that, the furthest the public schools could go would be a sectional title and over the past few years, the South and Central and North I and North II would play in a regional championship.
That former regional championship will now serve as the state semifinal.
For South Jersey schools, the top 16 teams in the South will compete in the playoffs. Eight of those teams will compete in the South Jersey playoffs and the other eight in Central Jersey.
So this final week teams will be fighting for one of those 16 spots.
What is interesting is that for many teams, the high school football season could be over after this week. Teams that don't qualify for the playoffs could still schedule, games against fellow non-qualifiers, but some teams who don't have Thanksgiving games scheduled could decide to end the season on the weekend of Oct. 21.
The seasons are beginning earlier than ever and now some schools will be ending earlier than ever.
Is football over before Halloween?
For some teams that could be the case.
Keep in mind for the teams that play into December, this is a long season.
NJSIAA schools were able to begin practice on Aug. 10.
The first weekend of games was Aug. 26.
The playoff system has caused this change.
Here is a big challenge for some schools.
What if they don't make the playoffs, but have a Thanksgiving game scheduled?
That would be more than a month off. Those schools would likely try to schedule a game with a non-playoff contender.
While some teams will be scrambling for one of those final playoff spots, teams at the upper levels are looking to solidify a high seed.
Many teams have eight regular season games scheduled before the playoffs.
Some, such as Hammonton and Shawnee, just to name a few, have already played eight games and have another scheduled this weekend.
Here are the defending public school sectional champions from South Jersey
South Jersey Group 5: Kingsway. SJ Group 4: Millville, SJ Group 3: Cedar Creek, SJ Group 2: Point Pleasant Boro, SJ Group 1: Woodbury. Central Jersey Group 5: Hillsborough, CJ Group 4: Winslow Township, CJ Group 3: Camden Eastside (formerly Woodrow Wilson), CJ: Group 2: Haddonfield, CJ Group 1: Salem.
The sectional final will be the weekend of Nov. 11-12.
State semifinals will take place the weekend of Nov. 18-19 at either Cherokee or Franklin High School. The state finals will be on Dec. 3-4 at Rutgers University.
It should be a great playoff and this weekend is the final tuneup for aspiring champions.
Article continues below
---
advertisement


---
Author:
Marc Narducci
Archives
---
Who's Who in Health Care
Out & About
QB Ronnie Borden is Back in the Game
Should fans be worried for the Phillies bullpen?
South Jersey Football Games of the Week
A look at South Jersey's Top H.S. Girls' Soccer Teams
Out & About
Eagles will be fine after close call in opener
High School Football Games of the Week
Is it Super Bowl or bust for the Eagles?
What's New in South Jersey?
From New Jersey to Nashville
Frustrating times for Millville's Mike Trout
High School Football Games of the Week
Hammonton's Kenny Smith off to a quick start
More...