Top CEOs and CFOs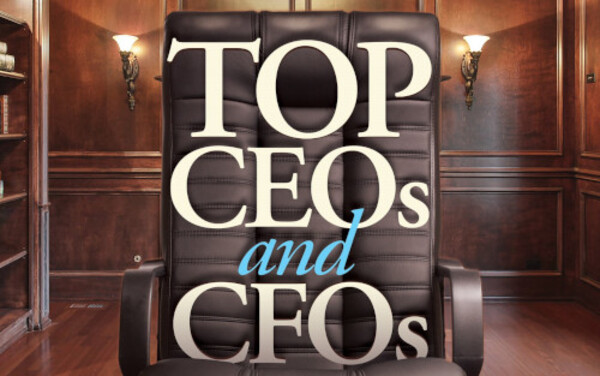 With another unpredictable year behind us and what looks to be another uncertain one ahead, it's increasingly important for industry leaders to balance optimism with reality, direction with flexibility and experience with fresh perspectives as they look for new ways to forge confidently into the future no matter the challenges ahead. As both the public faces of their organizations and s executives who know when to trust their teams' input, these 22 individuals are making South Jersey as good of a place to work as it is to call home.
Joseph G. Cacchione, MD
CEO, Jefferson Health
Before joining Jefferson Health and Thomas Jefferson University, Cacchione was executive vice president of clinical and network services for Ascension, one of the nation's largest healthcare systems, and held leadership roles at the Cleveland Clinic and Saint Vincent's Health System. He spent the first 20 years of his career as a private practice cardiologist and large private physician practice executive. Cacchione earned his MD from Hahnemann University and B.S. from Gannon University.

Article continues below

---
advertisement


---
Related Articles
---

What leadership lesson only comes with experience?
No one succeeds on their own. The people I work with and for helped me reach the position I now hold. It is vitally important to empower talented people. Trusting the team, supporting them as they become leaders and allowing them to lead helped me become a more effective leader. At Jefferson, we believe in training and education, and programs like the Jefferson Leadership Center offer an invaluable way to help people reach their full potential.
Raymond L. Lamboy
President & CEO, Latin American Economic Development Association
Lamboy has led the Latin American Economic Development Association (LAEDA) since 2008, overseeing the expansion of its programmatic reach to include South Jersey and the introduction of Spanish-language business education, microlending and commercial district revitalization. Lamboy served on the City of Camden Board of Education from 2010 to 2013 and currently serves on the advisory board of the Salvation Army Kroc Center. He is a proud Camden resident.
Who had the most impact on your leadership philosophy?
My father Candelario Lamboy shaped my understanding of being a servant leader. He blazed a trail for Philadelphia's Latino community in accessing and securing resources for their benefit—not as a politician but a community leader. Bill Reynolds, one of my mentors, stressed the importance of keeping your word and following through on your commitments, saying success in leadership comes down to, "Make a promise, keep a promise," a principle I still share with the LAEDA team.
Teryn Thomas
CEO, EdLight
Thomas is among the leading, nationally recognized African-American CEOs in education technology. EdLight, which recently received a multi-million dollar grant, is committed to making great teaching easy by amplifying student work through analysis and discourse. Thomas has served as a chief schools officer and chief of teaching and learning across diverse districts, including Newark, Camden and Philadelphia. She has focused on interrogating systems of oppression for the benefit of students, regardless of ability, gender and race.
How do you stay motivated during a professional challenge?
The work I do is to uphold the commitments I made when I entered the education field. When things are tough, I just have to remember that, for my students, things have always been tougher and that they need tools like EdLight in order to support educators with centering them in classrooms. When you know the work you're doing helps provide a voice to those who are often ignored, it fuels you differently.
Thomas Bracken
President & CEO, New Jersey Chamber of Commerce
Bracken has been NJ Chamber of Commerce president and CEO since 2011. In 2014, he was named chairman of Forward NJ, a coalition promoting investment in the state's infrastructure, and was inducted into the N.J. Business Hall of Fame. Bracken helped establish and co-chair Opportunity NJ, a coalition of state business organizations, in 2017. He serves on the U.S. Chamber Economic Task Force and the U.S. Chamber Committee of 100.
What are your goals for 2023?
Persuading state government leaders to make strategic investments in our businesses so they grow, and the state economy grows with them. We've teamed with local and regional chambers to appeal to our legislative leaders—who do meet with us regularly. We are seeing signs of progress as a package of pro-business bills we support advances. And the NJEDA has taken steps to make its programs more accessible. We will continue pressing for more.
Kahra Buss
Executive Director/CEO, Perkins Center for the Arts
Buss possesses experience in public policy, private industry and government service, culminating in a 25-year career in nonprofit administration. In 2018, Buss became Perkins' executive director; since then, her list of accomplishments includes spearheading an infrastructural redesign of the organization, strengthening its financial foundation for the long term and facilitating an expansion of programs. Buss distills her leadership approach to two primary concepts: nurturing relationships and adopting a growth mindset.
How do you stay motivated during a professional challenge?
I return to "mission first." What is the "why" governing a difficult business decision? When in doubt, go back to the organization's foundational elements—that's where the "why" lives. Reviewing the organization's mission and values and aligning the tasks at hand to our foundation centers and balances our efforts. Returning to and focusing on our core values and beliefs helps identify solutions.
Carolyn Havlick, CCFO, CMFO, CPA, RMA
Chief Financial Officer, Burlington County
Havlick started her career as an auditor specializing in government services. For more than 10 years, she provided accounting and consulting services to governmental entities, instructed in-house educational seminars and served as a mentor for various organizations. She ultimately left the accounting firm to become the chief financial officer for Burlington County. Havlick is licensed to practice as a certified county and municipal finance officer, registered municipal accountant and certified public accountant.
What leadership lesson only comes with experience?
Confidence and decisiveness. You can't fear mistakes: Instead, you have to trust your experience to make decisions without hesitation and lead your team forward through challenging situations. Things won't always go as planned or how you would have liked them to turn out. Learn from those experiences, and then move on to your next task.
Phillip W. Heath, MS
President and Chief Executive Officer, Samaritan
Heath brings 30 years of experience in hospice, long-term care and healthcare technology to Samaritan's mission: providing clinical expertise and compassion to 11,000 patients, clients and their families annually with life-enhancing services. He holds a B.A. from Morehouse College, an M.S. in health services administration from the University of Detroit Mercy, a certificate in healthcare leadership from Cornell University and led Samaritan's board as chairman for four years before becoming CEO.
Who had the most impact on your leadership philosophy?
Retired healthcare executive Chris Allen. During my early years in healthcare, he was a new hospital CEO who adopted business guru Tom Peters' "management by walking around," which involves listening to staff problems and ideas while walking through an office or plant—and is still relevant today. With his philosophy of teaching, coaching and motivating, Chris shaped my approach to developing successful teams, building leaders and growing organizations.
Mary Kay Shea
Executive Vice President & CFO, 1st Colonial Community Bank
Shea is a highly experienced executive with more than 30 years of community banking financial management experience with a proven track record of managing multiple priorities with increased regulatory oversight. Prior to joining 1st Colonial Community Bank, Shea held positions of responsibility at Royal Bank America, Parke Bank and Wainwright Bank & Trust. She is president of the board of trustees for the nonprofit Mainstage Center for the Arts, proudly supporting its focus on performing arts education and opportunities.
Who had the most impact on your leadership philosophy?
My father—a great example of what I strive to be as a leader—had the most impact on my leadership philosophy, which is to lead with integrity and honesty. Be accountable to my team and myself. After communicating and providing guidance and training, I trust that my team is capable of executing their areas of responsibility. Communication and availability are key, and don't need to be formal.
John W. Kennedy, Ph.D.
Chief Executive Officer, NJMEP
Kennedy is first and foremost a Jersey Boy, and has always been proud of his home state and what it brings to our county, which includes significant manufacturing, engineering, science and R&D capabilities. When Kennedy joined NJMEP in 2012, he found a place where he could support a critical industry contributing to our country's independence while keeping New Jersey at the technological forefront. He is also a proud Eagle Scout and National Distinguished Eagle.
What are your goals for 2023?
As I move toward retirement, there's an overlap in my personal and professional goals for this year. I want to ensure that the NJMEP we have built over the past decade is ready to continue into the future. This is accomplished by having an already in-place team that is both strong and dedicated to our mission of advancing and supporting the state's manufacturing industry.
Dennis W. Pullin, FACHE?President and CEO of Virtua Health?Pullin oversees the academic health system's full continuum of preventative, primary, ambulatory, acute and tertiary care across more than 350 locations. A recognized thought leader and advocate for health equity, he's led significant transformation of the 142-year-old non-profit, notably through acquiring Lourdes Health System and forging the academic affiliation with Rowan University leading to the Virtua Health College of Medicine and Life Sciences.
What leadership lesson only comes with experience??Often, the more experience you have, the more you realize how much you still have to learn. No one person has all the answers, which is why you must surround yourself with smart, dedicated people who will challenge you and ask tough questions. Inexperienced leaders assume they must have all the answers; experienced leaders realize it's more important to know who to consult with.
Mark Edwards
CEO, Franklin Bank
A South Jersey native, Edwards has been with Franklin Bank for his entire 41-year banking career and held the position of CFO for more than a decade prior to his current leadership position. He has an extensive history of serving as a volunteer board member on non-profit, civic and business organizations. He is extremely proud of Franklin Bank's 161-year tradition of improving the quality of life for its customers, communities and team members.
How do you stay motivated during a professional challenge?
I keep a picture of my father taken in France in November 1944, before he was seriously wounded, on the wall near my desk. If I begin to feel overwhelmed while facing a difficult situation, I take a moment to reflect on that picture, quickly realizing that nothing I am facing will ever compare to what that entire generation experienced. It brings me back to reality fast.
Alexandra McGroarty
Founder/CEO, McGroarty & Co.
McGroarty launched HR firm McGroarty & Co. Consulting with her late husband. Today, she continues to lead and grow the company while applying her certifications as a diversity professional and professional coach. In her husband's honor, the firm makes annual community donations, with their most recent efforts providing nearly $25,000 to help local schools, veterans, women and children. McGroarty recently published her first book, Bridging the Gap – Reducing Gender Bias in the Workplace.
Who had the most impact on your leadership philosophy?
My husband Michael had a huge influence on my leadership philosophy. His kind and caring nature, coupled with losing him at a young age, really reinforced to me that you need to understand that your team members have lives outside their work that is so much bigger than the 9-5. Treat them as an individual and do right by them: You never know what they are going through outside the office.
Brian M. Reilly
Chief Financial Officer, Cooper University Health Care
Reilly's previous experience includes serving as chief financial officer of RWJ Barnabas Health, New Jersey's largest health system, and corporate chief financial officer of Robert Wood Johnson University Hospital, as well as various leadership positions with Philadelphia's Tenet Healthcare Corporation. He has significant experience leading teams in a range of medical center settings. In addition to advancing the accounting and financial reporting function of complex institutions, he also has directed facility turnaround plans, financial change management, and integration activities. Over the past 20 years, Mr. Reilly has served on numerous boards and board subcommittees within the New Jersey and Philadelphia markets.
What leadership lesson only comes with experience?
You are only as good as the team you surround yourself with. There are many difficult and challenging decisions you'll need to make during your career: Having individuals who can deliver both personally and professionally is probably the biggest leadership lesson I have learned.
Kris Kolluri
Chief Executive Officer, Gateway Development Commission (GDC)
Kolluri previously served as the Chief Executive Officer of the Rutgers University–Camden board of governors (joint board), overseeing the development of the first-of-its-kind multi-institutional research and teaching facility, and implementing both the medical assistants training and the Alzheimer's patient navigator programs, which serve an important community health need and create employment opportunities for Camden residents. Prior to his appointment as joint board CEO, Kolluri served as counsel at law firm Windels Marx Lane and Mittendorf.
What are your goals for 2023?
Taking the Gateway Hudson Tunnel project from planning to reality. When I arrived as CEO of the GDC, which is responsible for the country's most urgent infrastructure project, Governors Murphy and Hochul and our board charged me with delivering the project. Last year, we met real milestones in its planning; this year, we aim to start construction projects in New Jersey and New York, and advance Federal funding so the entire project will be built.
Jennifer Potter
Vice President for Administration & Finance and Chief Financial Officer, Stockton University
Potter serves as the university's strategic financial leader, advising the president and cabinet on financial and business matters and working closely with leadership throughout the institution to develop strategies strengthening its business, financial and administrative plans and policies to achieve strategic goals. She directs all financial operations including budgeting, accounting, procurement, accounts payable, payroll, cash and investment management, financial reporting and tax compliance, auxiliary services, and risk management. She is a certified public accountant licensed in the state of New Jersey
What leadership lesson only comes with experience?
Successful leadership is about motivating and inspiring your team. I think the best way to accomplish this is to get to know each of your team members as both people and employees, and to provide them with individualized support and encouragement when they are faced with personal and professional challenges.
Dave Rosenberg
SVP and CFO, Horizon Blue Cross Blue Shield of New Jersey
Rosenberg joined Horizon BCBSNJ in June 2014 as chief accounting officer and has more than 30 years of finance experience. As CFO, he oversees the financial strategy and actuarial functions, including accounting and financial reporting, treasury and capital planning, investments, tax, budgeting and planning, procurement and corporate real estate, special investigations unit, security and administration. Rosenberg previously held senior leadership positions with Hertz, Polo Ralph Lauren and Coty. Currently, he co-chairs the board of directors of the Greater Newark Conservancy and is on the board for LTC Re.
What are your goals for 2023?
Our customers and members are clear in what they want from us: improve their total cost of care and healthcare experience. Healthcare is complex, and achieving those goals requires that I ensure my team can focus on strategic, value-added work. I'm leveraging digital technologies that maximize automation opportunities and optimizing our operations with the right digital tools.
Linda Schwimmer, JD
President & CEO New Jersey Health Care Quality Institute
Schwimmer drives policies advancing healthcare safety, access and affordability. She sits on the board for national patient safety advocate The Leapfrog Group, and previously served as co-chair for Governor Phil Murphy's transition team on health, as well as a board and committee member for the National Quality Forum. Schwimmer has worked in various sectors through Horizon Blue Cross Blue Shield of New Jersey, the New Jersey Department of Banking and Insurance, and the New Jersey Senate Majority Office.
What are your goals for 2023?
One of our key goals is improving the health insurance market for small businesses. Most small business owners want to provide health insurance for their employees and families but the market has been in a downward spiral of rising premiums and reduced coverage. We created a White Paper recommending market improvements and ways to make coverage more affordable, leading a work group on the topic and are urging the State legislature for changes.
Amy Mansue
President and CEO, Inspira Health Network
Mansue has more than three decades of experience in the healthcare industry. Prior to taking the reins at Inspira in 2020, she spent the previous four-plus years as executive vice president and chief experience officer with RWJBarnabas, the state's largest integrated health care system. She helped spearhead Inspira's COVID-19 response while overseeing the healthcare system's continued growth and expansion, most recently with the addition of Salem Medical Center.
What's a leadership lesson that only comes with experience?
COVID-19 brought a lot of lessons across many industries, one of the biggest ones that I believe is a critical element for any CEO is to make sure you continue to focus on the organization's strategic issues throughout any challenge. While it can be difficult to see past current hardships, your work will continue and as a leader it's your responsibility to foresee any potential repercussions and steer the ship into the future.
David Baiada
CEO, Bayada Home Health Care
Baiada is the CEO of BAYADA Home Health Care, a $1.5 billion global leader in home health care, with more than 29,000 nurses, aides, therapists and other professionals serving clients in more than 390 locations in 24 states in the U.S., as well as seven other countries. Baiada joined BAYADA in 2002 and worked his way up through the company, ultimately becoming CEO in August 2017.
How do you stay motivated during a professional challenge?
In times of crisis and uncertainty, I look to The BAYADA Way for inspiration and motivation. The BAYADA Way is our organization's philosophy, a set of guideposts and beliefs, clearly stating that our clients come first. Our clients and their families are coping with significant illnesses or disabilities and they need our help. This reflection helps me to put my challenges in perspective while refocusing my energy on what's most important.
John Griffith
Executive VP and CFO, American Water Works Co.
In his leadership roles at American Water, the largest publicly traded U.S. water and wastewater utility company, Griffith is responsible for overseeing all aspects of financial management and strategy, which impacts New Jersey American Water. Befitting his passion for mentoring and coaching, Griffith is also a partner with Student Partner Alliance, a non-profit organization that connects high school students with mentors. Griffith earned his bachelor's degree in economics from Davidson College and his MBA in finance from Columbia Business School.
What are your goals for 2023?
This promises to be an exciting year for American Water. We will close on water and wastewater acquisitions in a number of our states, bringing new customers into the American Water family, for whom we will have the privilege of providing safe, clean, affordable and reliable water and wastewater service. This mission drives us every day!
Author:
Katie Francis and Amy Kodrich
Archives
---
Who's Who in Health Care
Tight Race in Boys Soccer Colonial-Liberty Division
Should Eagles fans worry over recent wins?
South Jersey Football Games of the Week
Former Shawnee star Doolittle Calls It A Career
Camden County College welcomes Baseball Hall of Fame
South Jersey Football Games of the Week
Out & About
QB Ronnie Borden is Back in the Game
Should fans be worried for the Phillies bullpen?
South Jersey Football Games of the Week
A look at South Jersey's Top H.S. Girls' Soccer Teams
Out & About
Eagles will be fine after close call in opener
High School Football Games of the Week
More...