Dynamic Dishes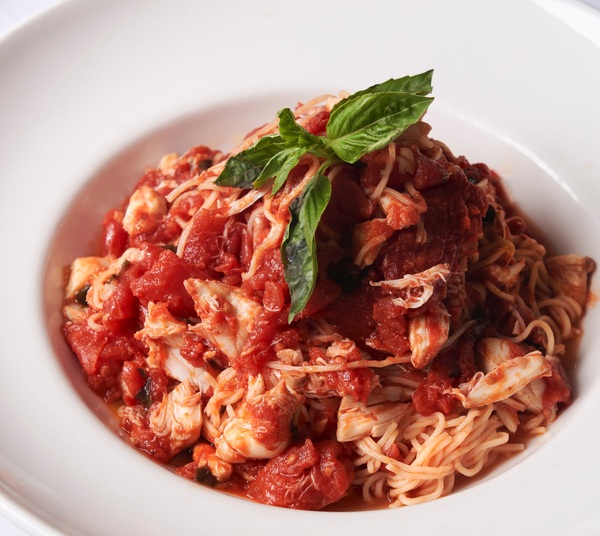 We are fortunate here in South Jersey that we have ample choices when it comes to dining out. While Italian restaurants may dominate the landscape—and we're not complaining!—the fact is that our area is home to many stellar spots that specialize in any number of cuisines. For our Golden Fork awards this year, we are shining a light on some of the region's finest eateries and our picks for the best main courses at each one. From pasta and veal to steaks and seafood, these standout dishes are in a class all by themselves.
CASARECCE at Nunzio in Collingswood
Since taking over this Collingswood mainstay from its namesake Nunzio Patruno, Chef Michael DeLeone hasn't skipped a beat. In this wonderful dish, short twists of pasta set the stage for tender chunks of tuna that's been poached in olive oil and finishing touches of a tomato butter, pistachio and a sprinkling of olive crumble.
MAINE LOBSTER AND MASCARPONE RAVIOLI at Park Place in Merchantville
Recently nominated for a James Beard Award, chef Phil Manganaro displays his culinary creativity here. Poached lobster is ground and mixed with mascarpone for the ravioli, while a reduction is made using various shells, rocks and seaweeds found along the New Jersey coast. Red seaweed gathered on a trip to Maine rounds out this extremely inventive offering.
TAGLIONI CON FUNGHI E TARTUFO NERO at ITA 101 in Medford
Ribbons of perfectly cooked pasta are blended with butter, both fontina and parmesan cheeses, as well as a mix of chanterelle and porcini mushrooms. The richness of the buttery pasta and cheeses is complemented wonderfully by the earthiness of the mushrooms and further enhanced with indulgent touches of a house-made truffle paste and fresh shaved black truffles.
SKATE WING at The Little Hen in Haddonfield
This popular menu item flaunts a flaky filet of fish that's been coated in rice flour and sautéed before being plated atop Lyonnaise potatoes and spinach. Capers and a Dijon vinaigrette give the dish a further balance of flavor.
TUNA at Two Fish in Medford
Folks flock to this cozy spot regularly to see what chef Mike Stollenwerk will create in his kitchen next. While the menu rotates often, you're always likely to find a tuna dish present. His latest offering, with sumac, Middle Eastern grains and lentils, cauliflower hummus and spicy eggplant is definitely one you'll want to sink your teeth into.
KANPACHI CRUDO at Hearthside in Collingswood
One of South Jersey's most coveted dining destinations recently switched over to a prix-fixe menu. Luckily for diners, there will still be plenty of tantalizing dishes like this one where a vibrant passion fruit vinaigrette awakens raw cuts of yellowtail. Additions of lime zest, red finger chilis and masago rice pearls help create a tart, spicy, slightly sweet and very bright plate of food.
CHAMPAGNE PEAR SACHETTI at Toscana in Cherry Hill
Sachetti, also known as "beggar's purse," are small sacks of pasta stuffed with a variety of fillings. At Toscana, they fill the homemade little bundles of joy with pear and ricotta cheese before tossing the pasta in a luxuriant walnut-champagne cream sauce.
KONA CRUSTED NEW YORK STRIP STEAK at The ChopHouse in Gibbsboro
The ChopHouse takes their steaks seriously, which is why they dry-age them in-house for at least 28 days. This popular cut is coated in finely ground Kona coffee and is cooked to perfection, resulting in a slightly crispy, slightly bitter crust that makes way for a tender, juicy interior.
SALMON ALLORA at Allora in Marlton
Chef/owner Mark Berenato has regularly wowed us with his pasta dishes and his succulent, melt-in-your-mouth short ribs, but we're also suckers for his seafood plates. Namely, this porcini-crusted salmon filet topped with a housemade fig preserve and served with spinach over risotto.
MIXED SEAFOOD ORZO at Estia in Marlton
Orzo is a wonderfully versatile pasta and it pairs nicely here alongside a marvelous medley of seafood—shrimp, mussels and calamari—all of which are coated in a robust tomato sauce and covered with feta.
CHOCROUTE GARNIE at June in Collingswood
Dishes like this are a big reason why this restaurant has such a buzz among local gourmands. Translated as "garnished sauerkraut," the delicious take on a traditional French specialty spotlights the fermented cabbage with duck confit, a link of pork sausage, a hunk of pork belly and a handful of marble potatoes for good measure.
SEAFOOD CANNELLONI at Carlucci's Waterfront in Mount Laurel
There's no shortage of well-made dishes at Carlucci's and this one is at the top of our list. Rolled pasta tubes are stuffed with chopped shrimp and crabmeat, bathed in a brandy cream sauce, hit with a touch of marinara sauce and topped with more baby shrimp.
VEAL GRANCHI at Fieni's Ristorante in Voorhees
This tremendous entrée is a harmonious mix of tender veal cutlets which are placed on a bed of sautéed spinach and enveloped with melted fontina cheese and then crowned with chunks of jumbo lump crabmeat. It's a dish that delivers time and time again.
CRAB TOMASSO at Anthony's Creative Italian Cuisine in Haddon Heights
A showcase of technique and fine ingredients, this dish consists of jumbo lump crab, tomatoes, garlic and fresh basil cooked with a rose wine to enhance the flavor profile and give the dish added vibrancy before it's all tossed with angel hair pasta.
GNOCCHI CON LOBSTER at Bistro Di Marino in Washington Township
Homemade gnocchi is one of the calling cards at Bistro Di Marino, so much so that they have 10 different varieties on the menu. In our humble opinion, the best of the bunch is filled with pulled lobster meat and arugula and cloaked in a lobster cream sauce.
TOMAHAWK VEAL CHOP at The Capital Grille in Cherry Hill
While it may be hard to overlook the fine steaks being served up at this buttoned-up dining room, this oversized veal chop is worth the attention. Perfectly seared and prepared with sage butter and marsala au jus, the sizable cut also benefits from the addition of crispy, salty prosciutto.
TRIPLE MEAT BOLOGNESE at Joe Italiano's Maplewood in Moorestown
Few things are as comforting as a nice, warm, flavorful Bolognese sauce. And at Joe Italiano's, you'll find some of the best you've ever tasted. A combination of beef, pork and veal are used to elevate the red sauce as it's lovingly ladled over your choice of pasta (we suggest the homemade spaghetti).
SCOTTISH SALMON at Wanda in Haddonfield
This sophisticated salmon dish fires on all cylinders thanks its co-stars like beech mushrooms, crispy parsnips, baby bok choy and brown jasmine rice. All of the ingredients are tied together thanks to an extremely pleasing roasted lobster broth that brings added dimension and depth.
CHIRASHI at Yokohama in Maple Shade
Yokohama prides itself on having high standards for serving only the freshest, high-quality fish available and that's one of the reasons why the restaurant's chirashi is can't-miss. Eighteen pieces of assorted fish are sliced with the deft hand of the talented sushi chefs and served with rice for a simple yet highly enjoyable meal.
WHOLE BRONZINO at Filomena Lakeview in Deptford
This entrée is regarded as one of the house specialties and it's easy to see why it has earned that recognition. The fish is roasted in a wood oven before it arrives tableside where it is fileted before your eyes and served with a rich, creamy risotto and spinach.
MONGOLIAN BEEF at Elena Wu Restaurant and Sushi Bar in Voorhees
This Taiwanese-inspired dish is one of the best items on a menu full of standouts and showcases thinly sliced strips of beef which are slightly crisped before being lathered in a sweet and savory brown sauce and then stir fried with jicama, ginger and green onion.
SURF AND TURF at Fleming's Prime Steakhouse & Wine Bar
Flemings is known for both its stellar steak and seafood selections, so why not combine the best of both worlds and choose something from the land and the sand? While filet mignon and a lobster tail are a match made in heaven, you can also create your own version with any one of the signature steaks on the menu.
BLACKENED CHILEAN SEA BASS at Giumarello's in Westmont
Well-seasoned and cooked beautifully, the tender, buttery sea bass could certainly stand on its own. But when you pile on shrimp, crabmeat and shiitake mushrooms with final touches of garlic and olive oil, things are taken to a new leveln and each bite is more rewarding than the last.
SICILIAN FISHERMAN STEW at Zeppoli in Collingswood
The attention to detail that chef Joey Baldino puts into every one of his refined classic Italian dishes is one of the reasons why Zeppoli stands out in a crowded Collingswood dining scene. Here he skillfully blends grilled swordfish, head-on shrimp, calamari and more with Tunisian couscous in an aromatic saffron- and fennel-spiced broth that provides depths of flavor.
SWORDFISH STEAK at Verona Ristorante Italiano in Haddonfield
Swordfish often flies under the radar and perhaps doesn't get as much love and attention as it should. We love this version where the meaty fish is charred on the grill and then topped with a dazzling array of cherry tomatoes, raisins, pine nuts and olives in a white wine garlic sauce.
SHRIMP AND CLAMS FRA DIAVOLO at Il Villaggio in Cherry Hill
While perusing the menu at Verona, it can be difficult to make a selection with so many enticing options. But allow us to recommend this certified classic where jumbo shrimp and fresh clams swim in a piquant marinara sauce over a strands of linguine.
Article continues below
---
advertisement


---
Author:
Peter Proko
Archives
---
Who's Who in Health Care
Former Shawnee star Doolittle Calls It A Career
Camden County College welcomes Baseball Hall of Fame
South Jersey Football Games of the Week
Out & About
QB Ronnie Borden is Back in the Game
Should fans be worried for the Phillies bullpen?
South Jersey Football Games of the Week
A look at South Jersey's Top H.S. Girls' Soccer Teams
Out & About
Eagles will be fine after close call in opener
High School Football Games of the Week
Is it Super Bowl or bust for the Eagles?
What's New in South Jersey?
From New Jersey to Nashville
More...