SJ Attractions: Clementon Amusement Park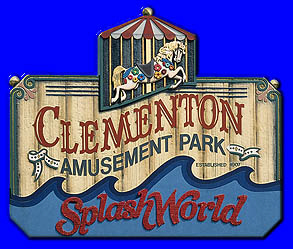 From humble beginnings in 1907, Clementon Amusement Park (located in Clementon, NJ), while maintaining its turn-of-the-century charm, has developed a spectacular concentration of the latest in high-tech thrills. Of the many exciting adult rides, they feature one of the largest and best log flumes in America. Other recent additions include the thrilling Thunderbolt, the exciting Sea Dragon, the awesome Falling Star, the breathtaking Chaos, along with our new Chance Inverter, Zamperla Kite Flyer, Samba Tower (all shown below) and Turtle Whirl. You've simply got to ride them to believe them. Amusement park rides just don't get much more exciting than this!
If thrills are not your preference, there is nothing like a nostalgic ride on our beautiful new Classic Carrousel which features antique-style horses and chariots! Or how about a leisurely trip around the lake on the Clementon Belle showboat? You can totally relax on the new C.P. Huntington Train which slowly winds its way around the park, or perhaps experience the view from ten stories high on our Giant Ferris Wheel, then swing your way gracefully through the air on our Yo-Yo. Other recently added attractions include our new Zamperla Samba Tower and Sellner Turtle Whirl. You'll find exciting new changes at Clementon Amusement Park, but you'll also enjoy all of the traditional charm which has kept us so unique!
Clementon Amusement Park also features a new and fully enclosed Kiddie Land, offering gentle rides for the younger set.
Splash World
Clementon Amusement Park has created a new standard in waterparks with the opening of our all-new Splash World. With the debut of Splash World's custom-designed water rides, you can brave the 700-ft. enclosed chutes of The Black Viper, or ride the Sky River Rapids, where you'll be gliding through three sets of waterslides and three splash pools. Get ready for fun!
For starters, there's the Caribbean Cove, a 5,000 sq. ft. Activity Area (for kids of all ages), with hundreds of potentially drenching results, including four new kiddie slides. Then take your pint-sized buccaneers and set sail on the Pirate Ship, anchored in the midst of its own 10,000 sq. ft. kiddie pool. They can shoot water-filled cannons, climb the cargo nets, or make a hasty retreat down any of the six built-in water slides. Now, if you really want to relax, try our 1,200 ft. Endless River, a tube ride through scenic waterfalls and beautifully landscaped rock formations. Plus, Splash World has all temperature controlled water for your added comfort and enjoyment. Take a stroll through our Splash Shop for gifts and last minute essentials. Splash World provides dressing rooms with convenient showers, lockers and changing areas.
Home of the "Big Cat Encounter"
It's hard for you to move from one attraction to another at Clementon Amusement Park without encountering some top-notch entertainment along the way! The new "Big Cat Encounter" features both African Lions and endangered Royal Bengal Tigers performing a variety of educational and entertaining shows. The fifth-generation animal trainer, Kay Rosaire, is the only woman in the world who dares to place her head in a Tiger's mouth! Clementon Park's strolling string band will delight you with nostalgic tunes from an earlier era. Our jugglers will amaze you with the most gravity-defying feats imaginable. Or you just may want to enjoy watching one of our clowns transforming a simple balloon into a long-necked giraffe right before your very eyes!
Schedule and Admission
For park hours and admission prices, click here.
More Information
Clementon Amusement Park is located on 144 Berlin Road in Clementon. For more information, call (856) 783-0263 or visit their website at www.clementonpark.com.
Article continues below
---
advertisement


---
Author:
R. Cohen
Archives
---
South Jersey 4th of July Guide
Jersey Shore July 4th Guide
Molding a Legacy
Symbolic of South Jersey
The Happiest of Hours
November Datebook
Family Fun
Dig This
African American Heritage Museum
Apple Pie Hill
Johnson's Corner Farm
Lumberton's Air Victory Museum
Lucy the Margate Elephant
Tuckerton Seaport & Baymen's Museum
Emlen Physick Estate
More Articles