Jersey Shore Children`s Museum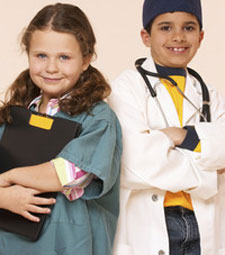 The Jersey Shore Children's Museum is the most exciting children's cultural facility at the New Jersey shore. They are a non-profit, creative, hands-on, interactive facility with 14 fabulous exhibits. The Children's Museum, formerly named the Egg Harbor Township Children's Museum, invites children's fantasies to materialize in creative play.
Children ages 1-10 can enjoy exhibits filled with hands-on activities. There is even a center where they can blow bubbles of all sizes. Exhibits are work-place themed, with authentic props and clothing to allow creative role-play. Children are doctors in the Pediatric ER; Dentists and Hygienists in the Dental Office; puppeteers in the Puppet Corner; weatherman in the TV Newsroom; builders in the Constuction Zone; and NBA players on the CenterCourt. There is also a bubble area, a music wall, a dinosaur table, and a tot area. Children can also build a miniature car at the Car Factory.
The Jersey Shore Children's Museum is a great idea for that very special birthday party that no-one will forget, and everyone will remember as both a fun and educational experience!
The Jersey Shore Children's Museum is open Monday through Saturday from 10am until 5pm; open on Sunday from noon until 5pm. The Museum is closed Thanksgiving, Christmas Day and Easter Sunday.
The Jersey Shore Children's Museum is located inside the Shore Mall (behind Boscov's) in Egg Harbor Township. For more information, call (609) 645-7741 or visit their website at www.eht.com/childrensmuseum.
For an extensive list of South Jersey Attractions, with links to websites and other information, check out our Attractions page.
Article continues below
---
advertisement


---
Author:
Editor
Archives
---
Planning for the Unpredictable
A Chain Reaction
South Jersey H.S. Football Games of the Week
Leading Business Attorneys 2021
SJ High School Girls' Soccer Preview
On the Right Track
No Easy Games For The Eagles
Eastern and Cinnaminson are top girls' and boys' seeds in South Jersey Soccer Coaches Tournament
Healthy People, Healthy Business
South Jersey highschool football games of the week
Best of Home and Garden
Back to School
Ready to Take Flight
Bishop Eustace's Danny O'Rourke a model of stability
Who's Who in Real Estate
More...