Nothnagle Log Cabin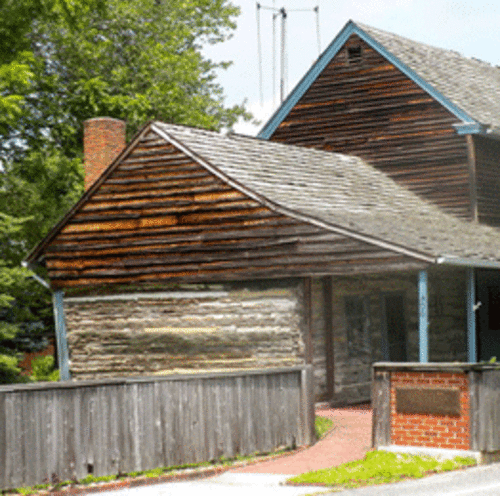 Listed on the National Register of Historic Sites, the Nothnagle Log Cabin is the oldest such structure in the United States. Though the exact age of the building is unknown, it is believed to have been built shortly after the first Swedish settlers arrived in America, around 1638.
The Swedes and Finns introduced log cabins to America. These early settlers often brought building materials with them. For instance, the corner fireplace in this log house is likely constructed of bricks that were shipped here from Sweden.
The original house was constructed without the use of nails. Roof rafters had no ridgepoles (the horizontal beam to which the rafters are attached). The house was held together by an ingenious system of dovetails and trunnel pins. The earthen floor of the house was covered with pine boards in 1730.
The house is small and takes only a short time to see. However, those interested in early architecture will certainly like the tour. Various furnishings represent life of the time. While a number of similar cabins were probably built around the same time, all the others have disappeared -- victims of the elements or demolished to make room for new buildings.
The Nothnagle House is actually attached to the private home of Doris and Harry Rink, who conduct the tour. Tour hours are unscheduled; you must call before you visit, and schedule an appointment for groups. Admission is free, and reservations are taken 2 weeks in advance. This attraction is handicapped accessible (no restrooms).
The Nothnagle House is located at 406 Swedesboro Road in Gibbstown. For more information, or to schedule a tour, call 856-423-0916.
© SouthJersey.com 2015. All rights reserved. This article or parts thereof may not be reprinted or reproduced by any other party without the express written consent of SouthJersey.com. For more information, please call 856-797-9910.
For an extensive list of South Jersey Attractions, with links to websites and other information, check out our South Jersey Attractions page.
Article continues below
---
advertisement


---
Author:
Editorial Staff--SouthJersey.com
Archives
---
In Good Health
2017 Executives of the Year
Superior Sandwiches
Raise a Glass
Impressive New South Jersey BBall HOF class
The Promise of Public Transportation
Empowering the Next Generation
Singles: January 3
River Revitalization
Spreading Cheer
Singles: December 27
Winter Retreat
Are Holiday Parties Back in Favor?
Support System
Singles: December 20
More...