Support for New Moms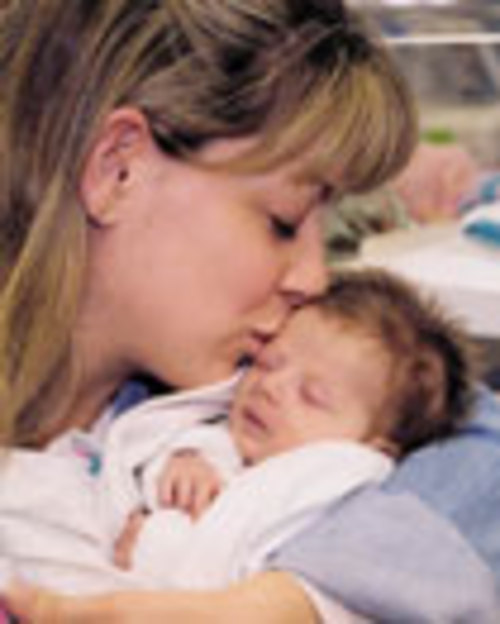 Are you a stay-at-home mom in need of support? Are you a new mom or mom-to-be who feels overwhelmed and wants to meet other local moms to talk to? Whether it's social interaction, child-raising, or nursing support you're seeking, there are organizations in South Jersey to fit your needs.
For moms and moms-to-be who are looking for nursing information and support, there are a number of local La Leche League chapters that hold monthly meetings. Founded in 1956 by seven women who had learned about successful breastfeeding while nursing their own babies, La Leche League is the only organization with the sole purpose of helping breastfeeding mothers. Now 8,000 Leaders and 3,000 local Groups strong in the United States alone, La Leche League Groups meet regularly in communities worldwide to share breastfeeding information and mothering experience. Each year, an estimated 750,000 American mothers call La Leche League with questions and concerns. Telephone counseling is available 24-hours a day, along with access to an extensive library of breastfeeding literature. For more information about La Leche League, visit their website at llli.org. For information about New Jersey chapters, visit lalecheleaguenj.org.
The MOMS Club of Cherry Hill East/Voorhees is a non-profit organization dedicated to stay-at-home mothers. The club serves as a support network for at-home moms to meet and socialize with other mothers as well as introduce their children to other children. The MOMS Club does not discriminate by race, religion or financial stability, but rather encourages all area moms to join and support the decision to stay at home to raise children. The MOMS Club is an international organization that was started as an individual chapter in 1983 by an at-home mother feeling the loneliness of being home alone with her child. With the wish to meet other stay-at-home moms and to find other children to play with, she started a daytime organization to serve as this meeting ground. There are currently more than 1,250 chapters of The MOMS Club and more than 63,000 members in eight countries.
The local MOMS Club holds several activities including coffee days, crafts, cooking, scrap booking and park days. Playgroups meet at different member's homes and at parks. They also have 'moms' night out' to offer a getaway just for moms. The club holds a general meeting the 1st Thursday of every month. Craft tables are set up for older children and there's room for younger kids to keep occupied while moms focus on the meeting. Meetings include an overview of current events at the club and speakers on topics related to raising children while staying home. MOMS Club also has group discussions on issues such as potty training and nursing. Children are welcome at every meeting and refreshments are always available. Each year, MOMS Club holds one main service project dedicated to helping children in the community. Past projects included Toys for Tots, the Solace Women's Shelter, and visiting the senior citizen center. Another option is to be part of the Sunshine Committee to provide support for moms who recently gave birth or are experiencing a tragedy in their family. This group focuses on bringing 'sunshine' to that individual's life.
If you are interested in joining MOMS Club, an annual fee of $25 covers the program. Moms may attend two general meetings prior to paying dues to become a member. If dues are a hardship for your family, you may present the issue to one of the officers. To join, e-mail the MOMS club at info@momsclubcherryhill.org with your name and address and you will receive the information of when the next meeting will be held. The club constantly has new members. For more information on the MOMS Club, visit momsclubcherryhill.org.
The South Jersey Mothers of Multiples (SJMOM) is an organization dedicated to providing support to mothers of twins and higher order multiples. The group offers support for new mothers as well as mothers of grown children. SJMOM holds monthly meetings and offers many children's activities including hayrides and pumpkin picking, movies, a Storybook Land trip and picnics. The organization also holds an annual Appreciation Luncheon to thank those that help take care of children, a New Member Tea Party and a main charity event. The group also holds two clothing sales a year where members can sell kids clothing, toys and baby equipment. If you are interested in joining SJMOM, e-mail diannaron@aol.com. For more information, go to sjmoms.com.
Updated 10/15/15
© SouthJersey.com 2015. All rights reserved. This article or parts thereof may not be reprinted or reproduced by any other party without the express written consent of SouthJersey.com. For more information, please call 856-797-9910.
For more on local Organizations, visit our Organizations page.
Article continues below
---
advertisement


---
Author:
R. Cohen/M. Samuelson
Archives
---
Giving Kids a Shot
South Jersey Coronavirus (COVID-19) Developments (December 1)
South Jersey Coronavirus (COVID-19) Developments (November 18)
'An Addition, Not a Subtraction'
The Earlier the Better
Special Delivery
Top Physicians 2021
'You Do Not Have to Suffer'
South Jersey Coronavirus (COVID-19) Developments - Booster Shots (September 27)
South Jersey Coronavirus (COVID-19) Developments (September 16)
South Jersey Coronavirus (COVID-19) Developments (September 10)
South Jersey Coronavirus (COVID-19) Developments (September 9)
South Jersey Coronavirus (COVID-19) Developments (September 8)
South Jersey Coronavirus (COVID-19) Developments (August 30 )
South Jersey Coronavirus (COVID-19) Developments (August 24 )
More Articles