Camden Co. Senate Too Close To Call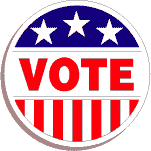 The most expensive legislative race in state history was too close to call Tuesday night, leaving the Senate candidates in Camden County in a virtual heat. With 100 percent of the precincts reporting, Democrat Fred Madden and Republican George Geist both had 50 percent of the vote. Madden was slightly in the lead with 20,503 votes to Geist's 20,413 -- a separation of just 90 votes.
Absentee ballots, possibly as many as 1,792, remained to be counted.
Even still, Democrat Fred Madden -- who spent nearly $3 million, almost twice the record for a legislative race -- claimed victory over Republican George Geist.
Democrats targeted Bennett, trying to capitalize on ethics allegations stemming from news reports that the longtime legislator and lawyer double billed Marlboro Township for municipal legal services.
Karcher has gotten nearly all of her campaign money from state and county Democratic organizations.
Jersey Voters Approve Three Questions
New Jersey voters Tuesday approved three public questions that allow the state to increase the spending cap for land preservation and to cleanup former industrial sites.
With 42 percent of the precincts reporting, the first ballot question was approved with 290,209 votes or 64 percent of the vote.
Gov. James E. McGreevey and other state officials spearheaded an extensive campaign pushing voters to approve the first question, which would permit the state to put another $150 million into open space preservation. It will not cost taxpayers more but will allow the state to take advantage of lower interest rates.
"These are questions that Governor McGreevey campaigned for and asked the voters support on," said McGreevey's spokesman Micah Rasmussen. "It allows us to take advantage of low interest rates and allow the governor and state government to acquire more open space and moves us further down the road in terms of smart growth."
One third of the money will preserve land in the northern Highlands area while another $50 million will be to improve urban parks.
In 1998, voters agreed to change the constitution and dedicate $98 million from the sales and use tax for open space acquisitions over 30 years. The state may also borrow $1 billion over the next 10 years using the $98 million to pay it off.
With current low interest rates, the state has enough to cover payments up to $1.15 billion in debt. Voters, however, must approve any changes to how that money is spent.
The second question, with 49 percent of precincts reporting, was approved with 268,328 votes or 60 percent of the vote.
The second public question would put more money into cleanup of former industrial sites by diverting money from a fund now used to clean up underground gasoline and storage tanks.
New Jersey's corporate business tax now funds tank cleanup. About a third of the $30 million collected each year is used for it. By approving the question, the state would be allowed to use funds to revitalize abandoned industrial sites and factories.
The only question that has raised any objections is the third, which would allow the state to borrow up to $200 million. Of that, $150 million would go to dam repair across the state and $50 million is earmarked for wastewater treatment, to dredge streams and pay for flood control projects.
With 49 percent of the precincts reporting, the first question was approved with 59 percent of the vote, or 312,720 votes.
Environmental groups objected to it because they said some of the areas on the Department of Environmental Protection's list include dams that are privately owned and may have little public access.
The last statewide public question was in 2000, when voters approved dedicating additional motor fuels and certain sales taxes to fund transportation system improvements.
The most recent statewide question to be rejected by voters was in 1990, when New Jersey residents were asked to approve borrowing $135 million to provide assistance to low and moderate income families for housing construction.
Copyright 2003 by NBC 10. All rights reserved. This material may not be published, broadcast, rewritten or redistributed.
Article continues below
---
advertisement


---
Author:
NBC10
Archives
---
Just Getting Started
Early story lines in the South Jersey boys' basketball season
South Jersey Soccer Coaches Association names the best of the best
Is Jalen Hurts the Eagles QB of the Future?
South Jersey Coronavirus (COVID-19) Developments (January 14)
Big Season for Timber Creek grad Devin Leary of N.C. State
Camden-Lenape highlights the best of South Jersey boys' basketball
Just Getting Started
Growkowski, Jalen Hurts the two big keys in Eagles-Bucs playoff
Women to Watch 2022
Bringing out the Best
Top Children's Physicians 2022
Girls Basketball Tournament recap
Top Attorneys 2021
Stealing the Show
More...