Caring Connections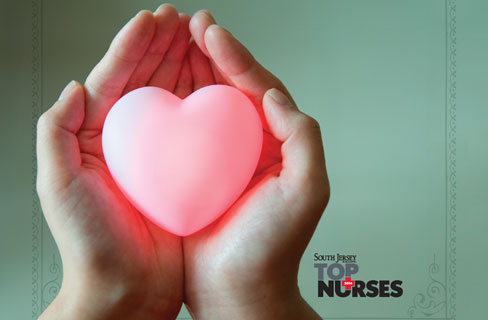 …From the pages of South Jersey Magazine…
Nurses that are making a difference all across South Jersey
Being a nurse can often be a thankless job. But we at South Jersey Magazine thought it was high time these health care professionals got the recognition they deserved. So, for our first-ever Top Nurses feature, we asked local hospitals and health care providers to nominate nurses in the area that really make a difference, from planning birthday parties for young patients to feeding local residents in need, to simply being the best at what they do.
Being a nurse is no easy job, but these South Jersey nurses really go above and beyond the call of duty.
Jennifer Narcisi
A pediatric nurse at the Children's Hospital of Philadelphia in the Cardiac Intensive Care Unit, Narcisi is fluent in both English and Spanish, a skill that helps her relate to young patients and their families dealing with a language barrier while also seeking treatment. The Williamstown resident also goes out of her way to understand the varying cultures of her patients and their families too, putting them more at ease in what can often be a very difficult time. Narcisi knew from childhood that she wanted to be a nurse, asking for a real stethoscope for her 7th birthday. Since then, she's overcome many obstacles in her journey to realizing that dream—not getting accepted to her first-choice program, the sudden death of her father right before graduation, even taking jobs in Pittsburgh and Miami until she found her home at CHOP. "I love what I do and nothing makes me feel more accomplished than seeing a sick child walk out of the unit," she says.
Jamie Sabetta
For Sabetta, nursing is a family affair. The recently named Nurse of the Year by The Cooper Foundation and Cooper University Health Care has worked as a staff nurse for the Orthopaedics and Neurology Unit at Cooper University Hospital since 2011—the same hospital where her grandmother went to nursing school. Her mother is also a nurse, and Sabetta says their care and compassion inspired her to follow suit. Sabetta also recently passed her Med Surg Certification test and received the title of RN-BC, along with BSN. Hailed by coworkers as a coach and mentor who challenges her trainees to think critically, there's no doubt about it—this is one nurse we want on our side.
Michael Pascale
This Top Nurse is co-chair of Inspira's Clinical Informatics Team, working tirelessly to make patient care safer and nursing documentation less time-consuming, which he calls a "win-win for everybody. As the Chair of the Informatics Council I help lead the group to address any concerns of how nurses and other health care professionals utilize the electronic health record," he says. Pascale worked as a respiratory therapist at Methodist Hospital in Philadelphia, then worked at Underwood, Inspira Woodbury before deciding in 2002 that he wanted to do more for his patients and went back to school. He credits his wife, who worked part-time as a registered nurse while caring for their two small children at the time, for his success. Today, he's a designated charge nurse in the ICU at Inspira Woodbury. Pascale and his wife have two children.
Katie Young Kennedy
A staff nurse in the Neurosurgical Intensive Care Unit at Kennedy Health System in Washington Township, Young Kennedy has a laundry list of awards: from the Jordan Middleton Award for Patient Advocacy from Our Lady of Lourdes School of Nursing to the Kennedy Washington Township "Nursing Power of One" award. Young Kennedy began her nursing career at Our Lady of Lourdes in Camden, working in the Critical Care Step Down/PCU as a staff nurse, then as the PCU Clinical Care Coordinator and an interim position as Acting Nurse Manager before moving to the ICU at Our Lady of Lourdes. She specializes in what she calls a "Patch Adams-like approach" to her patients, focusing on the physical illness as well as the psychosocial aspect, and treating her patients like family. Young Kennedy lives in Stratford with her husband and two children.
Krystal Rossi
Rossi, a nurse at Weisman Children's Rehabilitation Hospital in Marlton, recently celebrated 10 years of service in the hospital's inpatient program. But it was how she helped a young car accident patient gain her life back that earned her a Top Nurses nod. Rossi, who stands just 5-foot-3, is described as soft spoken with quiet perseverance. She used those qualities to help 9-year-old patient Zoe Hirshfield get her life back, supporting her throughout her recovery, sitting with her until she fell asleep when her mom wasn't able to be there, even organizing a birthday party complete with a gift scavenger hunt that also served as part of Zoe's therapy for that day. Today, Zoe is in fourth grade, just won class president and has formed a lasting bond with Rossi.
Patricia Pyne
The last chapter of a beloved family member's life is never an easy thing, but nurses like Pyne make it a little easier. Pyne, Director of Nursing for CareOne at Moorestown Assisted Living, is known amongst coworkers as one with a steady hand and calming nature. She is often called upon to help feed a patient refusing to eat, as she can almost always get through to them. Pyne has an unparalleled rapport with not just her patients, but also their families and her staff. She has been entrusted with helping more than 100 families cope and deal with the last chapter of their loved one's life, a sometimes difficult situation she handles with grace and humility.
Donna Roesler
Roesler, an administrative supervisor for nursing administration at Virtua Voorhees, knows the importance of a home-cooked meal. That's why the 30-year employee of the Virtua Hospital system got involved with Casseroles for Camden, a program that helps feed families in need in Camden. Roesler got involved with Casseroles for Camden in 2003 when one of its founders, Peg Will, was volunteering in the Emergency Department where Roesler was working. Since then, Casseroles for Camden has continually grown; Roesler even introduced the program at Virtua Voorhees in February 2013, and the Voorhees division has since provided 300 casseroles. Roesler won the Dorothy Cox Fisher Award for her involvement with the organization. She also won the Superstar Award for Outstanding Leadership in 2003. She lives in Williamstown and Cape May with her husband. They have four adult children and one grandson.
Sheryllyn Foshay
"Shery" Foshay consistently goes above and beyond for her hospice patients at Samaritan Healthcare & Hospice. Her coworkers cite various examples of her efforts—such as volunteering to do a late-day admission since she was the closest nurse to the patient's home and could arrive faster than the regularly scheduled nurse, which made her late to her anniversary dinner with her husband; even spearheading an effort to help a bed-bound stroke patient go safely outside with the help of a crane-like lift and a "geri chair"—a large recliner with wheels—so he could see fall's changing leaves one last time. Foshay, who has been a nurse for 30 years, and a hospice nurse for nearly the last seven, puts it simply: "I am passionate about taking care of patients at the end of their lives and try to give 110 percent every day," she says. Foshay lives in Palmyra with her husband. They have two daughters.
Paula Konstantinides
A nurse for 28 years, Konstantinides has an extensive list of accomplishments. She helped develop Virtua's diabetes program that is still used today, was the director of Virtua Fitness for eight years, received a Superstar Award for her Leadership in 2010, and even received a Daisy Award in September, an award bestowed on an extraordinary nurse to honor their work on behalf of their patients and families. While she's worn many hats, three years ago, she returned to the bedside when Virtua opened the new hospital in Voorhees, where she participates in the Nursing Professional Practice Committee, Medical Surgical Nursing Practice and the Skin/Wound Assessment Team. She still works at Virtua Voorhees, and lives in Voorhees with her husband, two daughters and their rescue Labrador.
Jeff Redder
This Top Nurse is a United States Air Force veteran, and is known amongst colleagues and patients at the Moorestown Visiting Nurses Association as the go-to nurse during emergencies in difficult weather conditions, traveling to ensure the safety of his patients. During his time in the Air Force, Redder, his wife and their two daughters spent 4 ½ years on Rhein-Main Air Base in Frankfurt, Germany, where he took classes at Embry-Riddle Aeronautical University toward his B.S. degree in Professional Aeronautics, and the family grew with the arrival of two sons. Attaining the rank of Master Sergeant, Redder retired from the USAF in 1991, and a year later, he completed his B.S. degree with Embry-Riddle and then earned his associate's degree in nursing from Burlington County College, with an A.S.N. and earned his R.N. Today, Redder exhibits what coworkers call his unique sense of humor while serving as a home health nurse, visiting patients in Burlington, Camden, and Gloucester counties.
Bill Biskup
This local nurse practitioner received several nominations for the honor of Top Nurse—and all with good reason. Biskup, a nurse at the Pain Management Center-Prospira PainCare, has a patient following of sorts. In many cases, he has been treating the same patients for as long as 15 years, seeing some monthly for pain management—he even has one patient who flies in once a month from Florida to be treated by Biskup. These patients appreciate his efforts, too, and Biskup becomes a friend or even a family member for many—they even bake him cakes for his birthday. If that isn't a sign of a job well done, we don't know what is.
Diane Hargis-Reynolds
A certified nurse midwife for more than 30 years, Hargis-Reynolds holds the very important job of welcoming new lives into the world at Kennedy University Hospital. A certified Nurse Midwife with The University Doctors, she is considered a pioneer for midwifery services at Kennedy and in South Jersey, and works with the hospital's leadership team to promote midwifery and obstetrics to the community, her coworkers say. Touted as both a highly skilled and caring medical professional, Hargis-Reynolds created the Center for Pregnancy with a grant she received from the March of Dimes; and was also honored at the March of Dimes Born to Shine Gala event. She also delivers babies in a hospital setting, noting that despite popular belief, only about 2 percent of babies midwives deliver are at home. But Hargis-Reynolds didn't always want to be a certified nurse midwife. She aspired to a career in obstetrics, but one night in the early 1980s when she was working as an ICU Nurse at Shore Memorial Hospital, she was called to the maternity floor and "caught" her first baby. The rest, as they say, was history. Hargis-Reynolds lives in Sewell and has two grown daughters.
Lynn Stott
A Kennedy nurse since 1986, Stott is a nurse at Kennedy University Hospital in Stratford, on the 4-East Med-Surg Unit. A graduate of Camden County College/Helene Fuld School of Nursing, this nurse wears many hats—from charge nurse to Red Cross volunteer after Hurricanes Katrina and Sandy to the recipient of Kennedy's "Power of One" Nursing Award in 2013. Stott also played a crucial role in the successful launch of the Bariatric (weight-loss) Surgery program at Kennedy—Stratford, and also teaches Bariatric Education classes for patients scheduled for bariatric surgery, and even serves on the Nurse Advisory Board. Stott lives in Stratford and has two adult sons.
Michelle Mahan
This Top Nurse pulls double duty, working as a nurse at not one, but two facilities. Mahan, who works as a nurse at Allergy and Asthma in Mount Laurel, as well as TLC Homecare in Moorestown, consistently goes above and beyond for her patients on a daily basis. She's also known for her bedside manner, which is "bar none," her nominators say. The graduate of Ann May School of Nursing in Neptune, where she earned her Registered Nurse's degree, has been a nurse since 1977. Today, she works the two nursing jobs and lives in Delran with her husband. They have three children.
Jonell Marasco
A hospice nurse for 15 years, and a nurse for 42 years, this Top Nurse knows a thing or two about compassion. Marasco, who works at Hospice of New Jersey in Toms River, knew at age 12 what her calling was. At 16, she became a candy striper at Saint Francis Medical Center on the Pediatric Unit, before attending Mercer County Community College to obtain her nursing degree. Throughout her career, Marasco has held many nursing roles: in the ICU, PCU and CCU, before moving into home care, and eventually, hospice care. "While I was working in home care, my supervisor who also oversaw hospice noticed the skills I had, as well as my compassion and love for my patients and the families I served. She offered me a position over on the hospice side and I never looked back," Marasco says. This Top Nurse can also add several nursing awards to her repertoire, and has also furthered her education by becoming a Certified Hospice and Palliative Care Nurse.
Una Kurtz
No one could accuse this Top Nurse—who works in the emergency room at Lourdes Medical Center—of not working hard. A U.S. Air Force veteran, Kurtz attended Burlington County Community College while also raising two small children, graduating in 2005, just months before giving birth to her third child. Her first job as a nurse was in the ER at Lourdes, and nine years and one more child later, she's still there. Coworkers say Kurtz consistently goes above and beyond, especially when it came to a regular patient in the ER two winters ago, an elderly homeless man who would come to the ER not because he was injured or sick, but because he was seeking shelter from the cold. While the nurses would let him sleep and feed him, Kurtz used her own money to rent a hotel room for him, would take him meals, made sure he got a haircut and a shave, and helped him navigate the system, coworkers say. She also was successful in finding him shelter. But Kurtz puts it simply. "When I'm working I try to treat patients the way that I would want someone to treat my family in the same situation, and I think that helps me to be the best nurse I can be," she says.
Toni Lou Seibert
Seibert has spent her entire nursing career at Our Lady of Lourdes Medical Center, serving as a staff nurse, care manager and nurse educator. Currently, she is the full-time Weekend Night Care Manager and represents the Medical Center on the SART Advisory Board for the Camden County Sexual Assault Nurse Examiner (SANE) Program. She also helped develop the SANE program at Lourdes Camden in 2002, the third in Camden County. "After being a survivor of a violent crime I was looking for a way to help other victims through the ordeal of violence and the mental trauma that follows during the legal and court process," Seibert says. "One case I had completed was a violent gang initiation assault and the victim was sure she was going to die. She jumped from a second story window naked while her attackers were sleeping. I was able to follow this case through with court testimony that helped convict her assailants. Later, I received a thank you letter from her and her family saying the care she received during her forensic exam helped her to gain control during a time where all control had been stripped away from her." Seibert, who lives in Pitman, also volunteers for Global Health Ministry, now Global Health, providing basic health care to the poor and underserved populations in South and Central America.
Published (and copyrighted) in South Jersey Magazine, Volume 11, Issue 9 (December, 2014).
For more info on South Jersey Magazine, click here.
To subscribe to South Jersey Magazine, click here.
To advertise in South Jersey Magazine, click here.
Article continues below
---
advertisement


---
Author:
Rachel Morgan
Archives
---
Who's Who in Health Care
Crowd Pleaser
A Bight Future Ahead for Glassboro Football
The Big Impact of Small Businesses
Eagles Need to Reset
Feeling Festive
Another dominating season for Delsea football
Mainland's Historic Football Season
A Rooting Interest
Eagles Continue to Fly High
Raising the Bar
Thanksgiving Football Continues
Hotstovers to honor All-SJ Baseball and new HOF inductees
South Jersey Football Games of the Week
The Phillies make the right move with Aaron Nola
More...