Best Burgers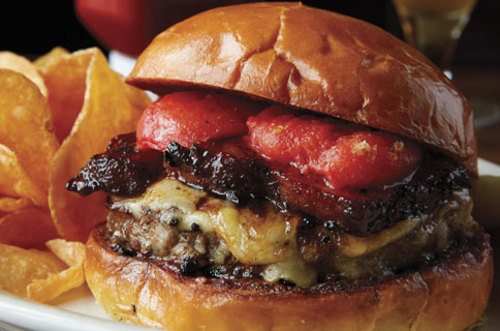 …From the pages of South Jersey Magazine…
For the first time ever, we choose 42 of South Jersey's sizzling standouts.
We traveled across South Jersey, from greasy spoons to white tablecloth restaurants, in search of the greatest burgers we could find. It was a mouthwatering journey that had us chowing down on some familiar favorites while at the same time being introduced to plenty of worthy newcomers. The result is what we believe to be the 42 best burgers in South Jersey, a varied collection that features plenty of non-traditional options while also paying homage to the classics. We've also included feedback from our readers on what they look for in a good burger and their favorite spots to grab one. We hope you brought your appetite.
GOURMET
CHOPHOUSE BURGER at The ChopHouse in Gibbsboro
One of South Jersey's best fine dining establishments also happens to make one of South Jersey's finest hamburgers. Using highly coveted sirloin from Pat LaFrieda—the famed purveyors that are behind some of the country's best burgers—Chef Markese Beverly places the burger on a brioche bun with a tangy Vermont cheddar. An oven-roasted tomato helps concentrate its flavors and a bacon jam shows a playful finesse while letting you know you're in for something special.
PRIME BURGER at Fleming's Prime Steakhouse in Marlton
While the steaks sound enticing, we suggest heading straight to Fleming's bar to dive into their á la carte menu. Their Prime Burger—which you'll only find at the bar—comes topped simply with Wisconsin cheddar and crispy peppered bacon, but the flavors, and special Happy Hour deals, make this one of our go-to after-work bites.
ASTORIA BURGER at The Farm and Fisherman Tavern in Cherry Hill
A lamb burger has an extra meaty flavor that you won't find with standard beef, with a slight gaminess as well. At this Cherry Hill hotspot, they take a locally raised lamb patty and top it with the familiar Greek flavors of feta cheese and cucumber before adding caramelized onions and a house-made tahini ketchup.
SIGNATURE BURGER at Catelli Duo in Voorhees
This fine dining establishment's signature burger features their custom meat blend, caramelized onions, cheddar cheese, lettuce and tomato. Trust us when we say any extra condiments—like mayo, ketchup and the like—are unnecessary, but the truffle fries are a nice addition. But do ask for extra napkins, as this one gets a bit messy.
SIGNATURE CHEESEBURGER at The Capital Grille in Cherry Hill
Like everything on The Capital Grille's menu, this burger gets the luxury treatment with a super-juicy chopped sirloin patty. It's piled with smoked, crispy bacon and a mound of sweet onions and cheese, creating a satisfying option whether stopping in for lunch or noshing at the bar.
MUSHROOM BURGER at El Sitio in Collingswood
While this Ecuadorian restaurant brings South American cuisine to South Jersey, they also serve up several delectable versions of the good old-fashioned burger, including their namesake burger with breaded onions and homemade barbecue sauce. But our preferred choice is this one, which comes smothered in sautéed mushrooms and cheese.
SHEILA'S HANDMADE PRETZEL BURGER at Giumarello's in Haddon Township
With an extensive menu that includes everything from a raw bar to filet mignon, a burger may not be the first item to catch your eye at Giumarello's, but we promise you this specialty won't disappoint. Offering a perfectly seasoned patty positioned between a slice of warm and melted cheddar cheese and a bun like nothing we've ever tasted, "Sheila" has converted us to the pretzel bun craze.
SOUTH PHILLY BURGER at Scaturro's in Marlton
Scaturro's takes ingredients usually associated with a cheesesteak to create one delicious burger. Topped with sharp provolone cheese, fried onions and monstrous long hots that extend past both sides of the bun, you don't need to cross the bridge to experience the best of South Philly.
MAX'S BURGER at Max's Seafood Café in Gloucester City
Don't let its name fool you—Max's Seafood Café is about much more than seafood, and it's a far cry from your corner café. The moment you walk in you'll appreciate its formal, yet laid back atmosphere, and feel right at home whether you order the bone-in pork chop or our favorite, Max's Burger. Prepared to order and dressed with cheddar cheese and caramelized onions, Max's can be proud this burger carries its moniker.
NUESKE'S BACON & FONTINA BURGER at Brio in Marlton and Cherry Hill
You'll only find this burger on Brio's lunch menu, but it's certainly worth ducking out of the office for. Melted, nutty fontina cheese pairs perfectly with salty bacon, and only gets better with the addition of sweet tomato jam and fresh, peppery arugula.
BRADDOCK'S BURGER at Braddock's in Medford
The burger at this quaint eatery in downtown Medford doesn't disappoint, boasting a thick patty of high-quality beef topped with aged cheddar, bacon, Jack Daniel's caramelized onions and lettuce, tomato and onion. While the burger itself is good, it's the flavorful bacon that really steals the show.
FAST CASUAL
BUILD YOUR OWN BURGER at Prime Burger in Glassboro
Located in the Whitney Center at Rowan University, you don't have to be a college student to enjoy these grass-fed burgers from the same owners of Philadelphia's Pub & Kitchen. Pick a single, double or triple beef option and add your choice of cheese—including Whiz—as well as other toppings such as pickled jalapeños or mushrooms. Finish it off with one of many sauces available, including ranch, spicy mayo or sriracha.
L.A. BURGER at Bobby's Burger Palace in Cherry Hill
Bobby Flay's Burger Palace's menu is an ode to the regional ingredients he loves, reinterpreted in hamburger form. We're suckers for the vibrant L.A. Burger and its perfectly melted cheddar cheese, topped with a crisp tomato and watercress for some added texture and finished with a silky smooth avocado relish.
CREATE YOUR OWN BURGER at Five Guys Burgers and Fries, multiple locations
Five Guys has quickly become an area favorite since opening various locations across South Jersey in the last decade. You won't find any freezers behind the counter, as only fresh ground beef and hand-cut fries are served. In creating your own burger, you can add as many free toppings as you desire, including grilled mushrooms, jalapeño peppers and hot sauce.
SPINACH, CUCUMBER & GOAT CHEESE BURGER at Smashburger, multiple locations
This fast casual chain has gotten our full attention with this signature selection. Just as their name suggests, they "smash" their burger flat to help preserve the meat's juices while searing the patty. Served with creamy goat cheese, cucumbers that snap back and a helping of silky spinach, it is love at first bite.
BUFFALO BURGER at b.good in Marlton
The choice is yours at b.good, where you can stick with their dry-aged beef burger, or pick leaner, healthier options like turkey or veggie. No matter what you desire, this variety comes topped with spicy Buffalo sauce, crumbled blue cheese, lettuce and tomato, all on a hand-cut whole wheat bun.
BRUNCH BURGER at Cool Dog Café in Cherry Hill
Although obviously known for their hot dogs—both traditional and uniquely original selections—don't sleep on the Cool Dog Café's Brunch Burger. Perfect for an early lunch, or really any time of the day, the predominant flavor you'll taste atop the Angus burger is the fried egg, but there's also bacon, American cheese and sliced potatoes.
RODEO BURGER at Jake's Wayback Burgers in Voorhees
All of the signature burgers at Jake's—which originated in Delaware and now has franchises nationwide—come with two hand-made patties. That includes the Rodeo Burger, topped with American cheese, beer-battered onion rings and tangy barbecue sauce. Grab one of their famous shakes—we prefer the black and white—and you're good to go.
BARS
SWISS PATTY MELT BURGER at Towne Tavern in Riverside
The Towne Tavern takes the average burger up a notch with their Swiss Patty Melt, which is laden with caramelized onions, Swiss cheese and sautéed mushrooms. Served between two slices of marble rye bread, and a side of famous Towne Tavern fries, this burger isn't one you would probably find at your backyard barbecue, and that's just the way we like it.
CHAMPPS''CHEESEBURGER at Champps in Marlton
Though Champps is famous for its selection of unique burgers—the Bleu Burger is a noted patron favorite—we are firm believers that you can't go wrong with the traditional Champps' Cheeseburger. While we usually opt to dress our burger with pepper jack cheese and guacamole, in addition to the standard lettuce, tomato, onion, pickle and mayo, Champps lets you have your choice of cheese and the option to add applewood-smoked bacon as well. What's not to love?
HAWAIIAN BURGER at House of Brews in Turnersville
If a burger and a beer is what you're in the mood for, House of Brews is the place to be. Though we often take advantage of the rotating taps this Turnersville establishment offers and rarely have the same beer twice, the Hawaiian Burger is a must every time we visit. An 8-ounce patty topped with pineapple, ham and mozzarella, we are transported to an exotic location with each delectable bite.
PORK BELLY BURGER at The Pour House in Westmont
The Pour House has become as well-known for their burgers as they have for their large craft beer menu. This specialty variety grills a blend of brisket, short rib and chuck to your liking, then sets a tender piece of honey-bourbon glazed pork belly right on top. Finish that with roasted tomatoes, smoked white cheddar and a pomegranate mustard aioli and you've got an unstoppable mix of sweet and savory.
MEXICALI BURGER at Iron Hill in Maple Shade and Voorhees
There are many levels to this brewpub burger, starting with shredded lettuce, topped with a patty almost completely cloaked in a layer of smooth pepper jack cheese. From there, pico de gallo and a handful of pickled jalapeños provide a nice balance of acidity and heat, while a little chipotle Thousand Island smothered on the split-top bun brings everything together.
BLUE MONKEY BURGER at Blue Monkey Tavern in Merchantville
Juicy black Angus sirloin is met with meaty portobello mushrooms, sugary sweet caramelized onions and plenty of blue cheese crumbles. Our advice? Go all out and add applewood-smoked bacon. This memorable standout is a measuring stick for any blue cheese burger anywhere, let alone South Jersey.
ROMAN BURGER at Barnsboro Inn in Sewell
The historic atmosphere of New Jersey's oldest bar—established in 1720—is a plus on any night, but if you're in the mood for a burger, stop by on a Tuesday, when they're half-price. There are several good ones to choose from, but we like the Roman Burger, which comes with marinated roasted peppers, provolone cheese and basil mayonnaise on ciabatta bread.
MARYLAND CRAB BURGER at SweetWater Bar & Grill in Cinnaminson
A half-pound burger meets a broiled jumbo lump crab cake, handmade in house by chef-owner George Kyrtatas, in this handheld take on surf and turf. They nix the cheese but keep the classic toppings of lettuce, tomato and onion, and finish everything off on a pillowy brioche bun.
SMOKEHOUSE BURGER at Carolina Blue in Pitman
If you don't mind getting your hands dirty, this is the burger for you. Coleslaw might not sound like the usual burger topping, but combined with their peach chipotle jam atop juicy black Angus beef, it makes for wonderful flavor with every bite. Wash it all down with a craft beer from an impressive selection that's always changing.
KOBE BURGER at Zinburgerin Cherry Hill
This is one burger that is truly carried by the quality—and quantity—of its beef. The thick American-style Kobe beef is perfectly cooked and juicy, topped with melted cheddar cheese, wild mushrooms and mayo. But it's the beef and the flavorful bun that really stand out at this inviting wine bar.
FAMILY FRIENDLY
APPLE BRIE BURGER at The Pop Shop in Collingswood
If you're a cheese lover, this one is for you. The 1950s-inspired diner's take on the burger includes brie cheese, apples, Dijon mustard, and fresh spinach on a ciabatta bun. The décor may be retro, but this is one modern take.
THE RED HEN BURGER at Red Hen in Swedesboro
Bacon. Egg. Beer Cheese. We could stop right there. This decadent burger is both rustic and refined and for serious burger aficionados only. When that egg breaks and the runny yolk floods over each rewarding bite of succulent beef and slightly boozy cheese spread, you'll know just how good this burger truly is. No wonder they put their name on it.
CAPRESE BURGER at A'Pizze Tuscan Grill in Woolwich
Take two of our favorite summertime meals—burgers and a Caprese salad—and combine them for optimum results. That's the approach here where the burger has that backyard char and is given a new spin thanks to ribbons of fresh mozzarella, shredded lettuce and shaved tomatoes. The grilled "French toast" adds a slight crunch and serves as the perfect bookends.
D.G.B. BURGER at Red Robin in Cherry Hill and Deptford
Red Robin has burgers, and then they have the D.G.B. Burger. Labeled as one of their "finest" burgers, the "Damn Good Burger" lives up to its name, with oven-roasted tomatoes, roasted garlic aioli and fresh arugula tossed in citrus olive oil dressing making up each savory bite. The fact that it is served on a toasted ciabatta bun is just icing on the cake.
MERCHANT ST. BURGER at The Kove in Audubon
Named after Audubon's beloved main drag, The Merchant St. Burger starts with a tender pretzel roll slathered in their house-made garlic aioli. It's stacked high with a half-pound Angus patty and sautéed locally grown Kennett Square mushrooms, and served with both gorgonzola and Guinness cheddar cheeses.
DINERS
JONES BURGER at Ponzio's in Cherry Hill
No one would ever accuse this local diner of doing anything halfway. Layers of diced tomatoes, chopped onions and shredded lettuce give The Jones Burger crunch, while the cheddar cheese and Russian dressing provide just the right amount of full-bodied flavor. Finishing the burger off with an unexpected flour tortilla in lieu of a bun, and the obligatory—yet entirely necessary—French fries, pickle and homemade slaw certainly leaves an impression.
PESTO BURGER at Silver Diner in Cherry Hill
Here's a burger with a unique bite. The juicy beef patty is topped with goat cheese, basil pine nut pesto and roasted red pepper, served with a side of sweet potato fries. The attention to detail that goes into this hand-crafted pleaser is clearly evident with every rich, gratifying bite.
STEAK HOUSE BURGER at Hollywood Café in Woodbury
As a diner, the offerings at Hollywood Café run the gamut, but you'd be remiss to overlook their Steak House Burger. It might be the spicy mayonnaise or even the roasted peppers, along with the sautéed onions, mushrooms, and Swiss cheese, that put this burger at the top of our list—we can't quite put a finger on what makes it so unique, but we like it—and we look forward to taking the first bite each time we order it.
PIZZA BURGER at Sage Diner in Mount Laurel
The best of two culinary worlds collide with this variety. An all-beef burger gets smothered in marinara sauce and mozzarella cheese before being broiled until melted and creamy. You might want to grab a few extra napkins before you dive in.
REUBEN BURGER at Mastori's Diner in Bordentown
Mastori's menu is huge and there are many hamburger options, but none are as rewarding as this match made in diner heaven. Take the Reuben staples of slightly tart sauerkraut, Swiss cheese and Russian dressing; add the hamburger and you have yourself an amalgamation of flavors you won't soon forget.
Best Burgers Stats
Cheeseburger or Hamburger
cheeseburger: 96 percent
hamburger: 4 percent
What's your favorite burger in South Jersey?
Zinburger (2 votes)
Ollie Gators (2 votes)
Five Guys (2 votes)
Penn Queen Diner
Barnsboro Inn
The Pour House
The Red Hen
The Kove
Blue Monkey Tavern
Medium, Medium Rare, Well Done
Medium Rare: 17 percent
Medium: 50 percent
Well Done: 33 percent
Side
Chips: 10 percent
Fries: 50 percent
Sweet Potato Fries: 20 percent
Onion Rings: 20 percent
Favorite Cheese
American: 29 percent
Cheddar: 42 percent
Swiss: 8 percent
Bleu: 21 percent
Published (and copyrighted) in South Jersey Magazine, Volume 11, Issue 9 (December, 2014).
For more info on South Jersey Magazine, click here.
To subscribe to South Jersey Magazine, click here.
To advertise in South Jersey Magazine, click here.
Article continues below
---
advertisement


---
Author:
Erica Bauwens, Matt Cosentino, Amanda Hamm Hengel, Rachel Morgan and Peter Proko; Photo by Michael Persico
Archives
---
Who's Who in Health Care
Crowd Pleaser
A Bight Future Ahead for Glassboro Football
The Big Impact of Small Businesses
Eagles Need to Reset
Feeling Festive
Another dominating season for Delsea football
Mainland's Historic Football Season
A Rooting Interest
Eagles Continue to Fly High
Raising the Bar
Thanksgiving Football Continues
Hotstovers to honor All-SJ Baseball and new HOF inductees
South Jersey Football Games of the Week
The Phillies make the right move with Aaron Nola
More...