Phillies Lose When Red`s Catcher Steals Home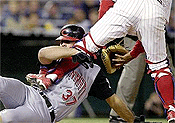 PHILADELPHIA, PA: Johnny Estrada signaled for a pickoff attempt, saw the runner on third break for home and couldn't believe it. "You're not afraid to throw to first with a catcher on third," Estrada said. "I saw him coming and said "Oh, no."
Corky Miller stole home on a planned suicide squeeze, and Lance Davis pitched two-hit ball over six innings, leading the Cincinnati Reds to a 2-1 victory over the Philadelphia Phillies on Thursday night. The Phillies missed a chance to tie Atlanta for first place in the NL East. The Braves lost at Florida 7-1, but stayed one game ahead of Philadelphia. "We can't keep hoping for teams to beat other teams," Phillies manager Larry Bowa said.
Cincinnati took a 1-0 lead on an RBI single by Wilton Guerrero in the fifth. Todd Walker and Miller started the inning with singles off Omar Daal. After Davis sacrificed, Walker scored on Guerrero's liner to left.
Miller then stole home when Daal threw to first on a pickoff attempt, giving the Reds a 2-0 lead. It was Miller's first career steal. "As soon as he picked up his leg, I wanted to go as fast as I can and that's not fast," Miller said.
Daal said the same thing happened to him in a game several years ago. He was surprised to see Estrada call for a pickoff. "The sign comes from the dugout," Estrada said. "You don't anticipate the catcher breaking for the plate."
Davis (8-3) allowed singles to Estrada in the third and Jimmy Rollins in the sixth. He left after the first two batters reached in the seventh.
Scott Sullivan retired six of seven batters in the seventh and eighth, and Danny Graves pitched the ninth for his 29th save in 35 chances.
The fifth-place Reds won two of three against the Phillies for their second straight series victory. "We swung at a lot of bad pitches, a lot," Bowa said. "We've been doing that all year, especially when the pitcher is in trouble."
Daal (12-7) allowed two runs and five hits in six innings. He's 4-6 since winning eight of his first nine decisions.
The Phillies cut it to 2-1 in the seventh without getting a hit. Scott Rolen walked to start the inning. Travis Lee reached when Walker threw wide to second on a grounder to second. Sullivan replaced Davis and retired Pat Burrell on a popup and Marlon Anderson on a grounder.
But Guerrero misplayed Estrada's grounder to short, allowing Rolen to score to cut it to 2-1. Sullivan then got pinch-hitter Tomas Perez on a grounder to short.
"It makes you upset because we didn't take advantage," Rollins said. "But we didn't lose any ground tonight."
Davis walked three batters in the fourth, but escaped trouble by picking off Rollins after he led off with walk. Davis retired Lee on a grounder to end the inning with runners at first and second. "He pitched Randy Wolf-like," Reds manager Bob Boone said.
Wolf threw a one-hitter against the Reds in Philadelphia's 8-0 victory Wednesday night.
Notes:
There were 38,602 fans at Veterans Stadium, more than the combined total of the first two games of the series. The walkup total on Larry Bowa bobblehead doll night was 16,119, the largest since 22,511 fans bought tickets on Aug. 5, 1982. The Phillies ran out of the dolls because 36,000 were available. Fans who didn't receive one got a voucher. ... Davis has a team-high six pickoffs. ... Sean Casey was 1-for-25 before hitting a single in the fourth. ... Doug Glanville made a nice running catch on a deep drive by Dmitri Young in the eighth. ... The Phillies are 25-21 in one-run games.
Copyright 2001 by The Associated Press. All Rights Reserved.
Article continues below
---
advertisement


---
Author:
6 ABC - Action News


Archives
---
Iverson to Skip Surgery
Oates Packs Immediate Punch
Duce Staley-Still with the Eagles
Iverson Cools Off Heat
Stars Injured, Flyers Make Huge Trade
Flyers Break Streak
Eagles Sign Safety Blaine Bishop
Flyers Tie Toronto
Lindros` Hat Trick Sinks Flyers
Flyers Down Devils
Trotter Named Franchise Player
Abreu Gets BIG Deal
LeClair Scores Hat Trick in U.S. Win
Flyers Lose in Final Overtime Seconds
Flyers Give St. Louis Blues
More Articles