Tulipano Nero
3747 Church Road Mount Laurel 235-6955
Life just doesn`t get any better than this. A good bottle of wine, fresh baked crusty bread, a Southern Italian menu to drool over, warm, courteous service in an elegant romantic atmosphere.
I`m talking about Tulipano Nero, on Church Road in Mount Laurel. Whenever I have a very special occasion (or just feel like treating myself), Tulipano Nero is where I go for a truly wonderful dining experience. My most recent visit was as good as it always is.
For starters, my husband Steffen and I tried a few selections from the Antipasto Bar ($9.95). The Frittata and the grilled eggplant were heavenly. We also enjoyed some Calamari Fritti ($7.95) that was tender and spiced just right.
Since I always judge a restaurant on the freshness and originality of its salads, we ordered the Insalata Tulipano Nero ($7.95) to share. Just the memory of it is making my mouth water: baked goat cheese, beautiful spring mix greens, hearts of palm and artichoke drizzled with balsamic vinegar dressing. The greens couldn`t have been fresher, and the goat cheese was smooth and delicious.
By this time I was just about full, but I enjoyed my Polenta Primavera ($10.50) nevertheless. Fresh grilled vegetables with olive oil and garlic were the perfect topping for the mild baked cornmeal. Steffen was in heaven with his Pollo Specialty ($19.95). Tender, juicy strips of chicken breast sauteed with shrimp, asparagus, roast-ed red and green peppers, eggplant and onion were complemented by a delicious white garlic sauce.
We had to skip dessert, but the list, which includes poached pears and fruit sorbets, is as inviting as the rest of the large menu. Appetizers, salads, pasta specialties, risotto, seafood, beef, veal and lamb - each dish is a creative display of Northern Italian cuisine at its finest.
There is no liquor license, but they welcome you to bring your own spirits.
Lunch: Monday - Friday: 11:30 a.m. - 3 p.m. Dinner: Monday - Thursday: 5 - 10 p.m. Friday and Saturday: 5 - 11 p.m. Sunday: 4:30 - 9:30 p.m.
Article continues below
---
advertisement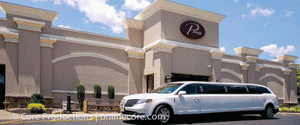 ---
Author:
Leah McClellan
Archives
---
Caffe Aldo Lamberti
Copperfield`s
Athens Cafe
The Tabernacle Inn.
Cafe Notte
Kum Fong Restaurant
Lamberti`s Cucina
Mulberry Street Bistro
Victory Lane Sports Bar & Grill
Wellington`s at the Regency Palace
Weber`s Cafeteria
Villari`s Milmarian
Villa Barone
The Trestle Inn
Tavern on the Square
More Articles