Ms. America Bikinis Raise Eyebrows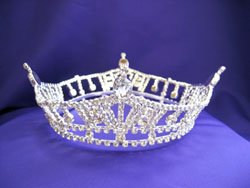 Skimpy bikinis are raising eyebrows at the Miss America Pageant.
The new, two-piece Speedo swimsuits are more revealing than the pageant is used to. That's led some of the 52 contestants to opt for the more conservative one-piece model.
One state pageant official called the bikinis "horrible." Miss Louisiana Jennifer Dupont said she was embarrassed to wear it in front of her father and coach.
One contestant who balked at wearing it was Miss New Jersey Erica Scanlon. She said she wouldn't have been comfortable wearing it on stage.
It didn't seem to faze Miss Utah Amy Davis. She won last night's swimsuit competition wearing one of the two-piece suits.

Author:
Copyright 2004 by
Archives
---
One of Us
Truer Words Have Been Spoken
A Thriving County
Executive Q&A
A Man of Many Faces
Super Women
Vocal Leader
Seeking Acceptance
The Business of Health Care
Mommy's Gone Viral
Singles: December 13
2017 Men of the Year
The Weekender
Raise a Glass: September
South Jersey Football Championship Preview
More...