Agreement Reached in Casino Strike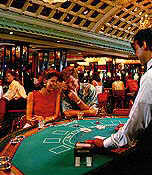 Thousands of striking casino-hotel workers have reached a tentative contract agreement that signals an end to a bitter, month-old walkout - the longest in Atlantic City casino history.
The union representing about 10,000 striking bartenders, cocktail servers, housekeepers and other service employees approved the five-year deal late Monday. It calls for significant gains in wages and benefits and guards against the casinos' practice of leasing space to non-union restaurants and bars.
"Given our starting point, we had thought we needed a three-year contract to reach those goals, but we achieved all that and more during the course of this strike," said Robert McDevitt, president of Local 54 of the Hotel Employees and Restaurant Employees union.
A vote by rank-and-file members was planned for Wednesday. Workers could be back on the job as early as Thursday, according to union officials.
The union went on strike Oct. 1 against seven of the city's 12 casinos, turning operations in the 24-hour gambling halls upside down. While revenue figures for the month - quantifying the amount of lost business - have yet to be released, the strike was clearly bad for business.
About 10,000 casino workers - not including dealers - walked out at Harrah's Atlantic City, Showboat Casino-Hotel, Resorts Atlantic City, Bally's Atlantic City, Caesars Atlantic City, Tropicana Casino and Resort and the Atlantic City Hilton.
Restaurants closed, highly-paid executives went to work making beds and gamblers were forced to endure noisy picket lines, cuts in housekeeping services and other inconveniences.
The casinos never stopped taking bets, although some gamblers decided to steer clear of the sign-waving pickets who maintained a round-the-clock presence outside.
The last time Local 54 walked out was for three days in 1999.
The main sticking point was the length of the contract. Union officials wanted a three-year deal whose expiration would coincide with contracts of sister unions in Las Vegas, Chicago and elsewhere.
Casino officials objected, fearing coinciding contract expirations would give the unions the power to shut down casinos in Atlantic City, Las Vegas and other jurisdictions.
Under the agreement, the union said, members would get:
- A 28.3 percent increase in the total "economic package" over five years, which includes boosts in wages and pension contributions.
- Continuation of fully funded health care, sparing union members from having to contribute to their insurance through payroll deductions.
- Protection of members and their union when a casino changes ownership.
Representatives of Harrah's Entertainment and Aztar Corp. did not immediately return telephone calls seeking comment early Tuesday.
"We said from the beginning our goal was to maintain our standard of living and ensure that middle-class jobs in Atlantic City's gaming industry were here to stay," McDevitt said.
If no new contract was reached, the disruption stood to get worse, with the union airing radio commercials telling gamblers to take their business to the five other casinos that had agreements in place with Local 54 - Trump Taj Mahal, Trump Plaza and Trump Marina, the Sands Hotel & Casino and the Borgata Hotel Casino & Spa.
Article continues below
---
advertisement


---
Author:
NBC10/AP
Archives
---
One of Us
Truer Words Have Been Spoken
A Thriving County
Executive Q&A
A Man of Many Faces
Super Women
Vocal Leader
Seeking Acceptance
The Business of Health Care
Mommy's Gone Viral
Singles: December 13
2017 Men of the Year
The Weekender
Raise a Glass: September
South Jersey Football Championship Preview
More...