Casino Workers Back on Job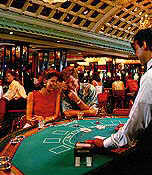 Things are getting back to normal in Atlantic City.
Some 10,000 casino-hotel workers returned to their jobs Friday at 7 of the city's 12 casinos, just over a month after they had gone on strike and a day after they ratified a new three-year deal.
That ended the longest strike the resort city has seen and relieved everyone from casino executives to cocktail waitresses to rickshaw drivers.
The Atlantic City Convention and Visitor's Authority doesn't track the number of people who visit the city each month.
But spokeswoman Susan Ricciardi says that while no conventions were canceled during the strike, the number of pleasure-travelers surely decreased.

Author:
NBC10/AP
Archives
---
A TALE OF THREE WEDDINGS
Timber Creek's Leary heads to Illinois
One of Us
Truer Words Have Been Spoken
A Thriving County
Executive Q&A
A Man of Many Faces
Super Women
Vocal Leader
Seeking Acceptance
The Business of Health Care
Mommy's Gone Viral
Singles: December 13
2017 Men of the Year
The Weekender
More...