AC Pipe Organs Honored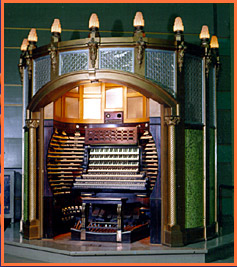 Two of the most noteworthy features of historic Boardwalk Hall, the Midmer-Losh and Kimball organs, were recognized by the Organ Historical Society, with the awarding of two citations. The event was attended by representatives from the Convention Hall Organ Society, the New Jersey Sports and Exposition Authority, the Atlantic City Convention & Visitors Authority, local business leaders and elected officials.
The Midmer-Losh, whose console can be seen on stage left, is the world's largest pipe organ ever constructed. Designed in 1928-1929 by New Jersey State Senator Emerson Richards, the mighty organ has more than 33,000 pipes controlled by a seven manual (keyboard) console, with 1,235 stop keys and five manual moveable console. The Kimball organ is located in the balcony of the Adrian Phillips Ballroom. Both instruments are unique in the history of American organbuilding, for most instruments of that age have experienced some modification. Emerson Richards is recognized as the creative force leading to development of the classic American symphonic organ, recognized throughout the world.
The Organ Historical Society is a non-profit organization founded in 1956 to provide education about historic American organs and organbuilders and to promote preservation of existing instruments. The Citations Committee uses a range of criteria to make decisions in awarding a citation. Both organs in Boardwalk Hall meet the criteria, as the original designs of both organs have remained intact.
In an effort to fully restore the instruments, New Jersey Sports and Exposition Authority (NJSEA) formed a non-profit organization, the Historic Organ Restoration Committee Inc. charged with overseeing the funding and restoration process for both organs. The NJSEA set aside $1.17 million in escrow to begin the restoration process in accordance with guidelines established by the National Park Service and the State Historic Preservation Office. A Save Atlantic City organs America's Treasures grant for an additional $1 million has been applied for and other funding sources are in process of being investigated by the Trustees.
To see both instruments restored to their original performance condition, and playable again, is the fervent hope of everyone who appreciates their intrinsic value and to countless individuals in generations to come who will for the first time be moved by the sound of the Midmer-Losh Organ. Detailed information, photos and audio clips are on the Internet at the Atlantic City Convention Hall Organ Society's website, www.acchos.org.
Article continues below
---
advertisement


---
Author:
Press Release
Archives
---
A TALE OF THREE WEDDINGS
Timber Creek's Leary heads to Illinois
One of Us
Truer Words Have Been Spoken
A Thriving County
Executive Q&A
A Man of Many Faces
Super Women
Vocal Leader
Seeking Acceptance
The Business of Health Care
Mommy's Gone Viral
Singles: December 13
2017 Men of the Year
The Weekender
More...