Corzine to Run for Governor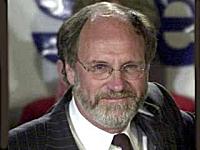 Four years after spending more than $60 million on his first bid for public office, U.S. Sen. Jon S. Corzine is ready to move on. The former investment banker on Thursday announced he is running for governor in 2005.
"I believe I can do more for the state of New Jersey and its citizens as governor," Corzine said during an afternoon news conference at a city hotel.
Corzine said he left private life for the Senate to press for better health care, education and government, and pledged to continue those battles.
"I believed five years ago, and I still do, that it's my responsibility to push those same issues," Corzine said.
Corzine's announcement heralded the first official entry into the race among Democratic contenders. Corzine's potential rivals include acting Gov. Richard J. Codey and Rep. Robert Andrews.
Businessman Doug Forrester, who lost a Senate race to Democrat Frank Lautenberg in 2002, and Bret Schundler, who lost the 2001 governor's race to former Gov. James E. McGreevey, are some of the Republicans who have announced their candidacies.
Codey, who was also in Newark on Thursday, said he and Corzine were friends.
"It's his right to run," Codey said. "He considers me a friend of his. So be it. It is what it is."
David Rebovich, director of the Rider Institute for New Jersey Politics in Lawrence, said Corzine must explain his decision to leave the Senate so soon after a 2000 campaign on which the former Goldman Sachs chairman spent much of his personal fortune.
"What Corzine has to do," Rebovich said, "is convince not just all New Jerseyans, but Democrats first why he is interested in being governor."
Rebovich said Corzine must explain how he'll do a better job than Codey, how he plans to promote property tax reform and economic growth, and balance the state budget.
Corzine, 57, also has to show "whether his lack of experience in state politics -- he has none -- is an impediment. Those are serious questions and I'm very curious," Rebovich said.
If Corzine cannot explain himself adequately, Rebovich added, "he will be subject to the criticism that he's a bored billionaire with no power in Washington and he just wants to come back to Jersey."
Article continues below
---
advertisement


---
Author:
NBC10/AP
Archives
---
A TALE OF THREE WEDDINGS
Timber Creek's Leary heads to Illinois
One of Us
Truer Words Have Been Spoken
A Thriving County
Executive Q&A
A Man of Many Faces
Super Women
Vocal Leader
Seeking Acceptance
The Business of Health Care
Mommy's Gone Viral
Singles: December 13
2017 Men of the Year
The Weekender
More...