Casino Cameras Focused on Women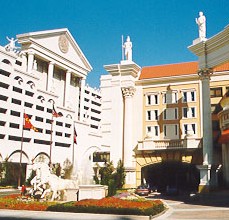 Security camera shenanigans are costing an Atlantic City casino a lot of cash.
An $80,000 fine was levied against Caesars Casino for incidents that happened in 2000 and 2001.
Cameras are everywhere in casinos. They are used to make sure neither the gamblers nor the employees are cheating.
According to the lawsuit, on a few occasions the cameras weren't keeping their lenses focused on business. Instead they were focused on certain parts of a woman's anatomy.
In addition to the $80,000 fine, action was taken against two Caesars employees. One was fired and the other was suspended.

Author:
Copyright 2004 by NBC10.com. All rights reserved. This material may not be published, broadcast, rewritten or redistributed.
Archives
---
A TALE OF THREE WEDDINGS
Timber Creek's Leary heads to Illinois
One of Us
Truer Words Have Been Spoken
A Thriving County
Executive Q&A
A Man of Many Faces
Super Women
Vocal Leader
Seeking Acceptance
The Business of Health Care
Mommy's Gone Viral
Singles: December 13
2017 Men of the Year
The Weekender
More...