Unemployment Benefit Thieves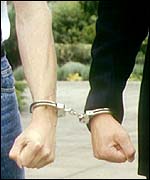 Authorities have charged eight New Jersey residents with collecting unemployment checks while they were working.
Attorney General Peter Harvey's Office says the eight collected more than $58,000. Each is charged with theft by deception and unsworn falsification, and faces fines and jail time if convicted.
John Collette is charged with bilking the Labor Department of $7,000 in unemployment while working as a union steelworker.
The state says the Atlantic City resident worked at 11 different jobs while he was collecting benefits.
The 41-year-old also collected union unemployment he was not entitled to, according to the state.
Collette and seven others were indicted by a state Grand Jury.

Author:
NBC10/AP
Archives
---
A TALE OF THREE WEDDINGS
Timber Creek's Leary heads to Illinois
One of Us
Truer Words Have Been Spoken
A Thriving County
Executive Q&A
A Man of Many Faces
Super Women
Vocal Leader
Seeking Acceptance
The Business of Health Care
Mommy's Gone Viral
Singles: December 13
2017 Men of the Year
The Weekender
More...