McGreevey Working on Resume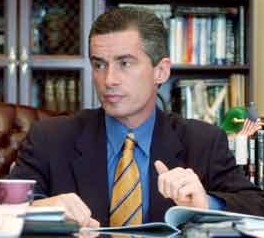 Former New Jersey Gov. James McGreevey is slowly starting to build a new resume several months after leaving office.
Advisers say McGreevey has a scheduled speaking engagement at Harvard University.
And the former Democratic governor also plans to visit people living in poverty in several parts of the country, including Appalachia.
McGreevey is currently working as a lawyer for state Senator Raymond Lesniak's firm in Parsippany.
McGreevey announced his plans to resign last August in a during a now-famous speech in which he acknowledged being gay and having an affair, declaring, "My truth is that I am a gay American.'
Lesniak tells The Philadelphia Inquirer that McGreevey is "is doing wonderful now.'

Author:
NBC10/AP
Archives
---
A TALE OF THREE WEDDINGS
Timber Creek's Leary heads to Illinois
One of Us
Truer Words Have Been Spoken
A Thriving County
Executive Q&A
A Man of Many Faces
Super Women
Vocal Leader
Seeking Acceptance
The Business of Health Care
Mommy's Gone Viral
Singles: December 13
2017 Men of the Year
The Weekender
More...