Sally Starr Injured, Faces Charges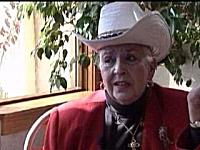 A pioneer of children's television in Philadelphia was charged with reckless driving Sunday after a car crash that left another driver critically injured.
Sally Starr, whose real name is Sally E. Gray, hosted the television show known as "Popeye Theater" in the 1950s and 1960s.
Now 82, Starr lives in Atco and hosts a weekly show on the Vineland radio station WVLT.
Police said Starr ran a stop sign in Franklin Township around 11:30 a.m. Sunday and struck the car driven by Margaret M. Broomall, 76, of Williamstown.
Broomall was taken to Cooper University Hospital in Camden, where she was in critical condition.
Starr was treated at South Jersey Healthcare, Elmer Hospital, then released later Sunday. Police said she complained of wrist pain after the accident.
Starr, who is known affectionately as "Our Gal Sal," introduced a generation of young people in the Philadelphia area to Popeye and the Three Stooges with her afternoon variety show in the 1950s.

Author:
NBC10/AP
Archives
---
A TALE OF THREE WEDDINGS
Timber Creek's Leary heads to Illinois
One of Us
Truer Words Have Been Spoken
A Thriving County
Executive Q&A
A Man of Many Faces
Super Women
Vocal Leader
Seeking Acceptance
The Business of Health Care
Mommy's Gone Viral
Singles: December 13
2017 Men of the Year
The Weekender
More...