Special Needs Trust Established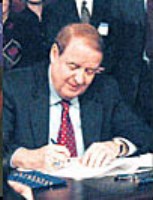 Acting Governor Richard J. Codey last week signed landmark legislation establishing a $200 million Special Needs Housing Trust Fund that will help create 10,000 new affordable housing opportunities for people with mental illness and other special needs across New Jersey.
"Today, we are ensuring that New Jersey's most vulnerable residents have a place to call home," Codey said. "This landmark legislation will enable people with mental illness to focus on their recovery instead of worrying about where they are going to live. It brings decency to the lives of people with mental illness and relief to the families that care for them. It lets New Jersey begin to do better."
Codey signed the legislation during a ceremony on the campus of Greystone Park Psychiatric Hospital. He was joined by Assemblyman Robert M. Gordon; Morris County Freeholder Jack Schrier; Pete Scerbo, executive director of Comprehensive Behavioral Healthcare Inc.; Raul J. Mendes, executive director of Project Live; and Joel Wechler, a graduate of the CHAMP housing program operated by Comprehensive Behavioral Healthcare Inc.
"New Jersey already is facing a housing shortage, said Gordon (D-Bergen). "For residents with special needs – whose physical, emotional, or mental impairment forces them to live on a fixed income - housing options are greatly diminished. We must not allow these residents to be shut out because of their disability. Residents with special needs should not be forced to choose between institutionalization or homelessness."
Codey proposed the trust fund in his State of the State speech in January. Under the new law, the fund will be administered by the New Jersey Housing Mortgage and Finance Agency and supported by bonds issued by the New Jersey Economic Development Authority through its existing unused bond capacity.
The money will be used to develop permanent supportive housing, community residences and other supportive housing arrangements for people with special needs, including mental illness and physical or developmental disabilities. This helps ensure that individuals with special needs have access to meaningful housing alternatives to avoid institutionalization and homelessness.
There are 8,000 chronically homeless people in New Jersey, the vast majority of whom suffer from mental illness. The wait for housing in the state system can be up to five years, forcing nearly half of these individuals to live with their aging parents. This housing shortage destroys quality of life, puts unnecessary costs on citizens and makes recovery that much harder.
"We applaud and enthusiastically support Governor Codey's commitment to improving the lives of persons with disabilities, especially those with mental illness," said Mendes, founding member of the New Jersey Supportive Housing Association. "This bill signing is indeed a historic event. This bold initiative will create permanent, affordable, safe and decent housing with services for persons who for too long have been neglected and allowed to live in sub-standard housing, shelters and on the streets."
The establishment of the housing trust fund is another significant step under the Codey administration toward reforming New Jersey's mental health care system.
Last month, the Acting Governor signed legislation establishing a student loan forgiveness program to attract and retain mental health workers. In addition, he increased mental health funding by $40 million, wiped out liens for people who could not afford their stay at a state or county hospital, and signed an executive order that expands referral hotline hours, strengthens county mental health boards and helps families navigate complex privacy laws.
Article continues below
---
advertisement


---
Author:
Press Release-Office of the Governor
Archives
---
A TALE OF THREE WEDDINGS
Timber Creek's Leary heads to Illinois
One of Us
Truer Words Have Been Spoken
A Thriving County
Executive Q&A
A Man of Many Faces
Super Women
Vocal Leader
Seeking Acceptance
The Business of Health Care
Mommy's Gone Viral
Singles: December 13
2017 Men of the Year
The Weekender
More...