Special Flag Ceremony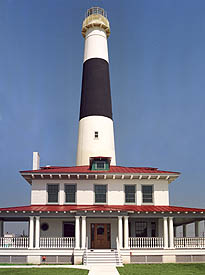 Absecon Lighthouse in Atlantic City is honoring local Veterans on Memorial Day with a Flag Raising Ceremony on the historic grounds of the lighthouse at 11am.
Atlantic City's own drum and bugle corps, "Neptune's Guard," will provide visitors with a stirring musical performance. The ceremony is free to the general public and all area Veterans and their families are welcome to attend.
Absecon Lighthouse is a state-owned historic property administered by the non-profit Inlet Public/Private Association. Located at 31 So. Rhode Island Avenue in Atlantic City, it is open to visitors Thursday through Monday from 11 a.m. to 4 p.m. Absecon Lighthouse received a general operating support grant from the New Jersey Historical Commission, a division of Cultural Affairs in the Department of State.
For more information about Absecon Lighthouse and its programs call (609) 449-1360 or visit us on the web at www.abseconlighthouse.org .



Author: Press Release


Archives
---
A TALE OF THREE WEDDINGS
Timber Creek's Leary heads to Illinois
One of Us
Truer Words Have Been Spoken
A Thriving County
Executive Q&A
A Man of Many Faces
Super Women
Vocal Leader
Seeking Acceptance
The Business of Health Care
Mommy's Gone Viral
Singles: December 13
2017 Men of the Year
The Weekender
More...