Brian Wilson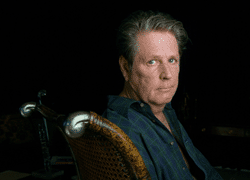 LOS ANGELES - The Pacific Ocean is not quite visible from Brian Wilson`s secluded Beverly Hills home, perched near the top of a mountain overlooking the San Fernando Valley.
But after several decades of emotional wipeouts and a tsunami of personal and professional upheaval, the former musical mastermind of the Beach Boys can see relatively clearly now. And what he sees is a tranquil sea of opportunity that includes a new album and a national "Pet Sounds Symphony Tour."
"It`s a new beginning," said Wilson, 58, a prime musical influence on acts as diverse as The Beatles, Barenaked Ladies, k.d. lang, Eric Matthews and Supergrass.
"I`ve had a rebirth of my solo career," continued the soft-spoken rock legend, whose ongoing concert trek features him performing "Pet Sounds" in its entirety, along with other choice songs from his days with the Beach Boys and his solo albums.
"It`s quite a shock for me to think that I could do what I`ve done. But I have."
What he has done is make an amazing return from a troubled, often tragic life that saw him become a rock star and millionaire by the time he was 22 - and a near-casualty just a few years later.
A tortured soul who has made improbably beautiful music, Wilson grew up as one of three musically gifted sons in a Southern California family dominated by an abusive, overbearing father who scarred Wilson for life. Fame and the pressures of being hailed as a young musical genius quickly made Wilson the victim of his own success, fueling the various personal demons that plagued him.
"People still have the misconception that I hung out in my bedroom for years," he said, reflecting on how his past has been twisted into pop mythology.
"And that`s not true at all. I was just going through some emotional problems, that`s all - just a few problems. I hung out in my bedroom now and then. But I didn`t live in my bedroom for five years."
Wilson does acknowledge, however, that some of his problems were serious, indeed. Some were the result of his fragile psyche, his increasingly deluded sense of reality in the 1960s and the opportunistic people who took advantage of both by feeding his insecurities.
"I did (get egotistical), and I paid the price," said Wilson, who during the interview was alternately warm and wary, forthcoming and terse, insightful and childlike.
"That`s all I can tell you. It seems that if you have ego in life, people admire you, and then say they hate you, because you have ego. So I don`t know (or) like people who have ego, or like people who don`t have ego."
Wilson then declared that, today, he is "comfortable with where I`m at." Alas, this was not the case during much of his commercial heyday with the Beach Boys in the `60s.
"It was very hard for me," he said. "I just forced myself to deal with it. I said, `Deal with this.`"
Was that easier said than done?
Wilson tightened his grip on two small, embroidered pillows, which he constantly held in his lap as a sort of physical buffer.
"Yes," he said softly, before averting his gaze to some point in the distance that only he could see.
His debilitating periods of struggling with drug abuse, eating disorders, paranoia and manic depression are well-documented. So are his legal travails; his failed first marriage and long estrangement from his daughters, Carnie and Wendy; his constant differences (and periodic court battles) with the other Beach Boys; and the controversial, round-the-clock psychiatric care he received in 1976 and again in the 1980s and early `90s from Dr. Eugene Landy, who has since been legally barred from treating Wilson.
Thankfully, those troubles now appear to be behind the erstwhile head Beach Boy, and he and his daughters (who achieved fame as two-thirds of the pop vocal group Wilson Phillips) have recorded together several times in recent years.
Wilson also remarried in 1995. He and his second wife, Melinda, are the parents of two adopted daughters, Daria and Delanie, ages 2 1/2 and 2, respectively. A doting father, he has written a song inspired by Daria, though he has yet to record it.
"It`s a change," Wilson said of being a parent again.
"The first time, I was so into the Beach Boys and drugs and stuff like that, and I stayed up all night and never saw my kids. I was an embarrassingly bad father. A bad dad. It`s true.
"This is a whole new thing for me, being closer to my kids. To see them grow is a thrill for me."
Wilson`s wife has also been instrumental in encouraging him to again assume a higher profile.
That higher profile includes an engaging new album, "Live at the Roxy Theatre," which is on sale only via his new Web site (http://www.brianwilson.com), but should be available in record stores soon. Then there`s the just-reissued CD version of his inspired 1988 comeback album, "Brian Wilson," which includes eight previously unreleased songs and five bonus tracks.
RIDING HIGH
Both his new live album and the reissue have come on the heels of his buoyant 1998 release, "Imagination," his sole solo album of all-new music in the past decade. Perhaps even more startling, the notoriously stage-shy Wilson is now midway through his second consecutive tour in as many years.
It`s a dramatic change for a musician who rarely performed live at all between the mid-1960s and last year, after a series of nervous breakdowns led him to stop touring with the Beach Boys in 1964. (He did, however, periodically rejoin the group for isolated shows, and sat in with Jimmy Buffett for a few songs at Buffett`s Coors Amphitheater show in Chula Vista, Calif., last year.)
"My wife is a very creative person, and she has a lot to say about what I do, in my presence," Wilson said, smiling. "And she`s just an inspiration to me. She`s very kind and good to me, and respectful of me, which has made things real good."
But his wife also lets him know when he needs to do better, says singer-guitarist Nick Walusko, a charter member of the touring band Wilson formed last year.
"Melinda doesn`t coddle him or lie to him," said Walusko, also a member of the L.A. pop-rock band the Wondermints, in a separate phone interview. "If he`s singing flat, she tells him, `People are paying to see you; people expect the best.`"
On his current "Pet Sounds Symphony Tour," Wilson is accompanied by a 10-man band that also includes former members of such gifted bands as The Negro Problem and Poi Dog Pondering.
They are being joined at most shows by a full orchestra. But with or without an orchestra in tow, the man whose name is synonymous with such classic songs as "Good Vibrations," "I Get Around" and "Wouldn`t It Be Nice" is clearly elated to be back in action.
"Music means everything to me," declared Wilson.
"Touring now charges me up. The time is right. It`s the appropriate time. When I was younger, I didn`t have any problems (before 1964), because I was so into the music that it took care of itself."
And how does touring now compare with being on the road with the Beach Boys in the early 1960s?
"There`s more attention on me, personally, I guess." Wilson replied.
"Obviously, when I was touring with the Beach Boys, it was kind of like (we) were all glorified. And I do a thing now where I scan the crowd. I try to look at as many people as I can, and pay attention to the people, and it works out pretty good."
His renewed passion for music was reaffirmed by Walusko, who is elated to be performing with one of his idols.
"Brian feels very happy in his life now," said the 39-year-old Walusko.
"And he`s meeting these challenges not to prove anything to anybody, but to himself. And to pick up where he got left off because of emotional or mental troubles that occurred with him, as people know. Who would have ever thought that, in the year 2000, he would even want to go out and play live for people?"
Released in 1966, "Pet Sounds" marked the beginning of the end for Wilson, who was soon to enter an increasingly nightmarish existence of agony and despair, personally and artistically.
Wilson recorded most of the landmark album with a group of hand-picked studio musicians, while the Beach Boys were on tour. Justly regarded as one of the most ambitious and innovative rock releases of its time, "Pet Sounds" is an enduring classic that continues to be lauded. Equally significant, it was hailed as "perhaps the album of the century" by Paul McCartney, who also cited it as the specific inspiration for The Beatles` epic "Sgt. Pepper`s Lonely Hearts Club Band" album.
"After I heard (The Beatles album) `Rubber Soul,` I was getting scared the Beach Boys would get eclipsed out of the (music) business," Wilson recalled.
"I guess I overcompensated a little bit, and made `Pet Sounds` something that I thought people would love. Because of the love in our voices ... when we harmonized, we had love in our voices.
"Then The Beatles went in the studio and made `Sgt. Pepper`s Lonely Hearts Club Band,` a very great album. Paul told somebody that he was inspired by `Pet Sounds,` and I said, `I can`t believe it.` It blew my mind. I was proud."
Alas, "Pet Sounds," failed to make a commercial impact when it was released in 1966, to Wilson`s understandable dismay. It was also dismissed as "too strange" by the other Beach Boys, who were eager for Wilson to keep writing upbeat surf-rock hits for the band, rather than expand the parameters of popular music with a work that combined exquisitely crafted melodies and shimmering, lattice-like vocal harmonies with innovative instrumental arrangements and heart-wrenching lyrics about love, longing and the quest for meaning in an Angst-filled world.
Today Wilson admits that when he painstakingly made "Pet Sounds" as an elaborate studio creation, he never envisioned performing the entire album live.
But it`s an opportunity he relishes. And he`s had enough setbacks in his life to know he`s capable of almost anything, if he sets his mind to it.
"When you have a project you`re doing, I`ve learned to follow through, even if it doesn`t look like it`s going to happen. Follow through," he stressed.
"When we were making `Good Vibrations,` I was ready to quit because it was getting too complex. It was hard to get the segments put together - not the song, but the different (musical) segments that were made - from start to finish. But I said, `No, I won`t quit,` and stuck through with it ... .
"Basically, I`m a teacher of love and I try to express to people how to express love, and how to love and be loved."
Accordingly, this music-driven teacher of love has some advice to share with his fans.
"Be more sensitive," he said. "Because people are fragile, you know. So I would say to be gentle, and to understand people."
(Sidebar with Brian Wilson)
Brian Wilson on ...
Copley News Service
Songwriting: "I haven`t been writing too much lately; I`ve been having some problems. The mood has to be correct, and I have to feel the energy before I can do anything. ... I don`t like deadlines. I like to just do it at my own pace."
Performing "Pet Sounds" live: "We`re rehearsing it all the time, so it becomes second nature, so we can make it sound like it did on the album. `Pet Sounds` is, like, a 34-minute piece. Practice makes perfect, I think."
The "Pet Sounds" album cover: "We told Capitol (Records) that the album is called `Pet Sounds,` and they said we should get to the San Diego Zoo and get some animals to pet (for the photo). What a weird trip. They were lambs, or goats."
His musical imitators: "It`s how they play and how they move that makes a difference."
His first musical inspiration: "The Four Freshmen taught me harmonies, and taught me how to sing high, in falsetto. And it`s really quite an education. When I wrote `Surfer Girl,` I learned to sing it by listening to the Four Freshmen. But I don`t really like jazz; it just doesn`t get it for me. I like rock `n` roll."
Adoring concert audiences: "I think whenever that happens, it`s a pump-up. (My) feelings get pumped up. It makes me feel important."
His recent Songwriters Hall of Fame induction: "Paul McCartney did the induction, and I was almost in tears. I had such a good time that night. I was very proud of myself and of Paul McCartney. It was fantastic."
Self-appraisal: "I`m my own worst critic, that`s true. That`s very true. If the harmonies aren`t there, it doesn`t make it. The harmonies are important. Some of them are so damn important that I can`t even imagine."
Meeting his second wife, Melinda: "I bought a car from her at a (Los Angeles) Cadillac dealer. She used to sell cars at Martin Cadillac. She got my number from a friend, and she called me and said she`d like to see me sometime. So we started seeing each other, and we got married."
His proudest moments: "The period where we (the Beach Boys) did `Good Vibrations` was the most creative period. And I also thought `California Girls` was a thrill to record."
Tweaking his previous recordings: "I would sing the choruses over, but it`s too late."
Being back on tour: "It`s pretty good. I`m treating the road good, too. It`s a two-way street. There are no fights. Things are real happy."
Updating his 1991 autobiography: "The most important (new) point to add would be my managers and my wife - my new managers and my wife. The way they handled my life, the way I was treated, (which was) with much respect and very, very well."
His favorite lyricists: "Mike Love was one of my favorites. He was very fast, very quick. He didn`t run on for hours. He just got on to it, and wrote. He got down to the bone. Van Dyke Parks got right down to the bone, too. My favorites were Mike Love and Tony Asher. Tony was on `Pet Sounds` with me. I thought he was brilliant, a very smart guy. `God Only Knows` took about an hour (to write). Good songs come when they come."
The Beach Boys today: "I feel detached. I have no interest in working with the group, because I don`t like the vibes I pick up from Mike (Love). So I can`t work with someone I can`t be with. (A reunion) doesn`t look like it`s going to happen; zero (chance). I don`t know, just a lot of time went by and the group fell apart."
His biggest accomplishment: "I think I made Phil Spector`s music more easily understood. When I made records, I learned it all from him. It`s just a great honor to emulate his music.
"... I had a fantasy that it was coming from Phil Spector; all our songs. But now that I`ve gotten older and (have) seen all that stuff that was really going on in those days, Phil Spector wasn`t around at all."
The future: "I want to write a very hard rock(-ing) album, a very rock `n` roll album. Like (Phil Spector`s) `Be My Baby.` I want to write an album that has a `Be My Baby` kind of beat, with all the voices going on and everything.
"I want to cut it very live (in the studio). I think it could be good. The vocals will be good;, it`ll be just like `Be My Baby.` ... I want to write by myself this time. I think around Nov. 15 we`ll really start. Maybe we should just get busy and start recording in October. Why wait around?"
Posterity: "(I`d like to be remembered) for the way I sing and the love I brought to the world. For my voice."
(c) Copley News Service
Article continues below
---
advertisement


---
Author:
George Varga
Archives
---
The Verve Pipe
Judy Collins
Jewel
Ben E. King
NSYNC
311
Nickel Creek
Brian Wilson
Spinal Tap
Mark Knopfler
SR-71
Stevie Nicks
Iggy Pop
Henry Threadgill
Joe Jackson
More Articles