Holiday Week Options on the Battleship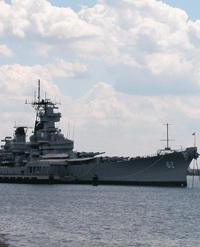 The Battleship New Jersey offers a unique adventure for families during the week after Christmas. Open through Dec. 31 with tours beginning at 9:30am and the last tour of the day departing at 3pm, the Battleship offers Guided and Self-Guided Tours daily. Guided tours include the new City at Sea Tour, where guests can experience areas of the ship never seen by the public before. These include the Machine Shops, Post Office, TV Studio, Medical and Dental facilities, and more.
Another guided tour is the Fire Power Tour, where guests can experience the 16-inch gun turrets, the Combat Engagement Center, the Bridge and much more. Also new this year is the General Quarters Audio Tour. This self-guided tour features a headset and audio device that gives narration, former crew member accounts of life at sea and sound effects.
The Battleship New Jersey Museum and Memorial, our nation's largest battleship, is located across the Delaware River, along the Camden Waterfront across from the City of Philadelphia. For more information, call 856-966-1652 or visit the Battleship at www.battleshipnewjersey.org.

Author:
Press Release--The Battleship New Jersey Museum and Memorial
Archives
---
A TALE OF THREE WEDDINGS
Timber Creek's Leary heads to Illinois
One of Us
The Weekender
Hometown Flavor
Hoop Dreams
Symon Says
Food & Drink: Raise a Glass
Off the Ice
Rewarding Work
Dig This
The Berlin Cemetery
A Southern Mansion
Fire on the Morro Castle
Pine Barrens Fire of 1936
More...