The History of Serene Custard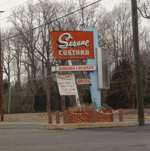 Along the quiet stretches of rural highways that snake across southern New Jersey, there are dozens of hidden culinary gems—vintage custard stands offering a frozen oasis from the summer heat.
They are scattered across the counties, ranging from small family ventures like Royal Crown Custard in Hammonton and Al's Custard Stand in Egg Harbor City, to the icon of Jersey shore boardwalks, Kohr Brothers Custard.
Roadside custard stands, like Jersey tomatoes and salt water taffy, are a signature attraction of New Jersey culture and a symbol of its rich gastronomic landscape. Yet sadly, many of these small businesses are disappearing, often without notice, and closing their doors due to rough times.
Serene's Custard in Vineland has managed to withstand the years and has already celebrated its 50th anniversary.
The stand was built in 1959 and owned by Serene Gorgo, the stand's namesake. It became a fixture in Vineland and the surrounding communities, known as a place for family fun and good homemade ice cream. Eventually, ownership was passed on to Morris Lipman and his wife, who ran the business together for many years.
Current owners Linda Rone, a former fourth grade teacher in Franklin Township, and her husband Edward Rone, a former interior designer, used to frequent the custard shack on dates before they were married and got to know the owners.
In the 1984, they learned that Lipman's wife had died and the business would soon be sold. The Rones discussed the idea of buying the stand, since their summers were free due to teaching. They placed a bid shortly after, and the rest, says Rone, is history.
"Well, let's just say it was interesting," Linda Rone said, of their venture into business ownership.
The schoolteacher retired eight years ago, after 33 years of educating community members and their children, and now dedicates most of her time to the stand. "I had a dream that it would be a good business for us, that it would something that we could run in our spare time," said Rone. "That dream definitely came true. Then I started thinking about what was next…so we added a golf course."
Serene's Today
Today, the stand is like a trip back in time. At night, its neon lights can be seen from far away, beckoning visitors to its location at the intersection of Garden Road and North West Boulevard. A hollowed-out train car sits in the parking lot, next to a miniature 18-hole golf course designed and built by the current owners during their second year of business.
On weekends, it is common to see families enjoying a cone on the red picnic tables, or giggling high school students practicing their putting.
The handmade course, complete with a cave and waterfall, was crafted by the Rones during their second year in business. They have remodeled it several times, adding new holes and challenging features to spice things up. "There was an awful lot of grass to mow (before). This just works better."
The attraction is the only miniature golf course in the area, she said. Many people will drive from as far away as Mays Landing or Williamstown for a day of cheap fun, rather than drive all the way to the boardwalk.
Serene still has an authentic look, because most of the original fixtures still stand. Although minor adjustments to the interior and exterior have been made (like new equipment in the kitchen and a canopy over the patio dining area), the slanted metal sign saying "Serene Custard" hasn't been touched. Original slanted-in windows, in vogue during its initial construction, add to the impression of being transported back to a simpler time.
"We haven't changed too much, but adding the golf course was big for us," she said.
Just don't call it "plain"
It's not all golf balls and waffle cones at Serene, either. The vintage establishment also offers hot dogs and fries, funnel cakes and cotton candy, a 44-ounce "Monster milkshake," ice cream cakes, and their most popular item—decadent banana splits. They're also serving a new addition this year with cheesesteak sliders, a miniature take on the popular Philly sandwich.
The staff serves 32 types of ice cream, made daily on the premises. Each batch starts with a basic custard base, then fruits, nuts, chocolate or other tasty ingredients are blended in to make each classic flavor.
The business stays true to its roots, according to the owners, but they're not afraid to experiment. Their "chocolate nutty fluff" flavor, featuring marshmallow fluff, won first prize in a contest held at New Jersey Motorsports Park in Millville on May 30, 2009.
Their most popular flavor?
"Surprisingly, vanilla is the number one flavor of all," said Rone. "Vanilla will always be on top. Some things never change."
Serene Custard & Golf is located at 2336 Northwest Blvd., Vineland. They can be reached at 856-692-1104, or you can find them on Facebook (https://www.facebook.com/pages/Serenes-Custard-Stand/140895035946758).
They are open seven days a week, from 11am until 10pm, but they stop selling golf tickets at 9pm. They do not take credit or debit cards; cash only!.
3/5/14
© SouthJersey.com 2014. All rights reserved. This article or parts thereof may not be reprinted or reproduced by any other party without the express written consent of SouthJersey.com. For more information, please call 856-797-9910.
For more South Jersey History, visit our South Jersey History page.
Article continues below
---
advertisement


---
Author:
Alexandra Harcharek/Editor
Archives
---
A TALE OF THREE WEDDINGS
Timber Creek's Leary heads to Illinois
One of Us
Truer Words Have Been Spoken
A Thriving County
Executive Q&A
A Man of Many Faces
Super Women
Vocal Leader
Seeking Acceptance
The Business of Health Care
Mommy's Gone Viral
Singles: December 13
2017 Men of the Year
The Weekender
More...