Live Creatively This Summer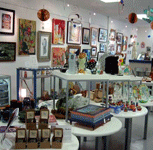 The Creative Genius 2010 Summer Camp Program Schedule is currently booking with spaces still available. Day Camps are offered for children ages 7 and up and include creative and fun programs in Digital Photography, Painting & Drawing, Pottery and much more. Also available is Clay for Little Ones, open to children ages 3 to 6 years old. Most camps last five days.
Registrations can be completed by printing a registration form available on the Creative Genius website or by calling Creative Genius. Forms and information brochures are also available in the gallery or via regular mail by request.
Creative Genius is located at 32 North Main Street in Medford.
For more information about 2010 Summer Camp Programs for Children at Creative Genius Art Gallery and Studio, call 609-714-1131 or visit http://www.creativegeniusonline.com/camp_programs_for_children.htm

Author:
Press Release--Creative Genius
Archives
---
A TALE OF THREE WEDDINGS
Timber Creek's Leary heads to Illinois
One of Us
Truer Words Have Been Spoken
A Thriving County
Executive Q&A
A Man of Many Faces
Super Women
Vocal Leader
Seeking Acceptance
The Business of Health Care
Mommy's Gone Viral
Singles: December 13
2017 Men of the Year
The Weekender
More...