Cool car upgrades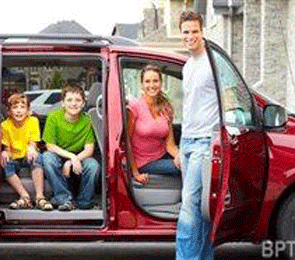 Cool car upgrades: How to enhance your ride and ease back-to-school stress
Fall has finally arrived, meaning it's time for the kids to hit the school books. And as the leaves gradually morph from green to gold, your driving schedule quickly accelerates from leisurely cruising to nonstop go, go, go.
Besides taking the kids to and from school, there are plenty of after-school activities - football practice, cheerleading tryouts, piano lessons and math tutors - that require additional drive time. Maybe a big-game tailgating party is on the agenda, too?
Before the crazed driving crunch hits, you might want to make sure your car, truck, SUV or van is ready for the back-to-school rush and good to go through the fast-approaching holiday season. According to Peter MacGillivray, vice president of events and communication for the Specialty Equipment Market Association (SEMA), an automotive trade organization with 6,500-plus member companies, there are endless amounts of innovative auto-enhancing products to help during the frantic driving season. "For 50-plus years, SEMA-member companies have been designing and producing clever, high-tech products that improve a vehicle's appearance, comfort, performance and even fuel-savings," said MacGillivray.
Consumers can find these products and more at www.enjoythedrive.com.
"As families go back to school, many find themselves spending more time in their vehicles. There are automotive accessories that can make the overall ride better and a lot less stressful."
1. Sit down: Best way to make passengers (and yourself) happy is to be comfortable. There are plenty of aftermarket seat-enhancing products from soft cushions to luxurious new car seats. There are also high-tech booster chairs and seats that have folding desks/trays which are ideal for last-minute homework.
2. Child alert: For the ultimate in safety there are "future-is-now" seats with phone apps that detect and warn when the child wiggles out of the seat and another that has a mobile notification system to alert parents if they accidently left a child in a car seat. It also provides detailed information about the temperature inside the car.
3. Strap in: There are lots of stops on the school run and during holiday madness, so safety is top of mind. There are myriad types of safety belts and restraint options to hold you and the family securely in place.
4. Just in case: With the long line of impatient parents waiting to drop off or pick up their kids at school, fender benders happen. A flexible rubber license plate bumper will help protect your vehicle - and everybody else's - from low-speed damage.
5. Cleanup duty: Breakfast on the run with kids can be messy. Check out the many choices of stylish seat covers and floor mats before the Cap'n Crunch and milk gets everywhere. If disaster does strike, there are several car care products that clean leather, plastic, carpet and windows.
6. Plug in: A good GPS system will solve the problem of getting lost with the kiddos. There's a touch mirror display option that has a GPS and a backup camera in a universally mountable rearview mirror. If your engine light is on, there's a product that captures the trouble code, takes you to a website to explain the problem and suggests solutions. And if you can't find your car, there's an electronic auto finder to help locate it.
7. Hold it: It's not safe to try and juggle cell phones and tablets while driving. Same goes for hot coffee. Luckily there are articulated mounting systems for technology devices and drinks that can be mounted on the seats and/or dash.
8. Tire talk: With all the summer driving you've done, now might be the time for new tires. At the very least, check your tire pressure every month. The correct tire pressure lengthens tire life, saves fuel and enhances safety. A slick digital tire pressure gauge makes it easy.
"These are just a few samples of the aftermarket products available for your vehicle," says MacGillivray. "Most auto parts stores and national chains carry them, and you can easily find them online, too."
Article continues below
---
advertisement


---
Author:
BrandPoint--www.brandpointcontent.com
Archives
---
One Mom's Perspective in her Role as an Essential Care Worker
Unemployed Because of COVID-19? Consider a Career in Direct Support.
Back to School Road Trip
Buying a car: New or Used?
More Articles