Staying Outside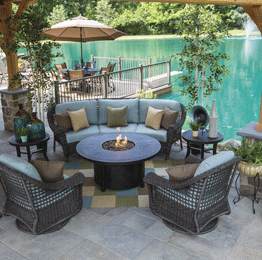 …From the pages of House & Home…
With firepits, fireplaces and more, fall is no reason to abandon the great outdoors.
The chill may be returning, but that's no excuse to run inside. Just add some extra elements to your outdoor space, and you'll love being outside for many weeks and months to come.
"Labor Day [no longer] signals the end of using and enjoying your outdoor space. We have clients that deep-fry a Thanksgiving turkey while watching football on TV outside in front of their fireplace," says Steve Compton, general manager of CKC Landscaping, Inc. in West Chester, Pa. "Take an after-dinner cigar or glass of wine outside from April to December—whatever your dream outdoor experience is."
Firepits are hot this year
Firepits were one of the top trends homeowners pointed out in the American Society of Landscape Architects' 2014 Residential Landscape Architecture Trends Survey, says Jason Turpin of Turpin Landscaping, Inc. in Coatesville, Pa.
"Homeowners are looking for a low-maintenance design suited for entertaining and relaxing," he says.
Other high-demand outdoor living and design elements named in the survey were lighting, seating and dining areas, native plants, landscaped gardens, outdoor recreation amenities including pools with installed seating, vegetable and fruit gardens, grills and outdoor kitchens.
"Adding the warmth of a firepit or a fireplace to your landscape ... provides a great gathering entertainment area for family and friends," Turpin says. Fireplaces or brick ovens can be incorporated into larger projects or can stand alone, and can add a privacy break between neighbors.
Other local professionals also see the growing popularity of firepits.
Karl Claus, co-owner of The Woodburners in Hatfield, Pa., points to different variations of this popular feature: wood- or gas-burning firepits, and says they are often chosen because of their convenience. But Claus has one important point regarding firepits. "Just make sure they are 100 percent stainless steel," he says. "Anything else will rust."
Propane firepits are also popular choices. "Propane firepits continue to [see] rapid growth," says David Sirna, general sales manager of DeVries Outdoor Shoppe in North Brunswick, N.J. These upscale aluminum and wicker firepits vary in size from 36-inch or 48-inch round, to 36-inch by 54-inch rectangle, he says. They are also easy to operate, the user can control the flame height, and are very safe, he adds.
"There's no messy cleanup with a propane firepit and ... when you're done, simply turn off the control and propane tank," he says. There are bar and table firepit collections, and rectangular dining tables with firepits built into the table's center, accommodating up to 10 chairs.
Another emerging trend is the conversion of wood-burning or other units to more efficient systems, others say.
"A trend is converting existing wood-burning, masonry or prefab items into more efficient items with gas inserts," says Kathy Spritzer, representative of Alber's Fireplaces of Green Brook, N.J. "Gas inserts have taken off tremendously, especially after Hurricane Sandy when folks were without energy for so long. They are also convenient; if you don't have time to get the fire going, they have gas-remote controls." And now homeowners can buy their own Alber's custom firepits, she says. "We saw the demand grow; and that people wanted their own customized version," she says. "Now we offer people one they can make the way they want."
Other popular choices include cast aluminum or porcelain.
"For outdoor firepit tables, the trend is moving [toward] cast aluminum table tops or porcelain tile tops," says Dustin Bowman, manager of Bowman's Stove & Patio in Ephrata, Pa. "Natural stone tops are beautiful, but can be easily damaged by freezing weather during cold winters. Stone tops also require frequent cleaning and sealing to stay nice looking." Aluminum tops don't rust and most outdoor furniture manufacturers make a firepit table to match their furniture, he says.
The shape of a firepit is also an important consideration. "A huge trend is the linear gas fireplace," says Marci Ragone and Kelli Fisler of The Fireplace People in West Berlin, N.J. "A linear fireplace is a rectangular fireplace with a long skinny gas burner and usually accented with glass media and/or stones and driftwood."
Other popular choices
"Pergolas are popular," says Ron Banning of Banning Hardscapes of Dover, Del. "Where there aren't a lot of trees, they give visual structure and shade. Some use sun shades and offer privacy, especially if you don't have mature landscape." Some incorporate seats built into walls, which are helpful so you don't have to worry about additional furniture. When it comes to pavers, Banning says more people want a more natural look. "People want bigger, larger pieces—more of a slab than [traditional] pavers," he says.
Updated barbecues are also big this year.
"Lots of new barbecues have built-in lights, and come in a range of BTUs. Smokers are really popular, and you can now choose different scents of wood chips. Hickory is the staple, but there is apple, cherry, maple, and more," says Dan Rymdeika, president of Grates and Grills, Inc. of suburban Philadelphia. "A really popular item is the Big Green Egg.
"There are several sizes and people really love it. They have specialty egg-cessories for making pizza, smoking brisket, and more," he explains.
Natural stone is also big. Mike Rorvik, president/owner of GroundTec, Inc. in Warminster, Pa., says his clients typically want an outdoor, yet intimate, full-built area. They're also looking for more natural stone. "There's Bluestone, natural fieldstone, stone veneers. Modular kitchen units with veneer stone already on them are popular."
Spas will also keep the chill at bay. "Bullfrog Spas are the most energy-efficient on the market, [and] extend life outside all year long," adds Sandra de la Cruz, co-owner and outdoor specialist for Barrett Outdoors Design Center in Millstone Township, N.J. Other popular items are pergolas with retractable canopies that can close against rain and sunlight and open to see nighttime stars, and electric- or gas-powered bromic radiant heaters, says de la Cruz. "Outdoor kitchens are by far the most wanted addition to a backyard space," she adds.
"Sealed pantries keep the elements away from stored items. All the paper product and foods are kept clean and dry."
Clients also want to control the sound when it comes to their own personal retreat in their backyards. Quality sound control systems allow homeowners to control their music with their smart devices and work with several music apps.
While Alexis Rettinger, co-owner of Rettinger Fireplace Systems of Voorhees, N.J., has primarily installed infrared heaters in commercial properties, "they are becoming more popular with homeowners to allow them to extend their time spent outside well into the fall," she says. She also mentions the indoor/outdoor fireplace called the Twilight II by Outdoor Lifestyles. "It primarily had a log effect, but they've modernized it to include a glass element and it takes on a whole new look."
Lighting is also important, experts say. By incorporating the right items into outdoor living spaces, you can enjoy the space year-round, says Compton. But to do it properly takes time. "It is important to plan accordingly with a professional firm ... to ensure that a two, five or 10-year plan takes shape seamlessly."
Things to keep in mind
When designing an outdoor haven, it's imperative to start implementing your plan early, Rorvik says.
"People really need to plan ahead, and now is the time to plan for next spring," says Rorvik. "You can have much of the work done over winter, which is good because you need four to eight weeks of lead time for design and permits. If you don't start the full project until spring, [the space] won't be ready in June. You can even do the work in stages, installing the patio now and enclosing it later," he says.
Also know your budget.
"Establish a budget and make a wish list from most important to least important feature. It is best to install quality products that will last for years to come," says de la Cruz. "[Know] your personal family's likes and dislikes. Every family is different in needs and taste. Design with this in mind."
Rettinger says customers need to be certain that outdoor fireplace or firepit units are UL-approved for use on a deck. "We've seen people use the outdoor fireplace as the centerpiece and seamlessly integrate it into their pool, patio and outdoor kitchen area, again extending the time they spend outside well into fall," she says.
Safety considerations should also be paramount. When installing the fireplace, you have questions to ask, says Fisler. "Primarily how would the fireplace be vented? Secondarily, is your goal heat output, aesthetics, or look [traditional or contemporary]?"
Safety also needs to be considered for outdoor firepits, says Bowman. "Wood firepits should not be placed on wood or combustible decks. They should not be operated under an overhang or covered porch. Gas firepits can be operated on a combustible deck and certain gas firepits are approved to operate under an overhang, provided the roof is high enough to meet the clearance requirements."
For portable barbecues, make sure they are on noncombustible surfaces and are safe distances from the house, says Rymdeika.
If you don't already have one, installing a direct-vent fireplace is efficient and doesn't require a chimney since they vent to the outside, says Spritzer. However, when doing this work, homeowners need to be aware of permits and town codes. "For prefab units, the installation manual will dictate. You'll have to pass inspection. It's good to bring pics of what you want so they can see where you are planning to put the item, where there are windows and doorways, etc."
And when it comes down to it, it's all about what the homeowner wants in an outdoor space. "We ask people, 'What would you like to do on your patio?'" Banning says. " [People need to] find someone who creates a space that fits their backyard, offering styles, and price ranges."
RESOURCES
Alber's Fireplaces
Green Brook, N.J. | (732) 629-7444
AlbersFireplaces.com
Banning Hardscapes
Dover, Del. | (302) 395-9491
BanningHardscapes.com
Barrett Outdoors Design Center
Millstone Township, N.J. | (866) 418-1891
BarrettOutdoors.com
Bowman's Stove & Patio
Ephrata, Pa. | (717) 733-4973
BowmansStove.com
CKC Landscaping
West Chester, Pa. | (610) 436-1810
CKCLandscapingInc.com
DeVries
North Brunswick, N.J. | (732) 297-1244
DeVriesIncNJ.com
The Fireplace People
West Berlin, N.J. | (856) 768-0009
TheFireplacePeople.com
Grates and Grills, Inc.
Dublin, Pa. | (215) 249-0182
GratesNGrills.com
GroundTec, Inc.
Warminster, Pa. | (215) 322-7669
GroundTecInc.com
Rettinger Fireplace Systems
Voorhees, N.J. | (856) 753-5300
RettingerFireplace.com
Turpin Landscaping
Coatesville, Pa. | (610) 380-1119
TurpinLandscaping.com
The Woodburners
Hatfield, Pa. | (215) 362-2443
TheWoodburners.com
Published (and copyrighted) in House & Home, Volume 15, Issue 3 (September, 2014).
For more info on House & Home magazine, click here.
To subscribe to House & Home magazine, click here.
To advertise in House & Home magazine, call 610-272-3120.
Article continues below
---
advertisement


---
Author:
Daniel Sean Kaye
Archives
---
A TALE OF THREE WEDDINGS
Timber Creek's Leary heads to Illinois
One of Us
The Weekender
Hometown Flavor
Hoop Dreams
Symon Says
Food & Drink: Raise a Glass
Off the Ice
Rewarding Work
Dig This
The Berlin Cemetery
A Southern Mansion
Fire on the Morro Castle
Pine Barrens Fire of 1936
More...