Moorestown On Top of BurlCo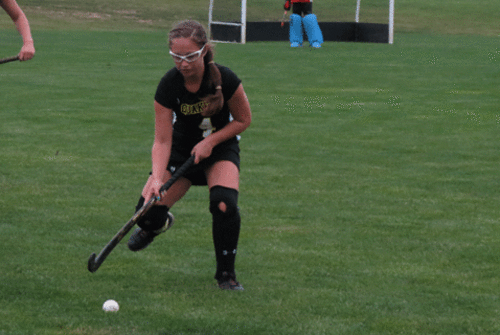 Moorestown On Top of Burlington County Field Hockey
Burlington County has always been strong in field hockey, and this season is no exception. The team setting the tone is usually Shawnee and, while the Renegades have a strong team, this year Moorestown is heading the pack.
The Quakers, who advanced to the Central Jersey Group 3 title game before losing 1-0 to Allentown last season, are again expected to be a major factor in the postseason.
As for Burlington County supremacy, the Quakers earned their status as top team with a 2-1 win over Shawnee on Sept. 17.
Moorestown received goals by Nicki Dadino and Grace Kuszmaul and assists from Susan Orth and Rachel Stefano (pictured).
The Quakers improved their record to 12-0 with Monday's 6-0 win over New Egypt.
Stefano, a four-year starter and American University recruit, is one of the leaders of coach Ali Collins' Moorestown team.
The postseason will again be a challenge for Moorestown, which again will compete in Central Jersey Group 3.
Wall began the week 11-0-1 and Allentown was 8-1-1.
Another top team in Central Jersey Group 4 from South Jersey is also among the best in Burlington County. Northern Burlington began the week with a 9-4 record.
Last week, Moorestown defeated Northern Burlington, 4-1, scoring the game's final three goals.
These two teams will meet again Oct. 15 at Moorestown.
While Moorestown and NBC are two of Burlington County's best teams, one school that can never be discounted is Shawnee.
The Renegades began the week 7-3 and, besides the loss to Moorestown, the other two defeats were to South Jersey and national power Eastern.
Shawnee has the misfortune of not only competing in the same conference as Eastern, but also in the same playoff Group.
Both teams compete in the Olympic Conference American Division and South Jersey Group 4. If Shawnee were in any other Group, the Renegades would be favorites.
The Renegades have posted quality wins over the likes of Camden Catholic, Washington Township and Bishop Eustace.
Yet another Olympic American team from Burlington County that bears watching is Cherokee. Unlike Shawnee, the Chiefs don't have to compete in South Jersey Group 4. Cherokee, instead, is in Central Jersey Group 4 and nobody should discount its chances in the sectional playoffs.
Cherokee began the week 7-2, but the Chiefs do have the toughest part of the schedule approaching. That includes two games each with Shawnee and Eastern, along with one more against Washington Township.
One of Cherokee's better wins was a 3-2 victory over yet another tough Olympic American rival, Lenape.
The Indians began the week 4-6, but again, have played a difficult schedule and still have two games and one more against Eastern and Washington Township.
Like Cherokee, Lenape also competes in Central Jersey Group 4. While that won't be an easy group, especially with current frontrunner Freehold Boro fielding a talented team, nothing is as difficult as South Jersey Group 4.
So among the large-enrollment schools in Burlington County, there are a number of talented team. However, at this juncture, Moorestown stands on top in a season where the Quakers are major threats to surpass last year's success in the Central Jersey tournament.
Photo (Marc Narducci): Moorestown's Rachel Stefano
© SouthJersey.com 2014. All rights reserved. This article or parts thereof may not be reprinted or reproduced by any other party without the express written consent of SouthJersey.com. For more information, please call 856-797-9910.
For more Local Sports features, visit our South Jersey Sports page.
Article continues below
---
advertisement


---
Author:
Marc Narducci; photo by Marc Narducci
Archives
---
Power 50
Cryptocurrency: Seeing Through the Hype
(Almost) Business as Usual
Putting the Success in Succession
Phillies' Realmuto is heating up
SJ pitcher is 37th pick in MLB draft
Mainland grad fully enjoys MLB draft
Millville's Kenndy moving up the minor league ladder
Phillies not in a bad position at the All-Star break
Memorable season for Bishop Eustace baseball
TOP DENTISTS 2021
Another distinguished award for Rowan baseball program
Help Wanted
A TALE OF THREE WEDDINGS
Who's Who in Health Care
More...