Work Hard Play Hard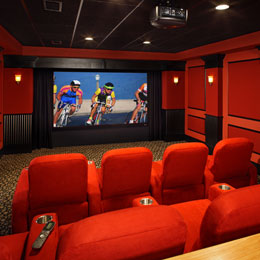 …From the pages of House & Home…
Customized high-tech, high-end media and game rooms help adults feel like kids again.
IT CAN GO BY MANY NAMES. Game room. Home theater. Man cave. Some include the latest high-tech gadgets and a massive TV, others feature old school, arcade-style video games, and some come with a fully stocked bar. What they have in common is an emphasis on fun, and whether you're a movie lover, a diehard sports fan, a gamer or someone who just likes to throw parties, this kind of room is fast becoming a must-have for the home.
"There are all kinds of possibilities," says Mark Ogonowski, president and CEO of Pool Tables Plus, with locations in Green Brook and Paramus, N.J. "It's a great business; and I've been doing it for more than 20 years. The greatest thing is the customers. People are pretty pumped up when they come in. It may be something they have an immediate need for, or it may be something they're dreaming about for later in life when they hit the lottery. People come in for all different reasons, and we work with them all."
For anyone looking to devote an entire section of the house to pure entertainment, the first step is to figure out exactly what that means to them. Defining the primary purpose for the room will help determine the best setup and amenities to include.
Now showing
Rob Dzedzy has always been a fan of the cinema, and not just the movies themselves, but the whole experience. Now it's easy—and not outrageously expensive—to have that experience right at home. Dzedzy can help deliver it as president of Media Rooms, Inc., in West Chester, Pa.
"We are heavily involved with home theater, and even though the economy has taken its toll on the housing market, we still get frequent requests for theaters," he says. "The reason clients want a home theater varies greatly. Some people, like me, love movies and a true movie experience, but don't want to deal with going to a Regal or AMC. Some clients are downsizing, but still have kids at home, and they want a home theater so the kids have a place to gather with friends.
"For me personally, I love to be immersed in a movie. The experience is my escape from a hectic day. I love to see a quality image on the screen and to be enveloped by surround sound. And I want my clients to have the same experience."
Home theaters usually include a projection system and a screen that's at least 100 inches. "A 106-inch screen is probably the most common size that we sell," says Keith Rolle of Ed's TV in Hatfield, Pa. "You can get a really nice projector for about $800, so they've really come down in price." However, Rolle cautions that these projectors are best for a room dedicated to the movie experience. For those seeking a projector TV to watch sports or use at parties, they'll probably want one that falls in the $3,000 range.
"The more expensive ones are just better in a brightly lit room," he says. "The one thing people usually don't consider when they're planning a projection system—like if they plan on watching football games or having Super Bowl parties—is the light in the room. Your buddies don't want to sit in the dark with you, they just don't. They'll sit in a brightly lit room with you, but that's usually rough on a projector. The more expensive projectors are better with ambient light."
Sound is also an important element, especially if the desired effect is the movie theater experience. In-wall speakers or huge towers are the best options. "Home theaters and media rooms all have surround sound systems," Dzedzy says. "If the focus of the room is watching movies, then surround sound is a necessity, because the movement of the sound is directly tied to the movement of the actors and the visual effects on the screen. Surround sound adds to the experience and helps the viewer see and hear the movie as the director intended. As a matter of fact, Dolby Labs is just now introducing Dolby Atmos for the home market. Atmos is a multi-channel surround sound system that uses 11 speakers and a subwoofer."
Another recent advancement is PRIMA Cinema, available from Frankentek Residential Systems in Medford, N.J., which allows its members to view movies in their home theater shortly after their theatrical release.
To cap off the home theater experience, popular additions include curtains in front of the screen, popcorn makers and, of course, theater-style seating.
Game on
For those who are more interested in games than movies, the game room can be centered on an Xbox or PlayStation and a big-screen TV, or even one or more arcade-quality machines. Ogonowski's company specializes in the nostalgic arcade games you find on the boardwalk, such as Ms. Pacman, air hockey, bubble hockey and perhaps his best seller, pinball.
"We're one of the few suppliers that supply pinball specifically for the home," he says. "The arcade-quality pinballs require a fair amount of maintenance in terms of wiring and boards and lights. [Our pinball] is made by Stern and it doesn't use light bulbs; it uses LEDs. It doesn't use 100 miles of wiring; it uses circuit boards. The flippers and the action and the sound and everything else are arcade quality. But instead of costing $5,000 for a brand-new pinball, it costs $3,000 for a brand-new pinball."
For more of the sports bar look, Ogonowski offers shuffleboard, foosball and ping-pong tables. And often, the center of a game room in someone's home is a pool table.
"Billiards remains a strong category for us," Ogonowski says. "The other category that's becoming popular is a pool table with a dining function. We have dining tops that we do in wood or high-gloss lacquer finishes. Some pool tables, you put a dining top on it and it looks like a pool table with a piece of wood on top of it. Other pool tables, you put the dining top on and you wouldn't know in a million years that there's a pool table underneath. We've done some really cool ones over the last couple years, and the shift has been to a contemporary look."
Time for a drink
In addition to big-screen TVs and games, it's also very common for people to include a bar in their entertainment space. In fact, that's often the first thing customers ask Ogonowski about.
"With more frequency, a game room in today's environment includes a custom bar with a TV built in, and maybe a card table or something like foosball or an arcade game," he says. "So a game room is not always about the pool table; sometimes it doesn't even include a pool table."
Pool Tables Plus offers pre-built bars from Asia that come in one color and size, and they also do custom-made bars to fit your specific tastes. "Some people want to put a bar in the corner, some people want to put it out in the main part of the room. Some people need a wet sink or a refrigerator or a wine cooler or a kegerator built into it. All of those things are possible with our build-a-bar program," Ogonowski says.
These custom-made bars are built off site in separate pieces, making them easy to transport and fit in a client's basement or other designated area. There are also a number of contractors in the area who can build your dream bar right into the space you desire.
"There are advantages to both," Ogonowski says. "The contractor can probably do things even a little more custom than we can, because sometimes people want a real nice marble or granite top, which we don't do. … But a contractor who comes into your house to build a bar, you can never take that bar out. It's built in, and when you want to get rid of it, it's kind of like a kitchen—you have to take it apart and throw it away. You can't reuse it, because everything is built into the walls. Our bars are built off site and they go back together like a jigsaw puzzle."
Whatever your taste, these entertainment rooms are the ideal way for hard-working adults to unwind.
RESOURCES
Ed's TV
Hatfield, Pa.
(215) 997-4300
Eds-TV.com
Frankentek Residential Systems
Medford, N.J.
(609) 654-6888
Frankentek.com
Media Rooms, Inc.
West Chester, Pa.
(610) 719-8500
MediaRoomsInc.com
Pool Tables Plus
Green Brook, N.J.
(732) 968-8228
Paramus, N.J.
(201) 986-0500
PoolTablesPlus.com
Published (and copyrighted) in House & Home, Volume 15, Issue 5 (November, 2014).
For more info on House & Home magazine, click here.
To subscribe to House & Home magazine, click here.
To advertise in House & Home magazine, call 610-272-3120.
Article continues below
---
advertisement


---
Author:
Editorial Staff--House & Home magazine
Archives
---
A TALE OF THREE WEDDINGS
Timber Creek's Leary heads to Illinois
One of Us
Truer Words Have Been Spoken
A Thriving County
Executive Q&A
A Man of Many Faces
Super Women
Vocal Leader
Seeking Acceptance
The Business of Health Care
Mommy's Gone Viral
Singles: December 13
2017 Men of the Year
The Weekender
More...